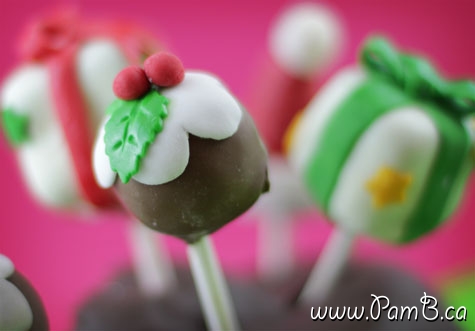 Hi everyone, I'm finally posting a Christmas recipe to you. Many people were asking me for delicious recipes to give as a Christmas gift and I always thought about Cake Pops, but I had never done it before, I wanted to do some testing before posting to you, so I called my friend Nelci and we went to work. But they were so delicious that I just wanted to post it, so excuse me if I don't have photos of step by step, but these were not supposed to be posted, so I was not taking pictures during the process.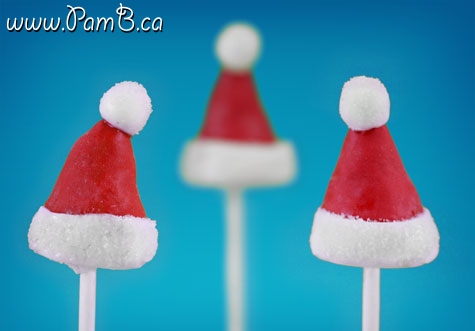 But I was so anxious and afraid to post it too late and you would not have time to prepare for Christmas, that I came running to write to you. So as I have no pictures, I'll try to explain as detailed as possible, but if you still have any questions, feel free to ask me.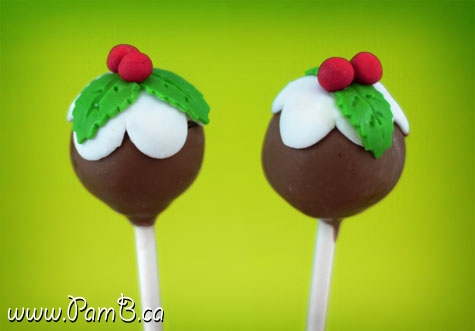 The Cake Pops recupe I got from Martha Stewart's site which in turn posted the famous recipes froom Bakerella, the queen of Cake Pops. Oh boy, these cake pops were delicious, I confess that I was surprised with the taste and results. I loved the idea to give them at Christmas, I guarantee that everyone will love to receive one. I made half the recipe and I stillgot 30 Cake Pops, so I'll give you the reduced recipe. Well, that's it, hope you enjoy and that you make the Cake Pops, I guarantee that you'll have fun.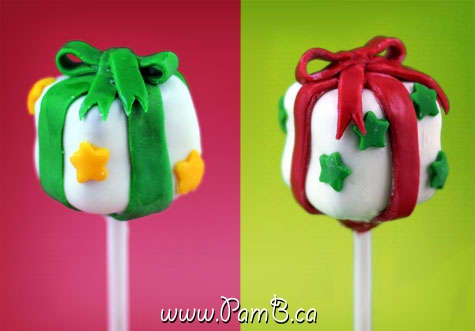 Christmas Cake Pops
Ingredients:
Cake:
1/2 and 1/4 cups unsweetened cocoa powder, plus more for dusting
1 and 1/2 cups all-purpose flour
1 and 1/2 cups sugar
1/2 tbsp baking soda
1/2 and 1/4 tsp salt
3/8 cup vegetable oil
1/2 and 1/4 cups buttermilk
1/2 and 1/4 tsp pure vanilla extract
1/2 and 1/4 tsp baking powder
2 large eggs, lightly beaten
1/2 and 1/4 cups hot water
Buttercream:
4-ounce(110g) cream cheese, room temperature
1/4 cup unsalted butter, room temperature
1/2-pound (225g) confectioners' sugar
1/2 tsp pure vanilla extract
Chocolate coating bark ou candy melts
Sprinkles, for garnish
Directions:
Cake:
Preheat oven to 350 degrees. Butter a 13-by-9-inch baking dish and dust with cocoa powder; tap out any excess; set aside.
Sift cocoa, flour, sugar, baking soda, baking powder, and salt into the bowl of an electric mixer. Transfer bowl to mixer fitted with the paddle attachment. With the mixer on low, beat in oil, buttermilk, vanilla, eggs, and hot water, one at a time, blending well after each addition. Beat until smooth, about 2 minutes.
Pour batter into prepared baking dish, reserving any remaining batter for another use, such as cupcakes. Bake, rotating pan halfway through baking, until a toothpick inserted into the center of the cake comes out clean, about 45 minutes.
Transfer cake to a wire rack to cool for 20 minutes before inverting to remove. Let cool completely on rack before using.
Buttercream:
Place cream cheese and butter in the bowl of an electric mixer fitted with the paddle attachment and beat until creamy, about 30 seconds.
With the mixer on low, slowly add sugar, scraping down the sides of the bowls as necessary.
Add vanilla and increase mixer speed to medium. Blend until frosting is fluffy, about 1 minute.
Cake Pops:
Line a baking sheet with parchment paper; set aside. Trim about 1/2 inch from the perimeter of the cake. Working in batches, crumble cake into the bowl of a food processor; process until fine crumbs form. Transfer to a large bowl and add 1 cup of frosting; blend together using the back of a spoon, until well combined, 5 to 10 minutes. Roll mixture into 1 1/4- to 1 1/2-inch balls; transfer to prepared baking sheet. Cover with parchment-paper-lined aluminum foil. Transfer to refrigerator until chilled, about 2 hours or to a freezer for about 10 minutes.
Meanwhile, melt chocolate in heatproof bowl set over (but not touching) simmering water. Line another baking sheet with parchment paper; set aside. Remove cake pops from freezer. To make lollipops, insert a lollipop stick into the bottom of each cake pop. Let chocolate set, 15 to 20 minutes.
Dip the cake pops into the chocolate and place right-side up on prepared baking sheet or stick lollipop sticks into a Styrofoam square. Let dry completely.

Santa Hats
Hats: Red Candy Melts and White Candy Melts
Fur: white sugar crystal sprinkles
Balls: white coated expresso beans, gumballs, yogurt covered peanuts will work
Paper Lollipop Sticks
Make the Hats: Make a cone shape instead of a ball. Put in the freezer until firm. Then, holding the top part of the hat, dip the bottoms in white candy melts, insert the lollipop stick and set in a styrofoam block to dry. Once dry, dip the tops in red candy melts so that it meets where the white ends. Gently place the balls to the top of the hat while still wet. Let them dry. Then, use a toothpick to generously dab more white candy melts all around the bottom of the hat. While still wet, sprinkle the sugar crystals on.