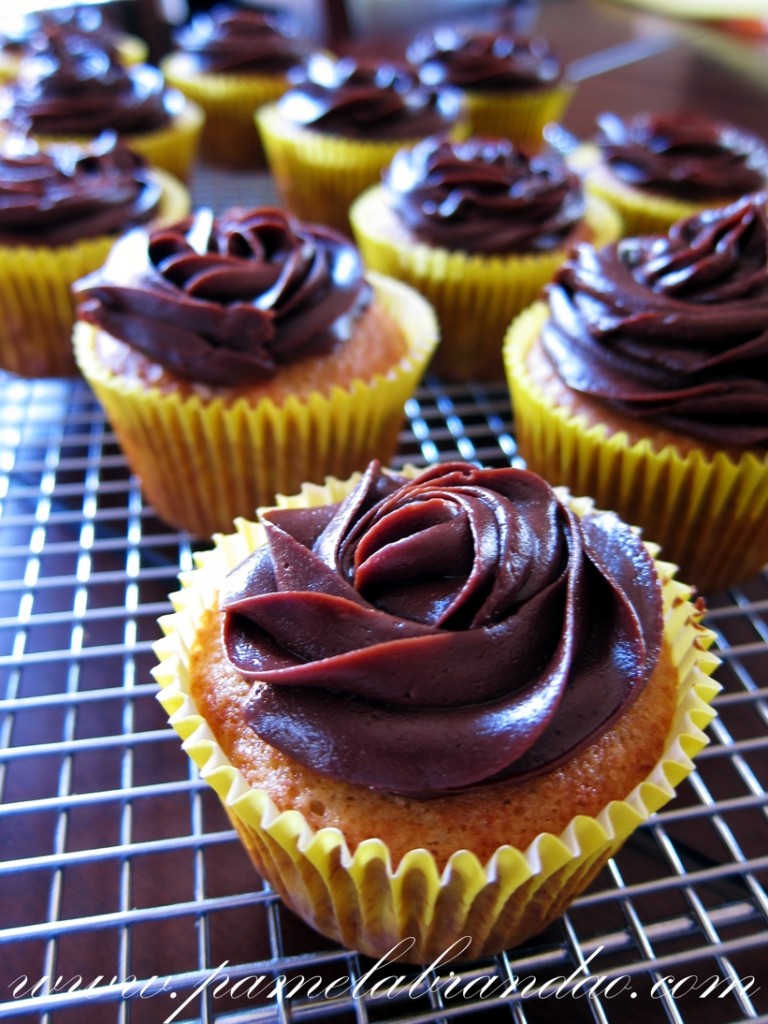 OMG, this cupcake it is simply delicious, I found the recipe here but decided to replace the frosting and I used a chocolate one that I love. The result was a delicious, soft, fluffy, beautiful, cute cupcake and the smell was great. It got real easy on my favourite cupcakes list. So if you have bananas at home, that are ripe and you want to use them asap, don't think twice, this recipe is the chosen one, and I guarantee you will not regret it.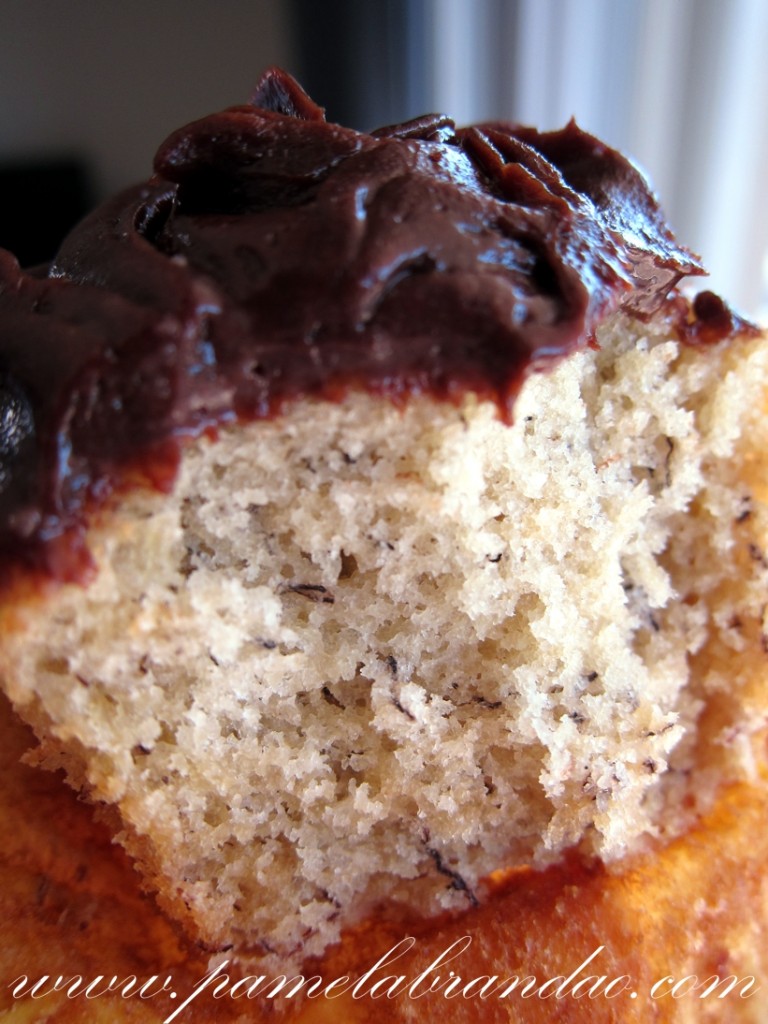 Banana Cupcakes with Chocolate Frosting
Yield: 24 cupcakes
Ingredients:
For the Banana Cupcakes:
2 and 3/4 cups all-purpose flour
1 and 1/4 teaspoons baking powder
1 teaspoon baking soda
1/2 teaspoon salt
1/2 cup (4 ounces) unsalted butter, at room temperature
1/4 cup vegetable shortening, at room temperature
1 and 3/4 cups granulated sugar
2 teaspoons vanilla extract
2 eggs
1 and 1/2 cups mashed very ripe bananas (about 4 bananas)
1/2 cup buttermilk
Frosting:
2/3 cup granulated sugar
1/3 cup all-purpose flour
3 tablespoons unsweetened cocoa powder
1/8 teaspoon salt
1 cup milk
1 cup unsalted butter, softened
1 cup semi-sweet chocolate chips, melted
Directions:
Preheat the oven to 325 degrees F. Line two 12-cup cupcake pans with paper liners. Whisk together the flour, baking powder, baking soda, and salt together into a large bowl and set aside.
In the bowl of an electric mixer fitted with the paddle attachment, beat the butter and shortening together on medium speed until creamy, 3 to 4 minutes. Add the sugar and vanilla and beat on medium speed until fluffy, about 3 minutes. Scrape down the bowl, add the eggs, and beat until just combined. Scrape down the bowl again and add the bananas. Beat until just combined. Turn the mixer to low. Add the flour mixture, alternating with the buttermilk, in three additions, beginning and ending with the flour mixture. Scrape down the bowl, then mix on low speed for a few more seconds.
Fill the cupcake liners about three-quarters full. Bake for 20 to 25 minutes, rotating the pans halfway through the baking time, until a toothpick inserted in the center of a cupcake comes out clean. Transfer the pans to a wire rack and let cool for 20 minutes. Remove the cupcakes from the pans and place them on the rack to cool completely.
Frosting:
To make the frosting, in a small saucepan, whisk together sugar, flour, cocoa, salt and milk; bring to a boil, whisking frequently. Boil 1 minute or until thickened; remove pan from heat and strain mixture into a small bowl. Cool completely in the refrigerator or freezer.
Beat the butter until creamy, about 1 minute, in a large mixing bowl, using a mixer on medium speed. Beat in "chocolate pudding" mixture until well combined, about 1 minute. Beat in melted chocolate until well combined and fluffy, about 2 minutes. Spread or pipe frosting on to cupcakes.