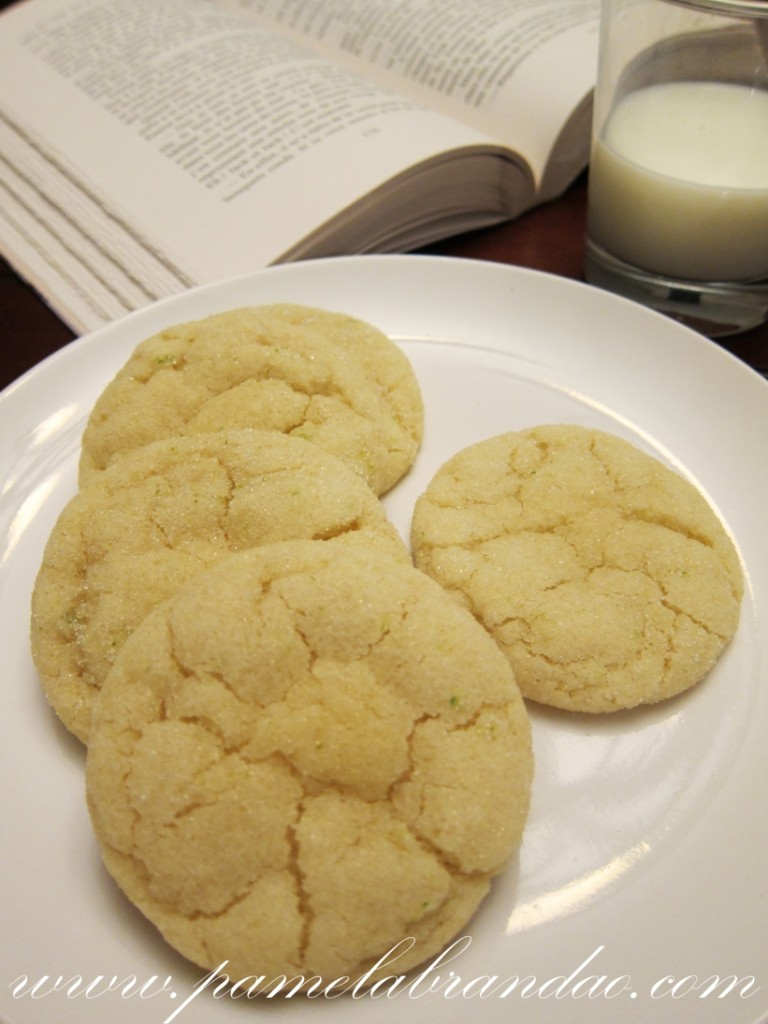 Hi everyone, I bring to you an easy, quick and delicious recipe that I found here. For those who like citrus flavors these cookies are perfect. They follow the style and softness of Snickerdoodle cookies (which I showed earlier), but with a completely different flavor. I don't have much to talk about them just that they are delicious, so if you like lemon, you need to make them…hehe. Ah and make half the recipe cause you'll have a lot of cookies and you can use the kind of lemon you prefer.
Lemony Almond Cookies
Ingredients:
2 cups all-purpose flour
3/4 cup of almond flour (if you don't have any, just use the same amount of all-purpose flour)
1 teaspoon baking soda
1/2 teaspoon baking powder
1/2 teaspoon salt
Zest of 2 large lemons
1 1/2 cups granulated sugar
1 cup unsalted butter, at room temperature
1 large egg
1/2 teaspoon pure almond extract
4 tablespoons fresh lemon juice
Rolling ingredients:
1/2 cup granulated sugar for rolling cookies
Zest of one lemon
Directions:
Preheat the oven to 350 degrees F. Line baking sheets with parchment paper and set aside.
In a small bowl, whisk together flour, baking soda, baking powder and salt. Set aside.
In a separate bowl, combine the lemon zest and sugar. Using your fingertips, run the zest into the sugar until the sugar becomes moist and aromatic. Set the bowl aside.
In the bowl of a stand mixer (or any large bowl, if using a hand held), beat the butter just until it's smooth. Add the lemon sugar mixture and beat until creamy.
Add the egg, almond extract, and lemon juice. Mix to combine.
With the mixer on low, slowly add the flour mixture. Beat only until the streaks of white have disappeared. Turn off the mixer and, using a rubber spatula, give the dough a few more stirs.
Cover and refrigerate while you prepare the rolling ingredients.
In a large, shallow bowl, combine the sugar and lemon zest. Using the same technique that you used for the dough, rub the zest into the sugar.
Remove the dough from the refrigerator and, using a rounded tablespoon per cookie, roll the dough into balls. Roll each ball into the lemon sugar mixture to coat.
Leaving about 2-inches between each one, place the cookies on the prepared baking sheets.
Bake 7 to 9 minutes or until the edges are just beginning to turn brown. Remove from the oven and allow the cookies to rest on the sheets for about 5 minutes before transferring them to a cooling rack.