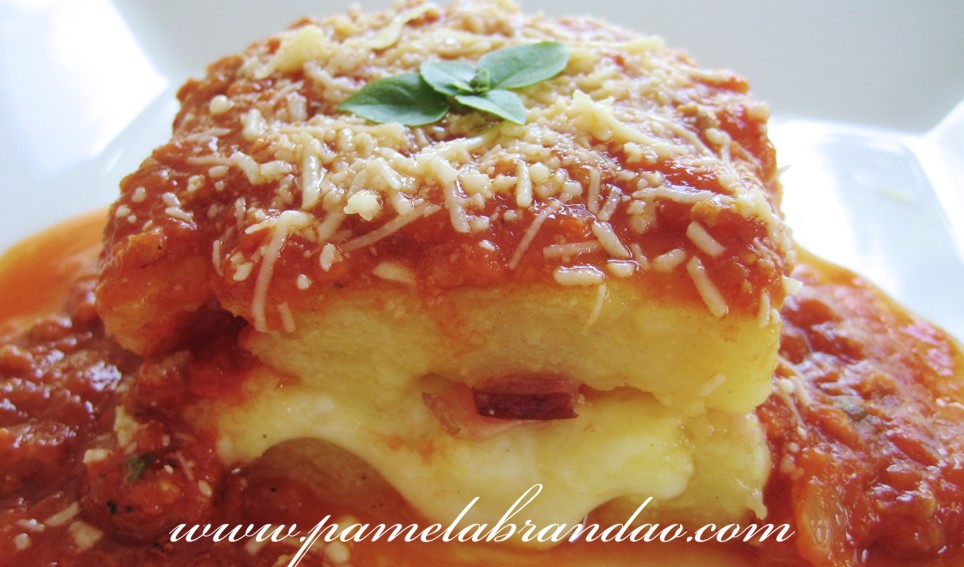 I saw this recipe one day when I was at my friend's house, and we were watching a cooking program that was preparing this recipe and I was instantly sure that I would test it. I changed some of the ingredients and made the my own sauce. It was delicious, I couldn't wait until the polenta to stay solid for grilling it, because I was so eager to try it…hehe. I loved it, it's super easy to make, and is incredibly delicious. I'll post the polenta recipe that I used, but if you already have one that you like, you can use it. And if you're like me, I used a lot of mozzarella and bacon, I'm pretty generous…hehe…because I like the grilled cheese that melts on the sides and the polenta with a crunchy crust, ending with tomato sauce and grated cheese on top…yummy.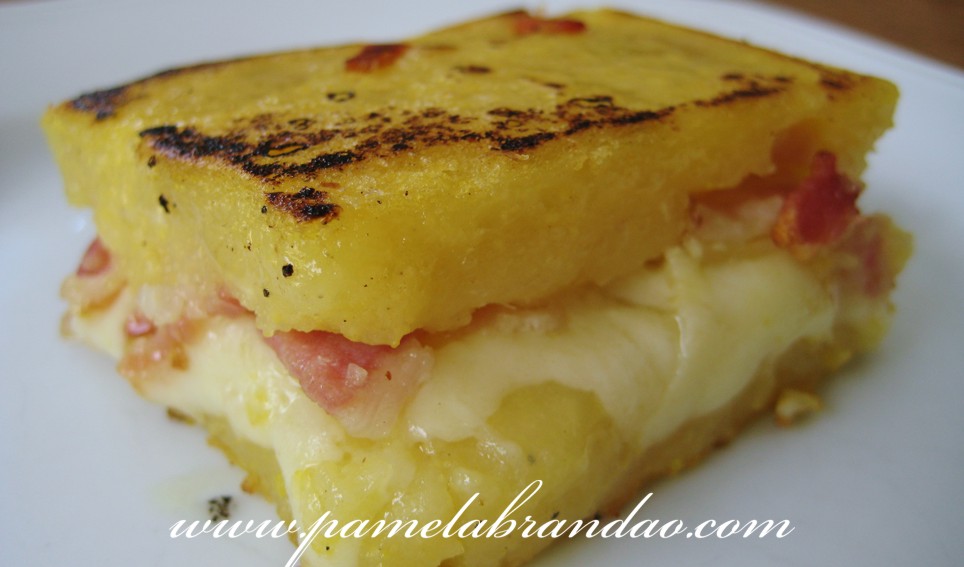 Grilled and Stuffed Polenta
Ingredients:
Polenta:
1 and 1/2 cups cornmeal
5 cups water
salt and black pepper
Filling:
300g mozzarella, grated
100g fried bacon
Sauce:
1 tbsp onion, chopped
1 clove garlic, chopped
2 cans of peeled tomatoes (blended on the mix)
200g ground beef
Basil, salt and black pepper
Directions:
Polenta:
Bring water to a boil in a large heavy pot. Add salt and reduce heat until water is simmering. Take cornmeal by the handful and add to water very slowly, controlling the flow to a thin stream through your fingers. To avoid lumps, stir quickly with a long handled wooden spoon while adding cornmeal. If necessary, stop adding cornmeal from time to time and beat mixture vigorously. Cook, stirring constantly, 20 to 30 minutes. Polenta will become very thick while cooking. It is done when it comes away cleanly from the sides of the pot.
Spread half the polenta in an dish. Smooth out polenta evenly. Cover the polenta with the mozzarella and bacon. Add the rest of the polenta on top, smooshing it out as best you can. Let cool until polenta solidifies.
Sauce:
In the same pan that you fried the bacon, fry the onion and garlic. Add the ground beef and the tomatoes and let it boil for 30 minutes. Season with basil, salt and pepper.
Grill:
Cut polenta into squares. Brush both sides with olive oil. Place on grill; cover grill. Grill until polenta is golden brown, about 3 minutes per side. Serve hot and with tomato sauce.