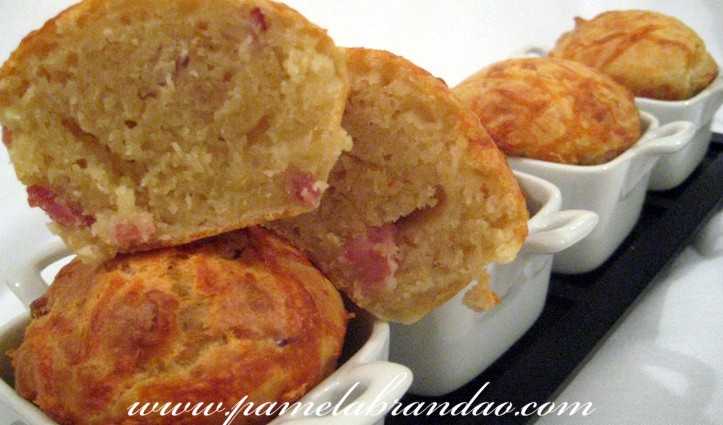 Changing a little bit of the traditional sweet muffins, I decided to make a salty one, and I chose this recipe that I found in the book – Le Cordon Bleu. I loved the dough and the flavor, but when I saw the recipe I had decided that I would add more bacon, and perhaps a mozzarella cheese (I think that I used a little bit of parmesan) and some chopped tomatoes, I don't know why but I forgot. I'll repeat the recipe for sure, but in the next  time I will ameliorate them a little more, but the muffins, the way they are, they are delicious and super soft, it is worth to make them. But if you to want to also ameliorate them, I recomend to add more bacon, maybe some mozzarella or parmesan cheese and some of chopped tomatoes.
Bacon Muffins
(± 12 muffins)
Ingredients:
2 tsp vegetable oil
6 bacon slices, chopped
1 small onion, chopped
300g self-rising flour
75g all-purpose flour
1 pinch of salt
1 tbsp fresh chopped parsley
2 eggs
250ml milk
125g melted butter
Directions:
Preheat oven to 210ºC. Grease (or spray with cooking spray) a 12-cup muffin tin, or line with paper liners.
Pan fry the chopped bacon with the oil in a small, heavy saucepan until crispy. Remove with a slotted spoon and let cool slightly. In the same saucepan, saute the onion until lightly brown and tender, and let it cold.
In a large bowl, sift and whisk the flours, salt and parsley together until well-combined. Lightly beat the eggs in a medium bowl. Add the milk and stir to combine. Combine the flour mixture with the milk and add the butter, bacon, onion and with a spoon stir until just combined.
Drop batter by spoonfuls into the greased muffin tin, filling each cup 2/3 full. Bake for 20 minutes, or until lightly browned.