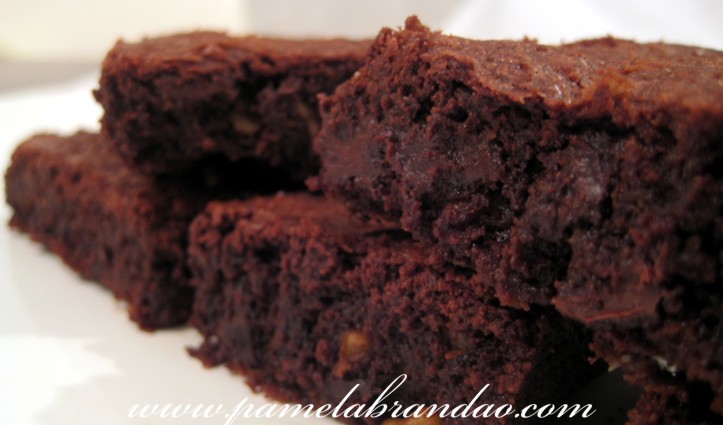 After seeing the brownie recipe on Talita's site, I decided that it was time to post a brownie recipe on my site, and when I saw this recipe, I decided that it was the one that I was going to try. It was the first time that I made brownies, and I can say that the experience was good, they are easy to make and they have a distinct flavor, they are delicious. I'm sure that this wasn't the last recipe that I'm going to try, because I already found some recipes that deserve to be tested, and as I can't say that this was the best recipe yet, I'll be obliged to test several others and later I'll tell you the results…hehe. As I found that the recipe was too much I divided it in 3 and it still gave me several brownies, and also I made half brownie with nuts and half without, and I can say that the half with nuts is much more tasty. The recipe have instant coffee powder, but as I didn't want the coffee flavor, I changed for cocoa powder and it was delicious, but if you want the coffee flavor I'm sure that also it will be delicious.
Outrageous Brownies
(Ina Garten)
Ingredients:
1 pound unsalted butter
1 pound plus 12 ounces semisweet chocolate chips, divided
6 ounces unsweetened chocolate
6 extra-large eggs
3 tablespoons instant coffee powder or cocoa powder
2 tablespoons real vanilla extract
2 1/4 cups sugar
1 1/4 cups all-purpose flour, divided (1 cup for batter and 1/4 cup in the chips and nuts)
1 tablespoon baking powder
1 teaspoon kosher salt
3 cups diced walnut pieces
Directions:
Preheat oven to 350 degrees F. Grease and flour a 13 by 18 by 1 1/2-inch sheet pan.
Melt together the butter, 1 pound chocolate chips, and unsweetened chocolate on top of a double boiler. Cool slightly. Stir together the eggs, instant coffee, vanilla and sugar. Stir in the warm chocolate mixture and cool to room temperature.
Stir together 1 cup of the flour and baking powder. Add to cooled chocolate mixture. Toss the walnuts and 12 ounces of chocolate chips with 1/4 cup flour to coat. Then add to the chocolate batter. Pour into prepared pan.
Bake for about 30 minutes, or until tester just comes out clean. Halfway through the baking, rap the pan against the oven shelf to allow air to escape from between the pan and the brownie dough. Do not over-bake! Cool thoroughly, refrigerate well and cut into squares.