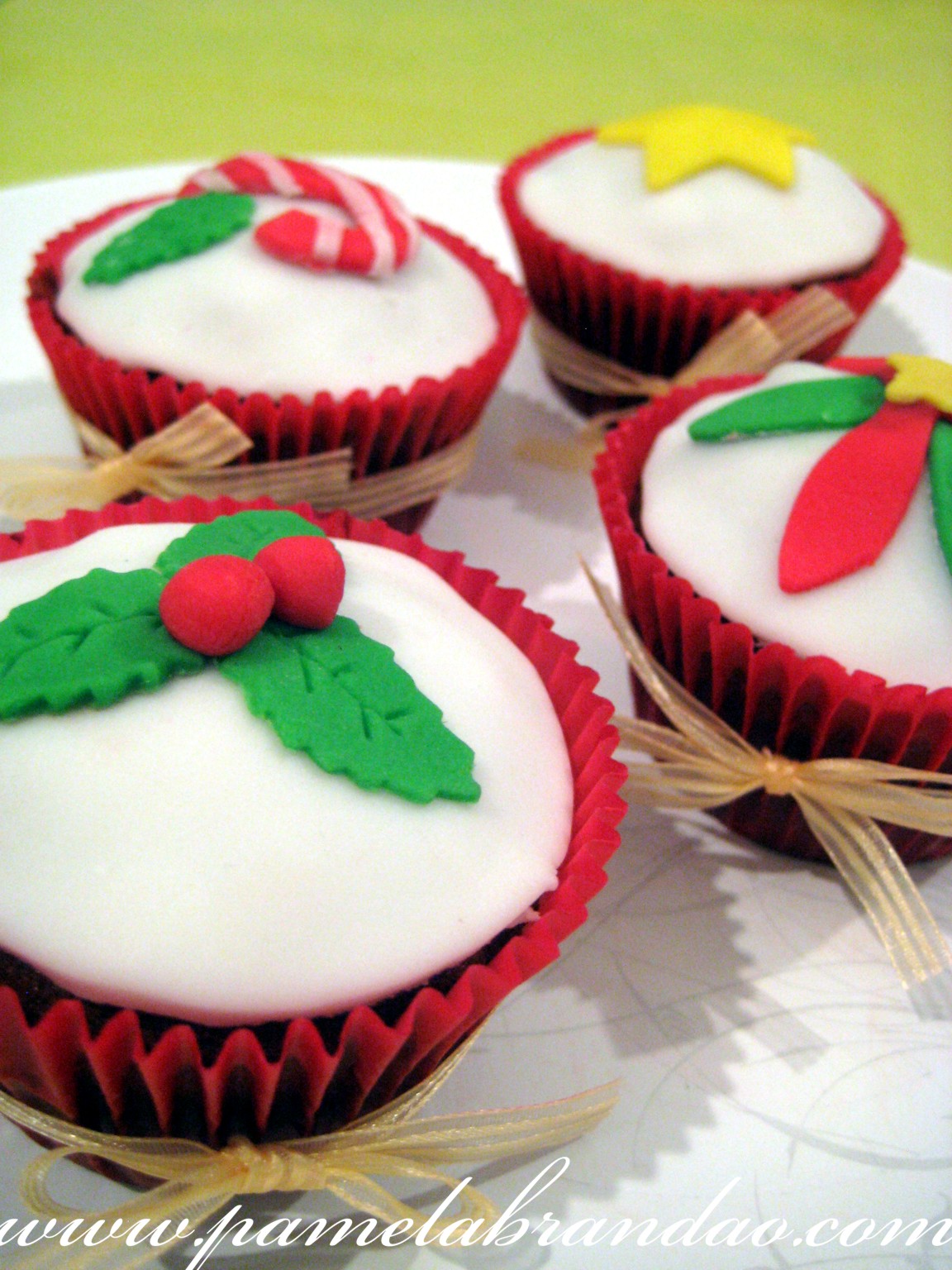 As Christmas is arriving, I'm posting this recipe of a delicious Christmas Cupcake that Aninha sent me as a gift, I loved it, it smells great, it's delicious, the combination of flavors is perfect. But when I was starting to make them my sister asked for to reduce the fruits, so I reduced in half the fruits but I kept the same amount of the others ingredients, it was a delight. But when my parents ate them, they asked me: "Where are the fruits? "…hehe. So, if you are like my sister, you can reduce the fruits and they will still be delicious, but if you are lkie me and my parents, you can make the entire recipe, it is wonderful. And what I like the most in these cupcakes is that they have two utilities, you can eat them or use them as a room freshener, because they smell so great…hahaha.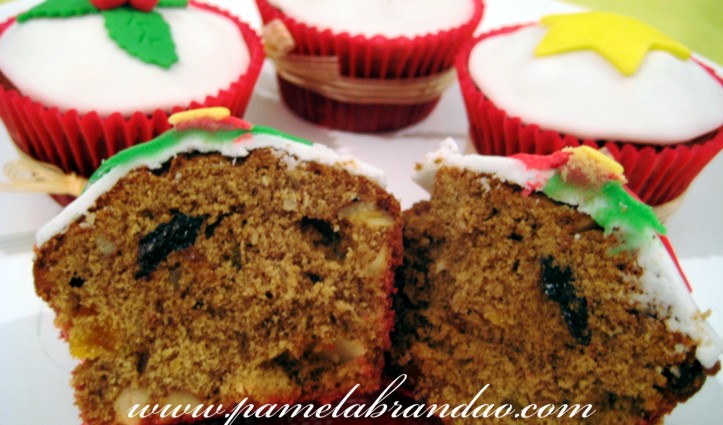 And a great thing of these cupcakes, is that you can decorate them with fondant like a did, and give them as a Christmas gist, they are so cute.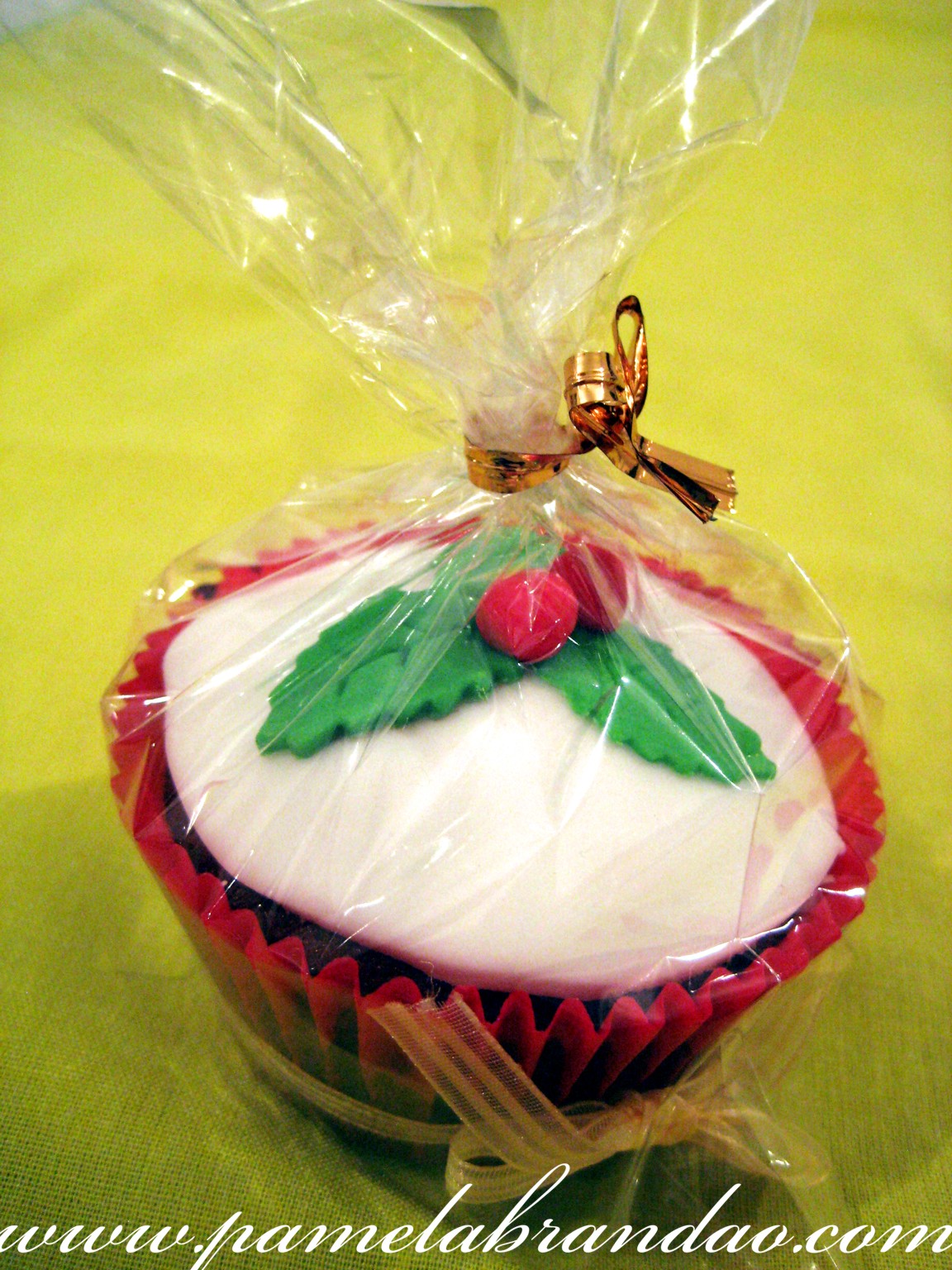 Christmas Cupcake
Ingredients:
(± 12 cupcakes)
300g dry apricot, chopped
100g dry plum, chopped
100g raisin miscellaneous, chopped
80g crystallized fruits
100g nuts and brazilian nuts mixed, chopped
1/2 lemon zest
200g all-purpose flour
1 tsp ground cinnamon
1/2 tsp ground clove
150g butter
150g brown sugar
3 eggs
1 tsp baking powder
Directions:
Preheat the oven to 350ºF. In a large bowl, beat together the butter and sugar until pale and fluffy. Gradually add the eggs, beating well after each addition. Add the lemon zest. Sift together the flour, the baking powder, ground clove and the ground cinnamon, and stir with the mixture. With a spoon add the fruits and nuts. Drop batter by spoonfuls into the greased muffin tin, filling each cup 2/3 full. Bake for 40 to 45 minutes, or until a toothpick inserted in center of cake comes out clean.