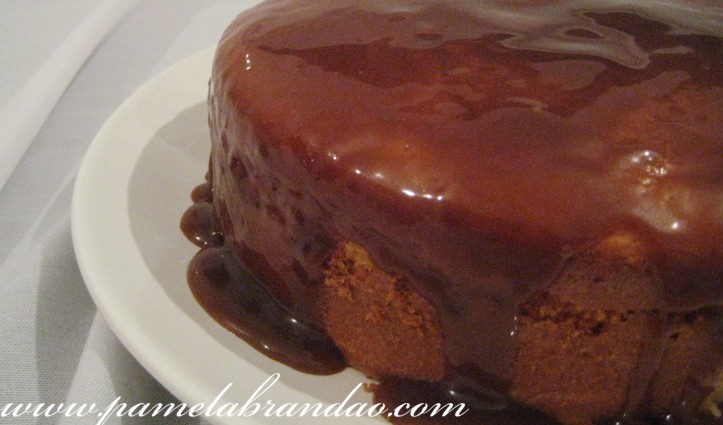 I have lots of recipes waiting to be posted, but lately I am lazy to come here, that 's bad huh? But today I created courage and I decided to post the recipe of a delicious cake that I made another day, I found the recipe in the site of the cute Maura and as soon as I saw, already I told her that I would do it, and I did… hehe…The cake is a delight, super soft, maybe to soft… haha…I loved. So, if somebody is searching a super mega blaster soft cake, you can make this one that I recommend.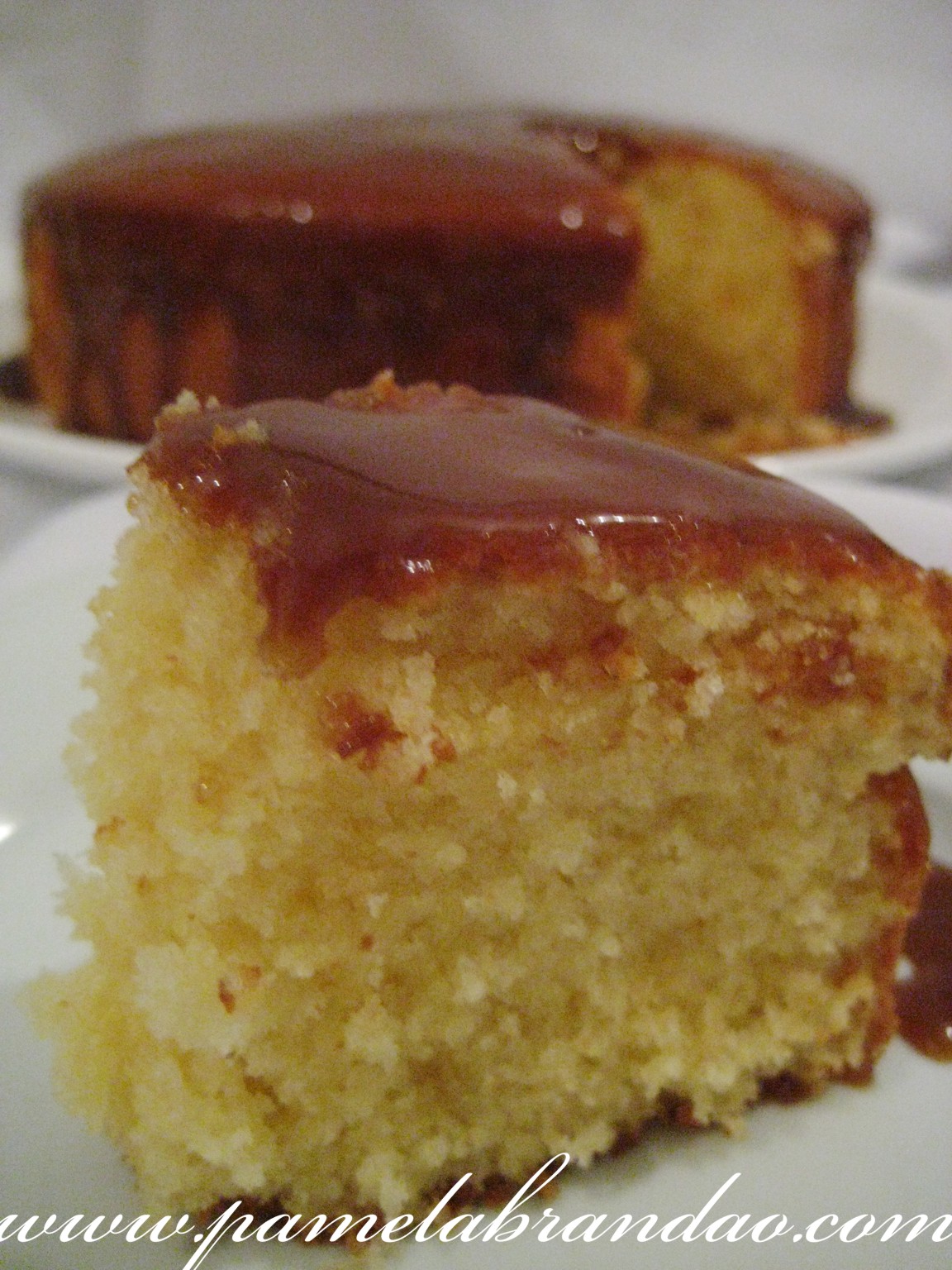 Caramel Cake
Ingredients:
Cake:
2 cups plus 2 tablespoons sifted cake flour (not self-rising; sift before measuring)
1 teaspoon baking powder
3/4 teaspoon baking soda
1/2 teaspoon salt
1 stick (4 oz) unsalted butter, softened
1 cup granulated sugar
1 teaspoon pure vanilla extract
2 large eggs, at room temperature 30 minutes
1 cup well-shaken buttermilk
Caramel Glaze:
1 cup heavy cream
1/2 cup packed light brown sugar
1 tablespoon light corn syrup
1 teaspoon pure vanilla extract
Directions:
Preheat oven to 350°F with rack in middle. Butter an 8-inch square cake pan and line bottom with a square of parchment paper, then butter parchment.
Sift together flour, baking powder, baking soda, and salt.
Beat butter and sugar in a large bowl with an electric mixer at medium speed until pale and fluffy, then beat in vanilla. Add eggs 1 at a time, beating well after each addition. At low speed, beat in buttermilk until just combined (mixture may look curdled). Add flour mixture in 3 batches, mixing until each addition is just incorporated.
Spread batter evenly in cake pan, then rap pan on counter several times to eliminate air bubbles. Bake until golden and a toothpick inserted in center of cake comes out clean, 35 to 40 minutes. Cool in pan on a rack for 10 minutes, then run a knife around edge of pan. Invert onto rack and discard parchment, flip cake so it is right-side up and then cool completely, about 1 hour.
Make glaze:
Bring cream, brown sugar, corn syrup, and a pinch of salt to a boil in a 1 1/2-quart heavy saucepan over medium heat, stirring until sugar has dissolved. Boil until glaze registers 210 to 212°F on thermometer, 12 to 14 minutes, then stir in vanilla.
Put rack with cake in a shallow baking pan and pour hot glaze over top of cake, allowing it to run down sides. Cool until glaze is set, about 30 minutes.