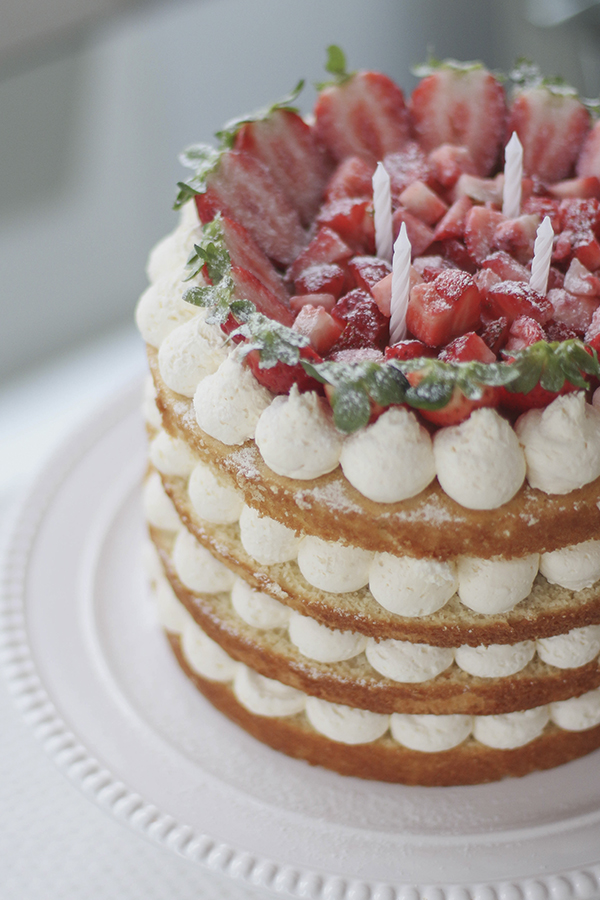 This cake is one of my favorites. It has layers of a soft and delicious white sponge cake filled with fresh strawberries and cream cheese for a totally heavenly dessert. It doesn't get any more simple and perfect than this.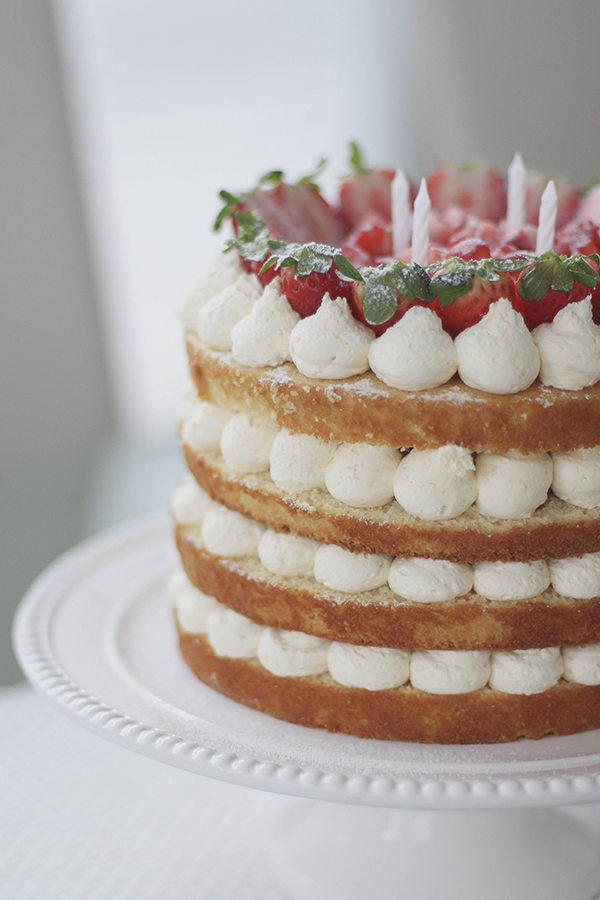 This cake was a HUGE hit! Everyone loved it. We were all big fans and found it hard to resist! I hope you enjoy it as much as we did!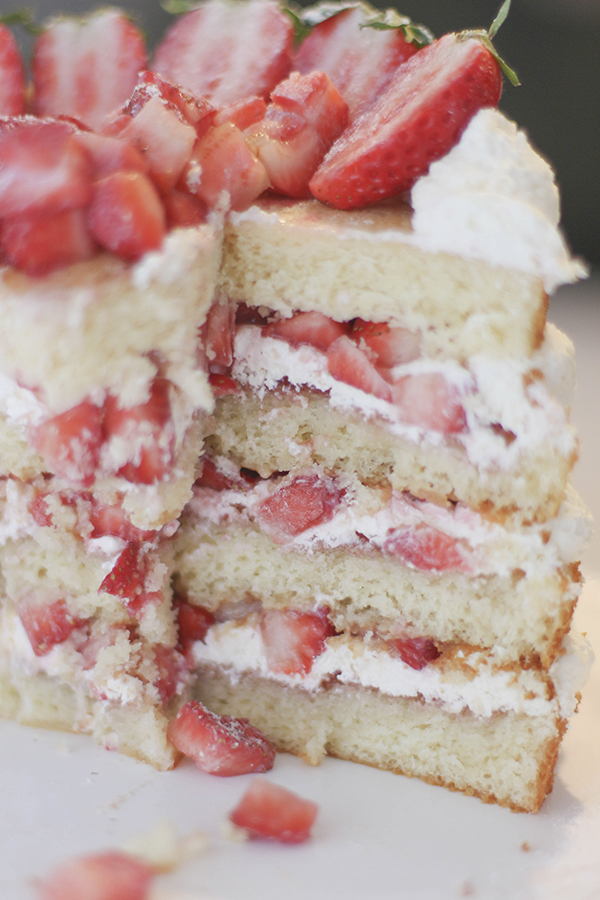 Strawberries and Cream Cheese Layer Cake
Ingredients
4 large eggs (200g)
1 and 3/4 cup of granulated sugar (350g)
1 cup of whole milk (250ml)
1 stick of unsalted butter (8 tbsp) (112g)
1 tbsp of vanilla extract (15ml)
1 cup of all purpose flour (125g)
1 cup of cake flour or all purpose flour (120g)
2 tsp of baking powder (10g)
1/2 tsp of salt (3g)
450g of cream cheese, room temp. (16 ounces) (2 cups)
1 cup of sugar (215g)
226g of thawed Cool Whip (8 ounces) (3 full cups)
Fresh strawberries, sliced
Strawberry jam
Syrup, juice or soda to moisten cake (optional)
Directions
Preheat the oven to 350°F and line two 8″ round cake pan with parchment paper.
For the cake, in the bowl of your Kitchen Aid mixer combine the eggs and sugar over a double boiler and whisk with a hand whisk until the sugar has dissolved slightly and the mixture reaches approximately 115°F/46°C.
On high-speed whip to ribbon stage, thick and pale colored and is almost 5X from the original volume. The eggs will take about 5 – 7 minutes to reach the ribbon stage.
In the meantime combine the milk and butter in a microwave safe bowl or on the stove top and melt to just under a boil. Add the vanilla extract.
By this time the eggs should be ready, fold in the sifted dry ingredients. Take out about 2 cups of the cake batter into a separate mixing bowl, and with a hand whisk add the hot milk-butter to that. Whisk vigorously. Add the "liaison" back into the remaining batter in the mixer bowl. Pour batter between the two prepared pans. Bake in preheated oven for about 35 minutes or until a toothpick inserted in center comes out clean. Let them cool for 10 minutes in the pan over a cooling rack before removing them. Cut each cake in half.
For the filling, combine the cream cheese and sugar, and beat until very smooth. Gently fold the Cool Whip into the mixture.
For assembling the cake, place one cake layer in a cake stand, brush it with syrup and using a small offset spatula, evenly cover the top of the first layer with a small layer of strawberry jam, leaving a gap around the edge. Spread a layer of filling over the jam with the spatula. Fill a piping bag fitted with a large plain (round) tip with filling and pipe large 'dots' around the edge. Lay some sliced strawberries in the center and top it with the second cake layer. Continue doing the same steps with the next layers and decorate as you like.
...
Credit: https://www.gretchensbakery.com/vanilla-sponge-cake-recipe/