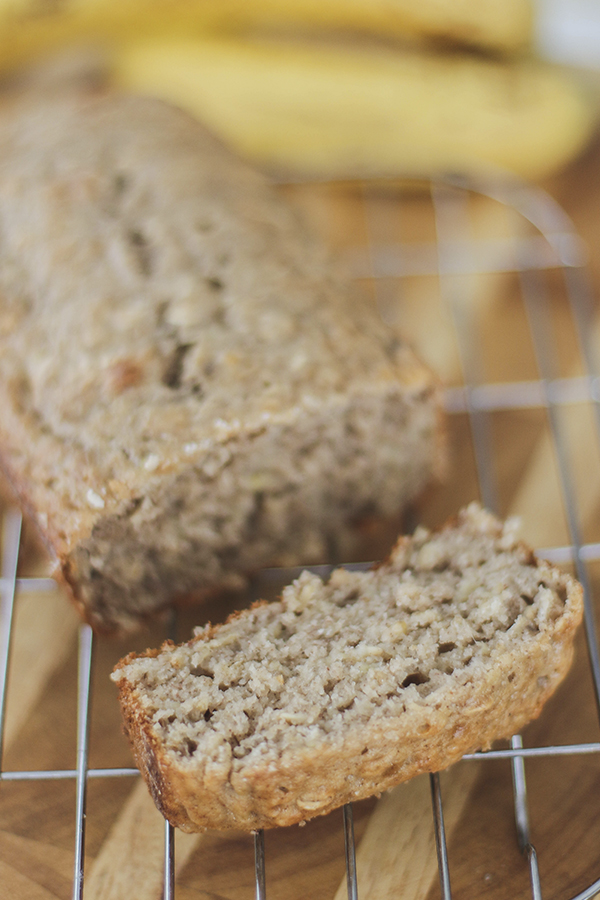 I'm sure everyone loves banana bread! For me, it's one of the best cakes. It's always super soft, moist and delicious, and it's so easy to bake. Most of the time, I can't wait for it to cool and I eat it straight out of the oven (okay, this actually happens 100% of the time). Today I bring you another banana bread recipe that it's super delicious and easy to make. I guarantee that this banana bread will for sure become one of your favourite ones. It's soooo good!!!
Easy Banana Oatmeal Bread
2017-09-13 14:05:13
Ingredients
1½ cups ( 71/2oz/ 225g) all purpose flour
2 teaspoons baking powder
¼ teaspoons baking soda
2 teaspoons cinnamon
1 teaspoons salt
⅔ cup (5oz/150g) sugar
¾ cup (2¼oz/67g) rolled oats (preferably quick-cooking)
¼ cup (2floz/60ml) flavorless oil (canola, vegetable, sunflower oil)
2 large eggs
⅓ cup (21/2floz/75ml) milk
1½ teaspoons vanilla extract
3 medium very ripe bananas
Instructions
Preheat your oven to 350°F (180°C). Prepare a 9x5 loaf pan with parchment paper.
In a medium bowl, combine your dry ingredients (flour, baking soda, baking powder, oats, sugar, cinnamon and salt). In a large bowl, combine your wet ingredients (eggs, milk, oil, vanilla and mashed bananas). Pour the dry ingredients into the bowl with the wet ingredients and mix by hand just until combined. Do not over mix as this can make the banana bread tough.
Pour the banana bread batter into the pan and bake for 55 minutes or until a toothpick or cake-tester comes out clean. Enjoy! Store at room temperature wrapped in cling wrap for up to 3 days.
Adapted from Bigger Bolder Baking
Pam*B https://pamelabrandao.com/recipes/