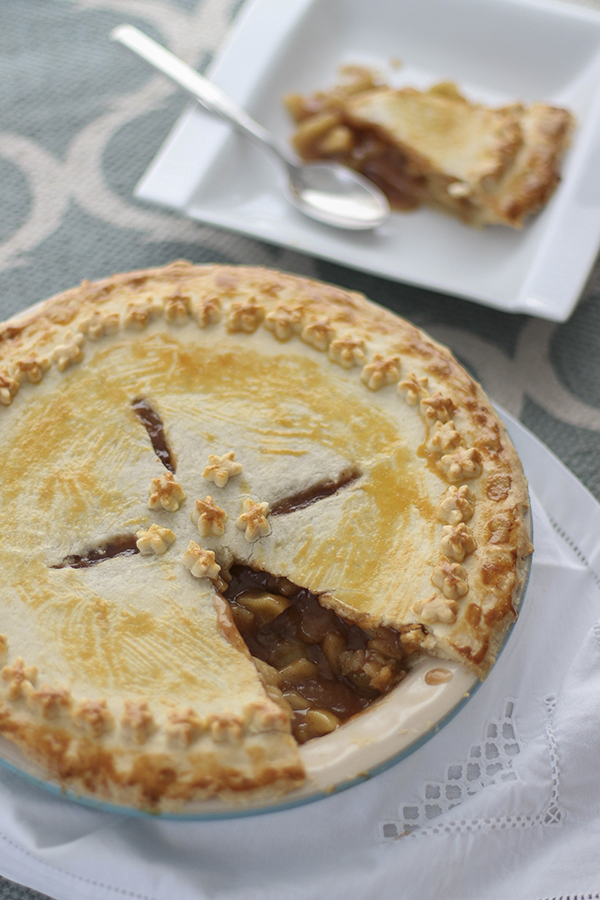 Nothing is more perfect in the fall than a warm and delicious apple pie. This is my favorite apple pie recipe and I've been baking it for years. It's super delicious and easy to make, everyone who ever tried this pie said it's amazing!! You need to try it ASAP!!!
Best Apple Pie
2017-10-16 16:47:34
Ingredients
Pastry
2 1/2 cups all-purpose flour
1 tbsp sugar
3/4 tsp salt
1 cup cold unsalted butter, cut into cubes
About 6 tbsp of ice water


Filling
5 apples, peeled, cored and sliced
115g (1/2 cup) unsalted butter
3 tbsp all-purpose flour
115g (1/2 cup) of sugar
100g (1/2 cup) brown sugar
Pinch of salt
60ml (1/4 cup) water
Ground cinnamon to taste (I used ± 1/2 tbsp)
Instructions
Pastry
For the pastry, you need to mix the flour, salt and sugar together in a large bowl. Add the butter into the flour and toss with your fingers (I use the food processor). Add the ice water and mix with your fingers until the dough comes together in a ball. Divide the dough in two pieces, wrap in plastic wrap and refrigerate for at least 30 minutes.
Filling
While the dough sits in the fridge, melt the butter in a large pan over medium heat. Add the flour and mix it until it thickens. Add the sugars, salt, water and cinnamon and mix everything together well. Add the apples, reduce heat and simmer for about 10 minutes, stirring constantly. Remove from heat and let it rest.
Assemble Pie
Preheat oven to 420°F.
Sprinkle some flour on your work surface, your hands, rolling pin and the dough. Roll out one of the pieces of pastry into a circle that's large enough for an 8 inch pie dish, and make sure there's enough to overlap the edges of the dish. Transfer the pastry onto the pie dish. Add the apple mixture to the bottom crust, then roll out the second pastry and carefully place over the top of the pie. Roll and crimp the edges of the dough together, to seal them tightly. You need to make a few cuts in the top of the pie to allow the steam to escape and brush the pastry with an egg so that it's nice and shiny and it gets a nice golden color when it's done.
Bake at 420°F for 15 minutes than reduce the heat to 350°F and bake for another 25 to 30 minutes until golden brown. Cool at least 20-30 minutes before cutting/serving.
Pam*B https://pamelabrandao.com/recipes/