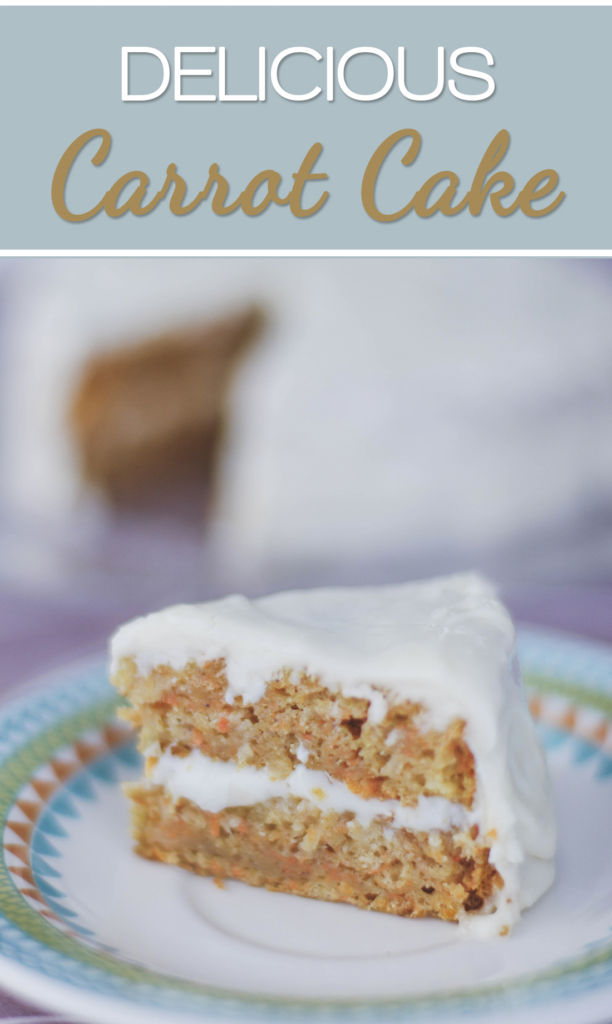 An easy, moist and delicious carrot cake with cream cheese frosting that everyone will love. A refreshing dessert for almost any occasion and perfect for the springtime.
Easy and Delicious Carrot Cake
2017-04-05 14:08:30
Ingredients
2 cups all-purpose flour
1/2 tsp baking soda
1 tsp baking powder
1 pinch of salt
3 large eggs
1 cup apple sauce, sugar free
1/2 cup oil
1 cup sugar
1/2 cup honey or maple syrup
2 cups carrot, grated
1 cup apple, grated
1 tsp cinnamon
1 tsp vanilla extract


Frosting
250g cream cheese
1/2 cup honey or maple syrup
4 - 1/4 cups powdered sugar
1/2 cup walnuts, chopped
1 tbsp honey or maple syrup
Instructions
Preheat the oven to 350°F. Grease and flour two 9-inch round cake pans.
In a bowl, mix dry ingredients (flour, baking soda, baking powder, salt) and reserve. In another bowl, combine the eggs, applesauce, oil, sugar, maple, carrot, apple, cinnamon and vanilla. Add the dry ingredients and mix well. Divide the batter between the prepared cake pans. Bakefor about 45 minutes or until a toothpick inserted into the center of the cake comes out clean. Cool cakes in pans for 15 minutes then turn out onto cooling racks and cool completely.
In another bowl, mix walnut with maple. Transfer walnut mixture to a parchment-lined baking sheet, and spread into a single layer. Bake until walnuts are caramelized, about 10-12 minutes. Let it cool.
In a large bowl, beat cream cheese and maple with a mixer on medium speed until creamy, about 1 minute. Beat in the powdered sugar, a 1/4 cup at a time until fluffy.
When the cake layers are completely cool, frost the top of one cake layer, place the other cake layer on top. Decoratively swirl the top of the cake with remaining frosting and scatter walnuts on top.
Pam*B https://pamelabrandao.com/recipes/