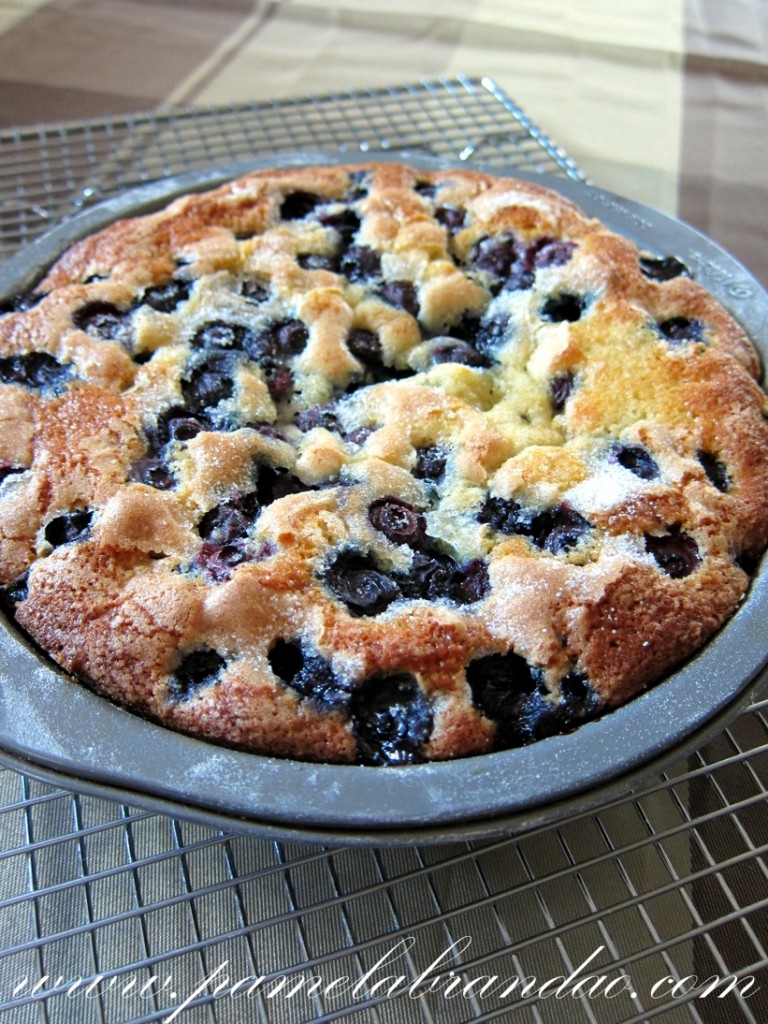 Hi everyone, a new and delicious recipe coming to you. I got the recipe of this cake here and I've done it twice so far, the first time I forgot it a little bit in the oven and the cake burned a little. Even if it was delicious, I knew it would be even tastier. Then I repeated the recipe and this time I slightly decreased the temperature of my oven, because I came to the conclusion that my oven is in the hotter side… lol. And this time it came out perfect, I used a lot of blueberries to make the cake even more moist and delicious, it was impossible to eat just one piece. It is super soft and fluffy, and has blueberries in every bite… Yummy, so good! I guarantee that you will love.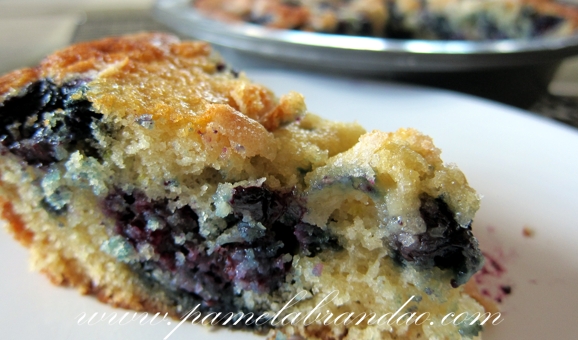 Blueberry Buttermilk Cake
Ingredients:
1 cup (130 grams) all-purpose flour
1/2 teaspoon (2 grams) baking powder
1/2 teaspoon (2 grams) baking soda
1/4 teaspoon salt
1/2 stick (56 grams) unsalted butter, softened
2/3 cup (146 grams) plus 1 1/2 tablespoons (22 grams) sugar, divided
1/4 teaspoon pure almond extract, or 1/2 teaspoon of pure vanilla extract
1/2 teaspoon finely grated lemon zest
1 large egg
1/2 cup (118 ml) well-shaken buttermilk
1 cup (5 ounces or 140 grams) of fresh blueberries
Directions:
Preheat oven to 400°F. Butter and flour a 9-inch round cake pan, gently tap out any excess flour.
In a medium size bowl, whisk together the flour, baking powder, baking soda, and salt. Set aside.
In a large bowl, or the bowl of your stand mixer, beat the butter and 2/3 cup (146 grams) sugar at medium-high speed until pale and fluffy (about 3-5 minutes.) Beat in the almond extract and lemon zest. Add the egg and beat well, scrapping down the sides of the bowl as needed.
On low speed, add the flour mixture in three batches, alternating with buttermilk, beginning and ending with flour, and mixing until just combined. Be gentle, don't over mix.
Spoon batter into cake pan, smoothing top. Scatter the blueberries on top of the batter and sprinkle the entire surface with the remaining sugar.
Bake for 20 to 25 minutes, or until the center of the cake tests clean with a toothpick.
Allow the cake to cool in the pan for about 10 minutes before inverting it. Once it's removed, gently place a plate on top of it and flip it over so that the berry side is facing up.
Makes one svelte 9-inch round cake.