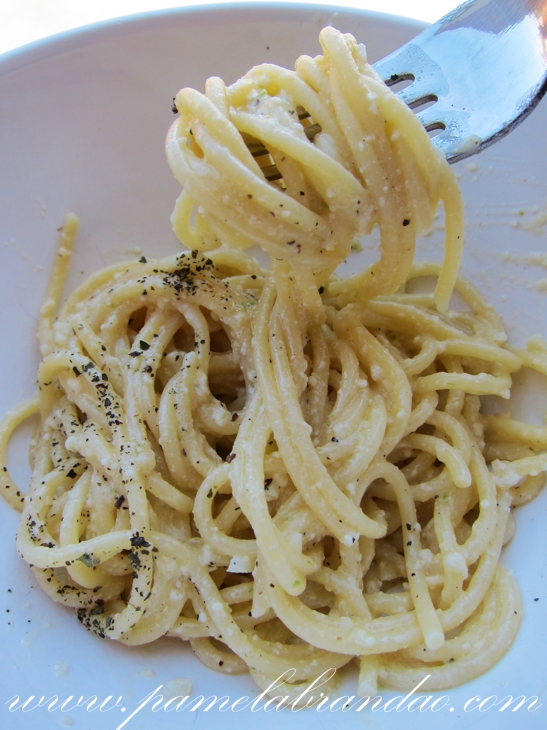 Hi everyone, I'm going to quickly leave a super super quickie recipe for you…hehe.  Spring is coming so I decided to make a pasta to celebrate it. And I found this recipe super easy, light, fresh and delicious. For those who like lemon as much as I like, will love this spaghetti, it's so good and best of all is super quick and easy.
Spaghetti with Lemon and Olive Oil (al Limone)
Serves 4 to 6
Ingredients:
Salt
1 pound spaghetti
1/4 cup extra virgin olive oil, plus more for serving
1 medium shallot, minced (about 3 tablespoons)
1/4 cup heavy cream
2 teaspoons finely grated zest and 1/4 cup juice from 3 lemons
1 ounce finely grated Parmesan cheese (about 1/2 cup), plus more for serving
Freshly ground black pepper
2 tablespoons shredded basil leaves
Directions:
In a large Dutch oven, bring 4 quarts of water to boil. Add 1 tablespoon salt and pasta to water. Cook, stirring frequently, until pasta is al dente. Reserve 1 3/4 cups of pasta water, drain pasta and set aside.
In the now-empty Dutch oven, heat 1 tablespoon of oil. Once hot, add shallot and 1/2 teaspoon salt, cooking until shallot has softened, about 2 minutes. Whisk in 1 1/2 cups of the reserved pasta water and cream. Bring to a simmer and cook for 2 minutes. Remove from heat and add pasta, tossing to coat. Stir in remaining 3 tablespoons of oil, lemon zest and juice, cheese and 1/2 teaspoon of pepper.
Cover and allow pasta to stand for about 2 minutes, tossing halfway through, so that the sauce can thicken and pasta can absorb the sauce. If needed, add the remaining 1/4 cup of pasta water to adjust the consistency of the sauce. Stir in basil and add salt and pepper to taste. To serve, drizzle each individual portion with olive oil and sprinkle with additional Parmesan cheese.