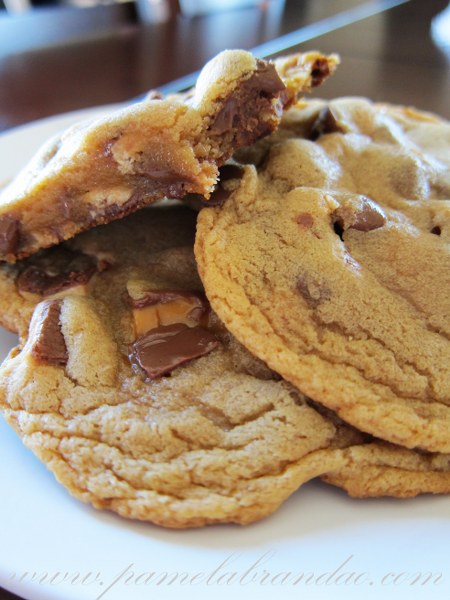 Hi everyone, ready for a decadent cookie recipe?…hehe. The other day I came across this recipe and when I saw that the cookies had as an ingredient one of my favorite chocolate, the Snickers, I had no doubt that would test it. The cookies were delicious, filled with the taste of Snickers on all sides. So if you are fans of chocolate as I am, I'm sure you will go crazy for these cookies. Oh, and in this recipe I used the new Snickers peanut butter…amazing, amazing, amazing…hehe.
Peanut Butter Snickers Cookies
About 24 cookies
Ingredients:
1¼ cups all-purpose flour
¾ teaspoon baking soda
½ teaspoon baking powder
¼ teaspoon salt
½ cup unsalted butter, softened
1 cup creamy peanut butter
¾ cup granulated sugar
½ cup light brown sugar
1 egg
1 tablespoon milk
1 teaspoon vanilla extract
1½ cups chopped Snickers candy bars (about 4 regular size bars)
¾ cup milk chocolate chips
Directions:
Preheat oven to 350 degrees F. Line a two baking sheets with parchment paper or silicone baking mats. Set aside. In a medium bowl, whisk together the flour, baking soda, baking powder, and salt. Set aside.
In the bowl of a stand mixer, beat the butter and the peanut butter together until fluffy. Add the sugars and beat until smooth. Add the egg and mix until combined. Add the milk and the vanilla extract and mix again. Add the flour mixture and beat until flour disappears. Stir in the chopped Snickers and chocolate chips.
Drop by heaping tablespoons onto the prepared baking sheets. (I weighed mine out to about 2 ounces of dough per cookie.) Gently flatten each cookie ball with the palm of your hand. Bake for 10-11 minutes, or until cookies are slightly brown on the edges. Cool the cookies on the baking sheets for about 5 to 10 minutes, then remove to a rack to cool completely. Store in an airtight container at room temperature.