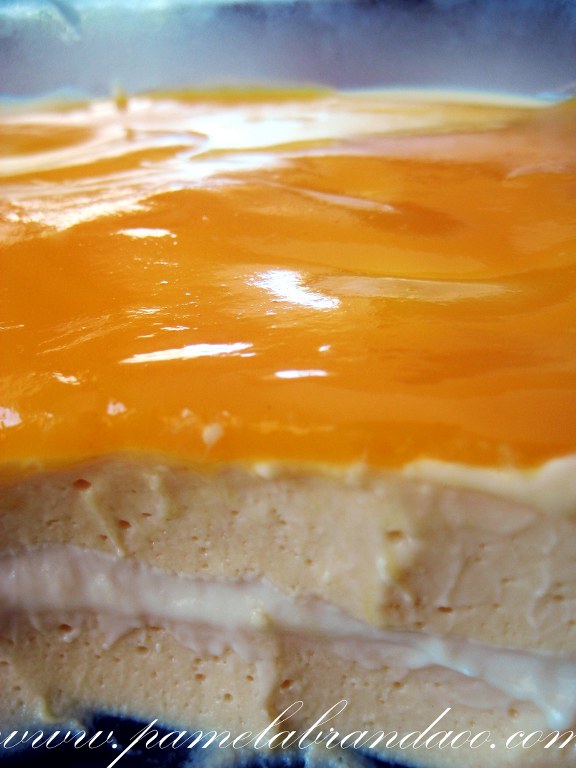 The recipe that I bring today was the dessert I made for a dinner with friends at home. As it was a hot day, I wanted something cold, fast and simple. And nothing is faster and tastes better than a passion fruit mousse, right? But as I wanted something different I decided to put a layer of white chocolate. It was divine, the contrast of the sourness of the syrup and the sweetness of the white chocolate was delicious. One of my friends said it was one of the best desserts she's ever eaten. The picture, I had to take it quickly, so it is not great and I didn't decorate with seeds, but if you want you can decorate. Oh and you can make the mousse into a large dish or individuals, I think it looks prettier in the individuals, but I didn't have enough for everyone…hehe. The recipe is great for a lot of people, so maybe you could just make half.
White Chocolate and Passion Fruit Mousse
Ingredients:
Mousse:
2 cans sweetened condensed milk
2 cans (condensed milk one) heavy cream
2 can concentrate passion fruit juice
2 envelopes (12g each) unflavoured gelatin, dissolved in 1 cup of hot water
Filling:
720g white chocolate, melted
2 cans heavy cream
Syrup:
1 cup water
1/2 cup passion fruit concentrate juice
2 to 4 tbsp sugar
2 tbsp cornstarch
Seeds of 1 or 2 passion fruit
Directions:
In a mixer beat the condensed milk, heavy cream, passion fruit juice and dissolved gelatin. Reserve.
For the filling, heat the heavy cream in a water bath and then add the chocolate. Mix until melted and reserve.
Syrup:
In a pan, add all ingredients and heat until it thickens.
Assembling:
In a large serving dish or several individuals, place half of the mousse and top with the chocolate filling. Top with the rest of the mousse. Cover and chill for 3 to 4 hours, or until set. Spoon passion fruit on top of the mousse just before serving.