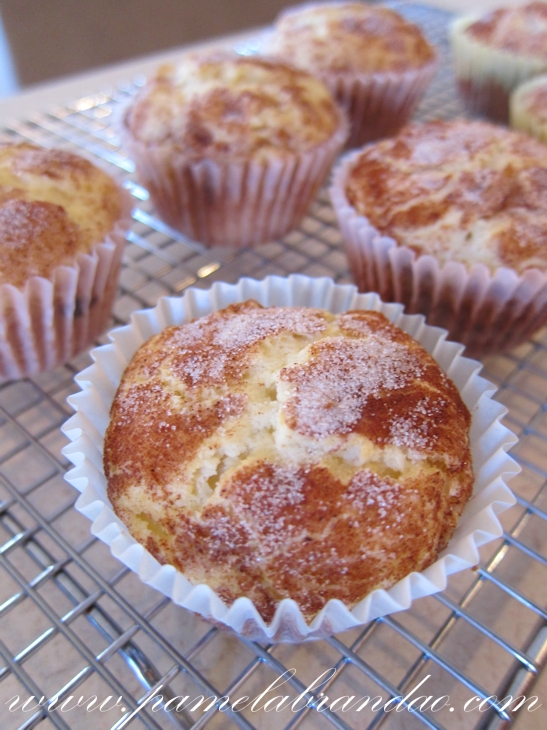 These muffins are inspired in Snickerdoodle cookies. I never ate this cookie, but I've seen several recipes through the blogosphere and I had saved up some recipes from cookies and even cupcakes. But I changed my mind when I saw this recipe and decided to try the muffins before even trying the cookies. Oh boy, I don't know how to describe how they are soft when you eat them hot, just out of the oven, they melt in your mouth. They're delicious and they are great for an afternoon tea, you know? So cute and soft that makes you want to use them as a pillow…haha. You will love these muffins, they are super quick and easy, the only part that takes a little longer is the time to roll them in sugar, but nothing to panic about…hehe.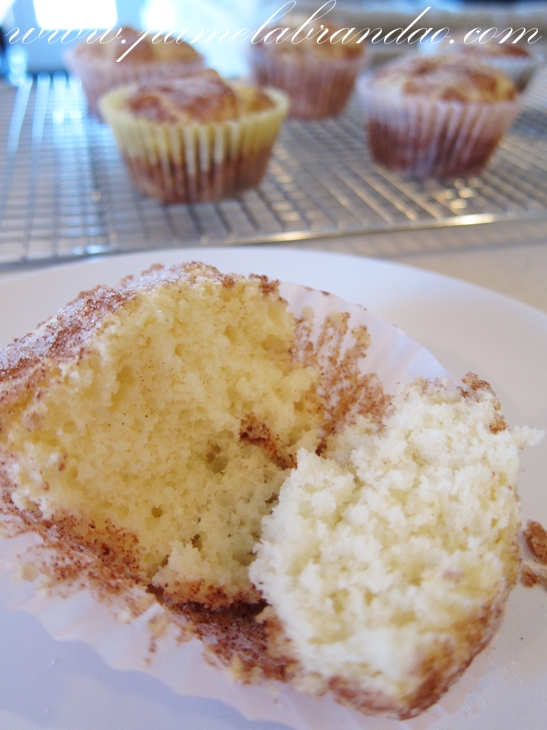 Snickerdoodle Muffins
Ingredients:
1 cup Butter, Softened
1 cup Sugar
2 whole Eggs
2 teaspoons Vanilla
2-¼ cups Flour
¾ teaspoons Baking Powder
¾ teaspoons Baking Soda
¾ teaspoons Cream Of Tartar
½ teaspoons Salt
1 cup Sour Cream
¼ cups Buttermilk
For the topping:
2/3 cups Sugar
2 Tablespoons Cinnamon
Directions:
Preheat the oven to 350ºF. Prepare a muffin tin with liners. (I learned the hard way that they are too fragile for just cooking spray.)
In a mixer, combine the butter and sugar and cream until fluffy. Add the eggs and vanilla and combine.
In a separate bowl, combine the dry ingredients. Add half of the dry ingredients to the mixing bowl and stir to combine. Add the sour cream and buttermilk and mix to combine. Add the rest of the dry ingredients and mix until you have a smooth batter.
In a small bowl, combine the sugar and cinnamon for the topping.
Use scooper and plop a scoop of batter into the bowl with the sugar and cinnamon. Gently roll the batter in the sugar and cinnamon. Place the ball into the muffin liner.
When you have completed all of the muffins, sprinkle the leftover cinnamon sugar onto the tops of all of the muffins.
Bake the muffins at 350ºF for about 15-18 minutes or until they are golden on top and just baked through.