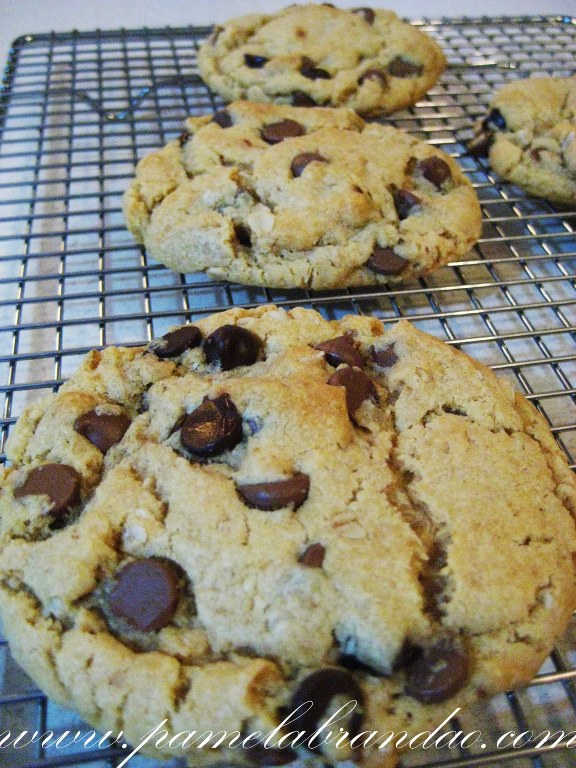 Yummy, these cookies are delicious. But first I need to tell my first attempt to make them. I got the recipe here and saw that everyone said that they were delicious, so I had to test them. But the first time I made them, I let them stay in the oven for too long and they got very hard and not at all delicious. As I knew it was my mistake so I waited a couple of weeks and then I decided that I would test it again. This time, I paid much more attention, I reduced the temperature of my oven, cause I came to the conclusion that it was too hot. When I saw that they were ready, took them out from the oven, I ate a little bit hot and concluded that this time it was right and offered a few more pieces to the people here at home. But while I was waiting them to cool down before I could eat more and take pictures, I noticed that some people began to surround them, so I already warned them "don't put your hands on it because I have to take pictures"…hehe. So funny, I had to stand in front of the cookies and scare the vultures away, because they wanted to eat it anyway. So I took the pictures as fast as I could and when I allowed them to eat was an attack from all sides…haha. The cookies were gone instantly, and I was praying for the photos to be ok cause I would not be able to take them again. But the pictures were good and even better the cookies were delicious. I loved it.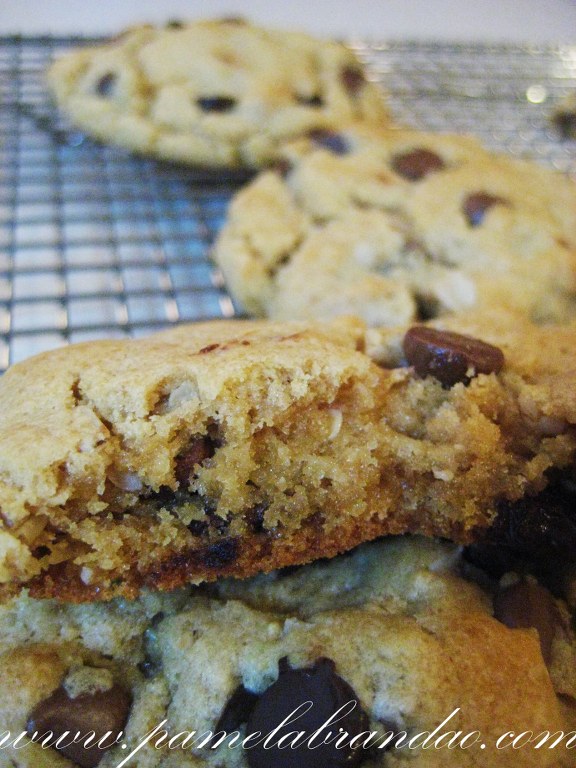 Peanut Butter-Oatmeal Chocolate Chip Cookies
± 16 cookies
Ingredients:
1 cup all-purpose flour
1 teaspoon baking soda
¼ teaspoon salt
1 stick (½ cup) unsalted butter, at room temperature
½ cup creamy peanut butter
½ cup granulated sugar
1/3 cup light brown sugar
½ teaspoon vanilla extract
1 egg
½ cup rolled oats
1 cup semisweet chocolate chips
Directions:
Preheat oven to 350 degrees F. Line two baking sheets with parchment paper and set aside. Whisk together the flour, baking soda and salt; set aside.
On medium speed, cream together the butter, peanut butter, granulated sugar, brown sugar and vanilla extract, about 3 minutes. Add the egg and beat to combine. On low speed, gradually add the flour until just combined. Stir in the oats, and then the chocolate chips.
Use a large cookie scoop (3 tablespoons) and drop dough onto prepared baking sheets about 2 inches apart. Bake for 10 minutes, or until the cookies are lightly golden. Cool completely on the baking sheet and then store in an airtight container at room temperature.