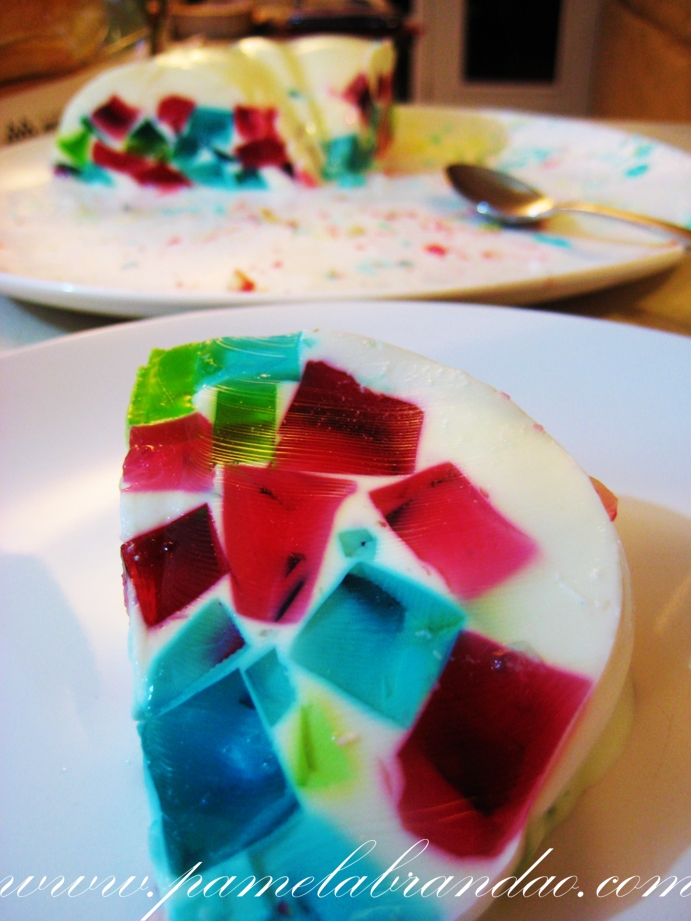 Who didn't grow up eating this dessert? I believe that everyone has experienced this so beautiful and delicious dessert. Well, actually I think I must have eaten it just a couple of times in my life at my aunt's house, can you believe it? Never thought to make it until the other day I was passing by the supermarket, I saw some gelatins and I don't know why this dessert came into my head. Oh this is delicious, so fresh, cute, and I love to shake it…haha. A perfect dessert for hot days.
Broken Glass Gelatin
Ingredients:
3 small boxes of flavored gelatins (3 oz), different colors
3 cups of hot water
3 cups of ice water
1 envelope unflavored gelatin dissolved in 1 cup of hot water
1 can sweetened condensed milk
1 can whipping cream
Directions:
Dissolve each box of jello separately, using just one cup of boiling water and one of ice water per flavor. Pour into individual containers (small tupperware works well) and chill overnight.
Once solid, cut the flavors of jello into small blocks and mix together carefully in a glass 9×13 pan.
In a mixer, mix the unflavored gelatin with the condensed milk and whipping cream. Cool to touch and pour cooled milk mixture over jello and chill overnight.