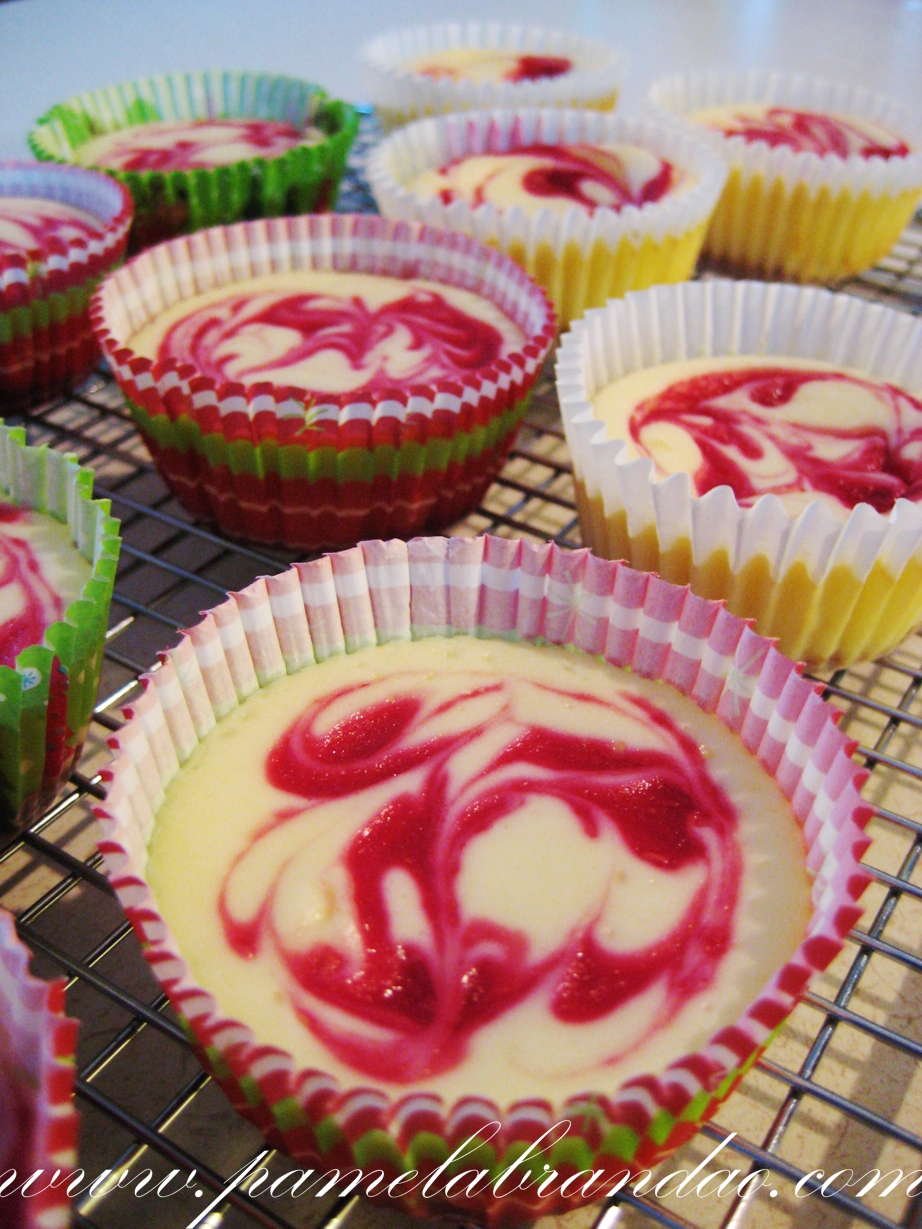 This time I bring you the dessert recipe I made for Christmas. At first I wanted to make a strawberry mirror cake, but it was very difficult so I gave up…hehe. Then I came back to the cupcakes idea, but I didn't want a simple recipe. Until I came across this recipe for cheesecake cupcakes, and as I saw that it was simple, there was no doubt that I was going to try it. Oh my, what a delight, it is wonderful and it is much simpler to make than a normal sized cheesecake. I loved it, is was so good. Well, the tips I have to give is that if you can't find raspberry, you can make it with strawberry or blueberries also. And the recipe says to bake them in a water bath, but as the site where I got the recipe said it could also be baked normally, without a water bath, I decided to bake both ways. The differences I found were that the ones baked in water bath are softer, but take longer to bake and those who were not baked in a water bath are drier than usual, but they bake faster. But a problem when you don't bake in water bath is that they grow in the middle and then when you take them out of the oven they shrink a little bit, they won't get as straight as the ones baked in water bath. But I can say that no matter what way you chose to bake it, both ways are delicious.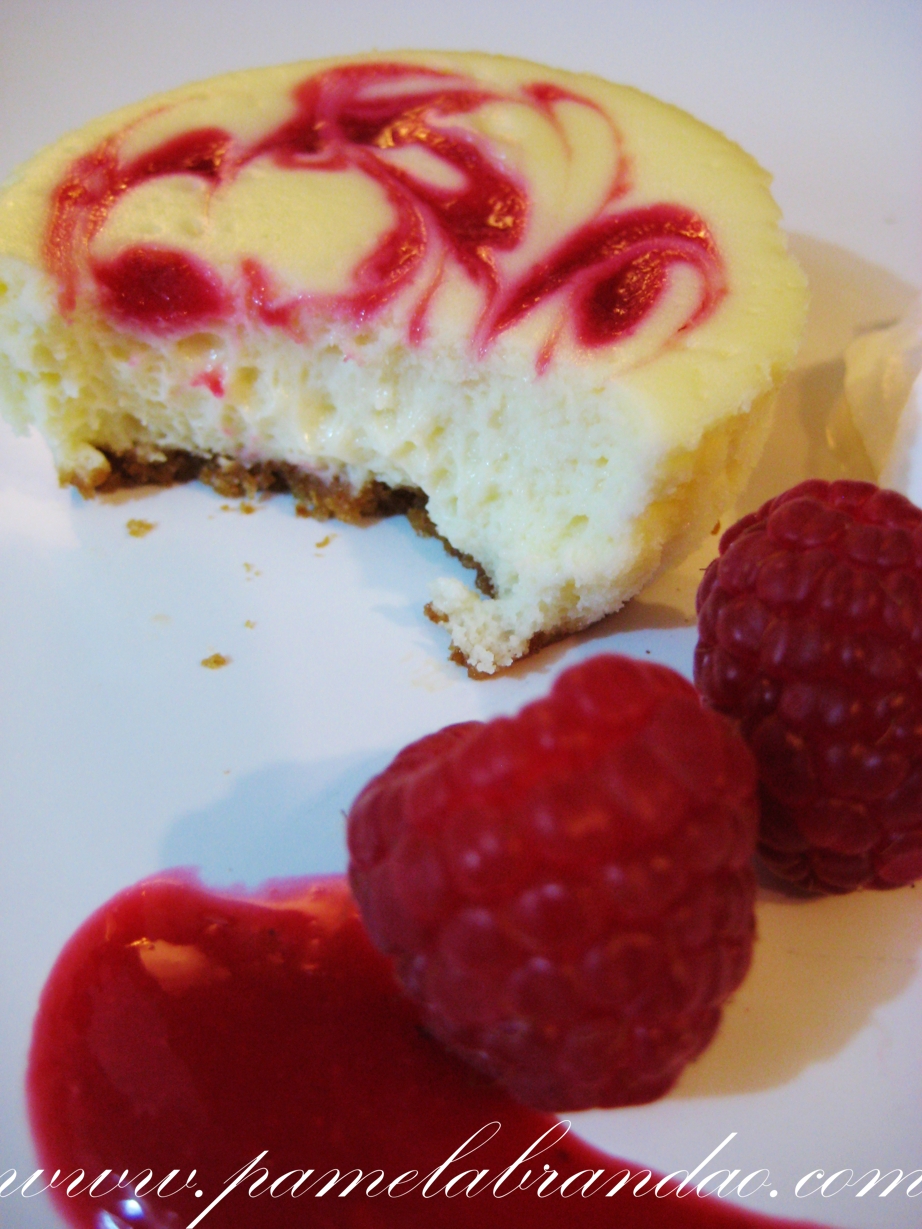 Raspberry Swirl Cheesecake Cupcakes
Yield: 32 cupcakes
Ingredients:
For the crust:
1½ cups graham cracker crumbs
4 tbsp. unsalted butter, melted
3 tbsp. sugar
For the topping:
6 oz. fresh raspberries
2 tbsp. sugar
For the filling:
2 lbs. cream cheese, at room temperature
1½ cups sugar
Pinch of salt
1 tsp. vanilla extract
4 large eggs, at room temperature
Directions:
Preheat the oven to 325˚ F. Line cupcake pans with paper liners. In a small bowl, combine the graham cracker crumbs, melted butter and sugar. Stir together with a fork until well blended and all the dry ingredients are moistened. Press 1 tablespoon of the mixture into the bottom of each cupcake liner. (you can use a small drinking glass to easily and evenly press the crumbs down) Bake until just set, 5 minutes. Transfer to a cooling rack.
To make the raspberry puree, combine the raspberries and sugar in a blender or food processor. Process until smooth, then pour through a fine mesh sieve to remove the seeds.
To make the cheesecake, beat the cream cheese on medium-high speed in the bowl of an electric mixer until fluffy. Blend in the sugar until smooth. Mix in the salt and vanilla. Beat in the eggs one at a time, mixing well after each addition.
To assemble, spoon 3 tablespoons of the cheesecake batter over the crust in each cupcake liner. Dot a ½ teaspoon of the raspberry puree in a few dots over the cheesecake filling. Use a toothpick or a wooden skewer to lightly swirl and create a marbled effect.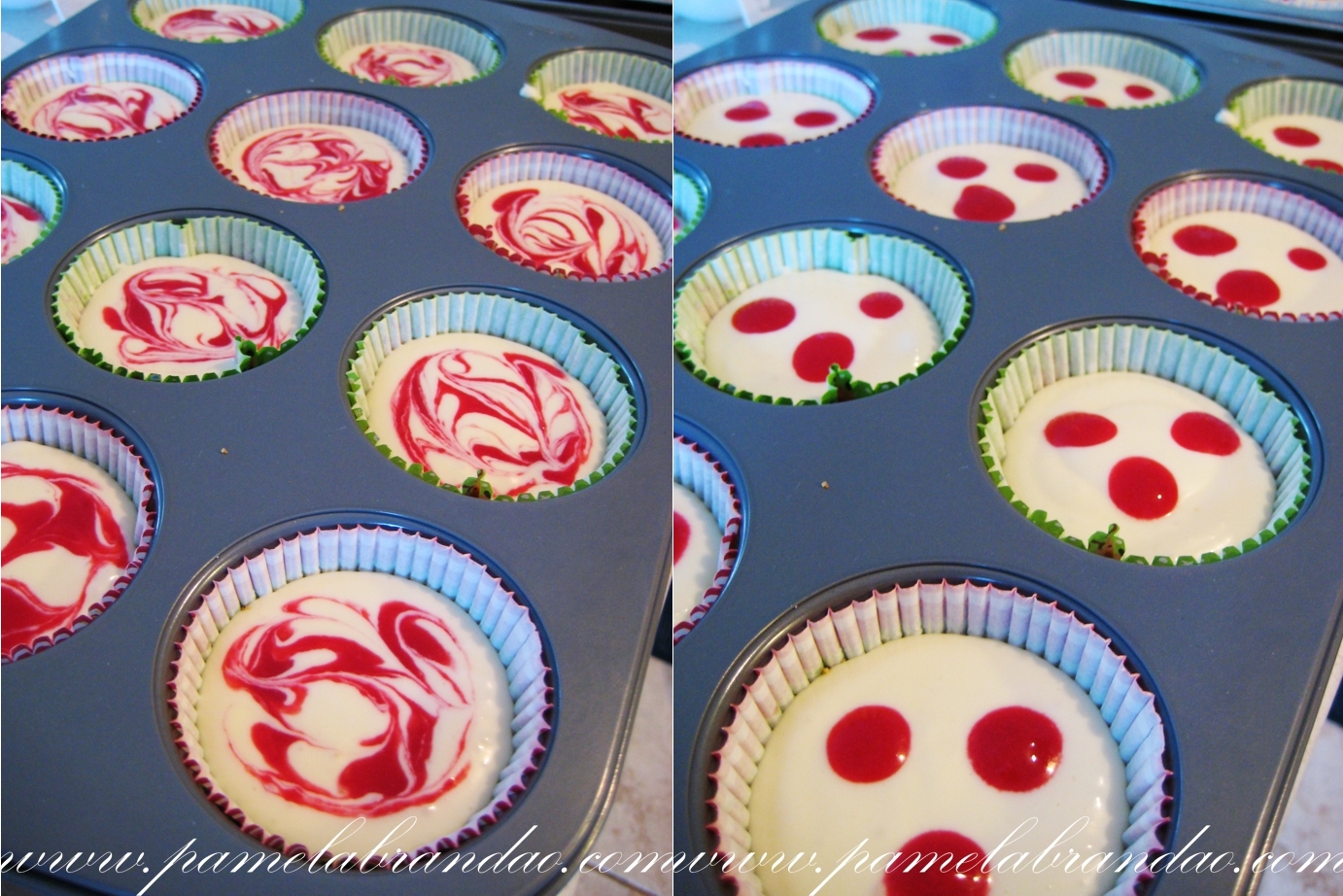 Bake until the filling is set, about 25 to 30 minutes in a water bath or 22 minutes in a usual baking, rotating the pans halfway through baking.  (They will look quite puffed initially but will return to normal quickly.)  Transfer to a wire cooling rack and let cool to room temperature.  Transfer to the refrigerator and let chill for at least 4 hours before serving.