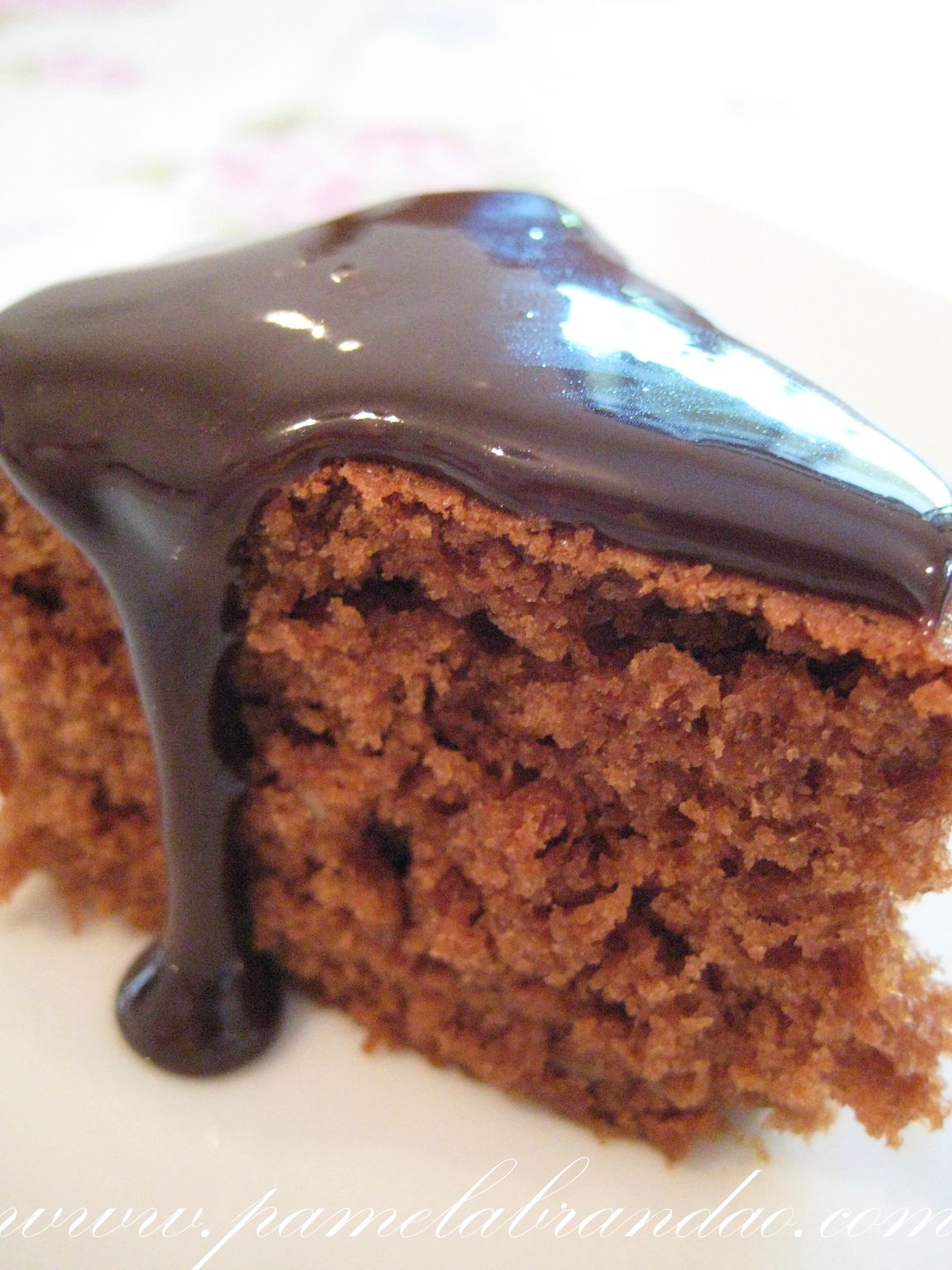 There were some bananas at home that were ripe and my mother asked me to use them before they became rotten, and nothing better than baking a cake, right? Since I had already made several recipes for basic banana cakes, this time I decided to make one with chocolate, and found this recipe here. I changed some things like the amount of butter and banana, and the type of flour, the recipe called for 2 bananas, but I placed a third and thought that maybe more  bananas would it be great. But what matters is that the cake is delicious, super quick and easy to make and is super soft, and banana works perfectly with chocolate. And to finalize, I did a basic chocolate topping and poured with pride on top of the cake, beautiful and delicious too…hehe. Oh, this recipe would make great cupcakes, and next time I will make them for sure.
Chocolate and Banana Cake
Ingredients:
100g plain chocolate
100g unsalted butter , softened
175g golden caster sugar
3 eggs , beaten
175g all-purpose flour
2 and 1/2 tsp baking powder
25g cocoa
3 or 4 large bananas , peeled and mashed
Topping:
6 tbsp chocolate powder
12 tbsp sugar
3 tbsp butter
1 and 1/2 cup milk
Directions:
For the cake:
Heat the oven to 160°C. Butter and line the bases of 2 x 450g loaf tins with baking parchment. Melt the chocolate either in the microwave or in a small glass bowl set over a pan of barely simmering water. Stir until smooth and remove from the heat.
Cream together the softened butter and caster sugar until pale and fluffy. Gradually add the egg, beating well between each addition. Sift together the flour, baking powder and cocoa and fold in using a large metal spoon. Add the mashed banana and chocolate and mix well.
Divide the mixture between the 2 tins and top each with the streusel. Bake for about 45 minutes or until a skewer inserted in the middle comes out clean. Cool on a rack, then wrap in baking parchment or foil.
For the topping:
Mix all the ingredients in a small saucepan and cook over high heat until it boils. Pour it over the cake when is still hot.