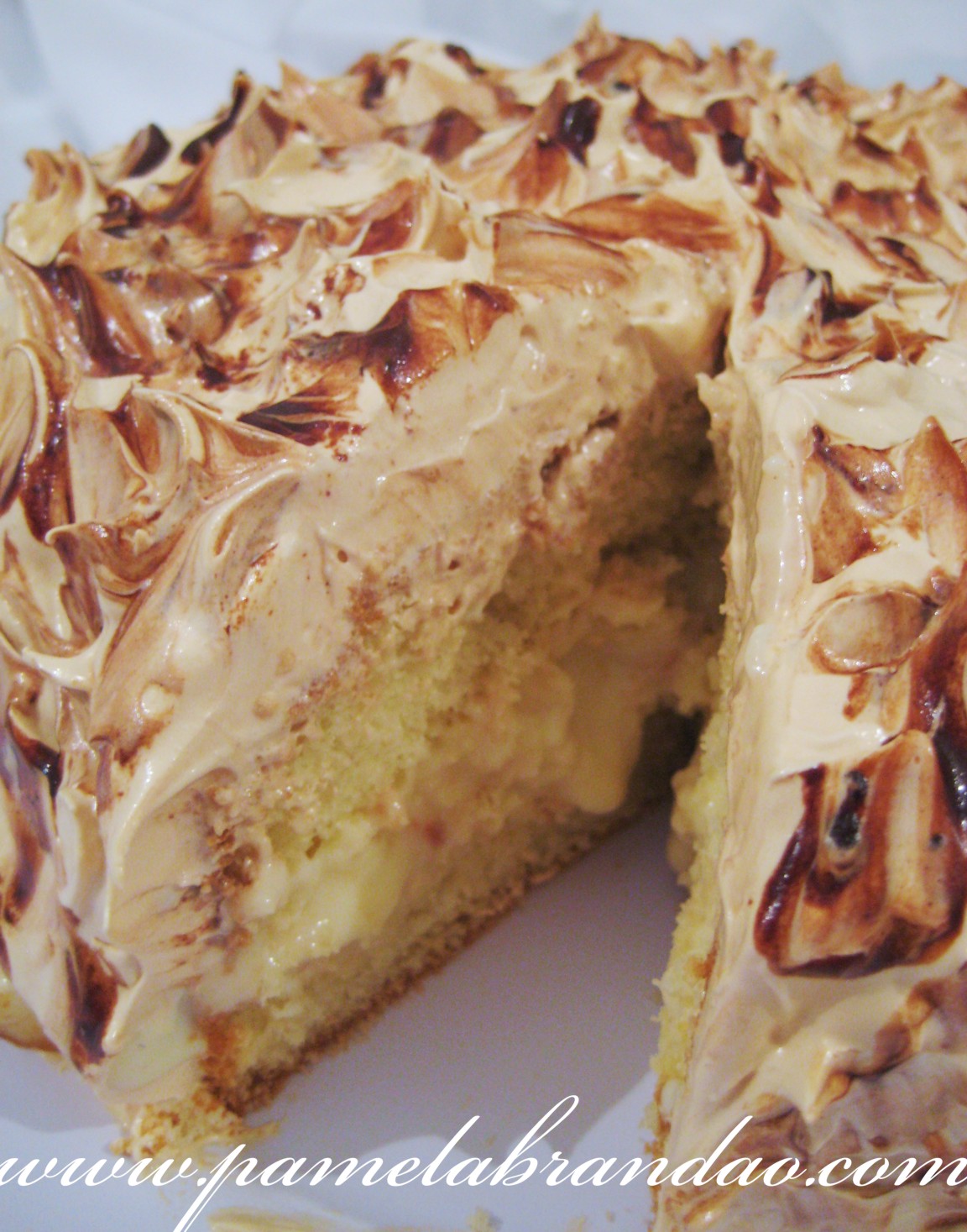 I saw this cake in Marly's blog, and as she posted some pictures of this beautiful cake and gave me a private lesson on how to do everything right, I wanted to bake it as soon as possible because I had all the ingredients at home and was crazy to try it. Yummy, I loved it, the cake is simple but has that flavour that everyone likes, is not that kind of cakes with several ingredients and flavours, that we always know that someone won't like. This I guarantee that everyone will love. But the charm of this cake is on the topping, and you can abuse on the decoration. Oh, I decided to make half the recipe and I still got a cake with good size.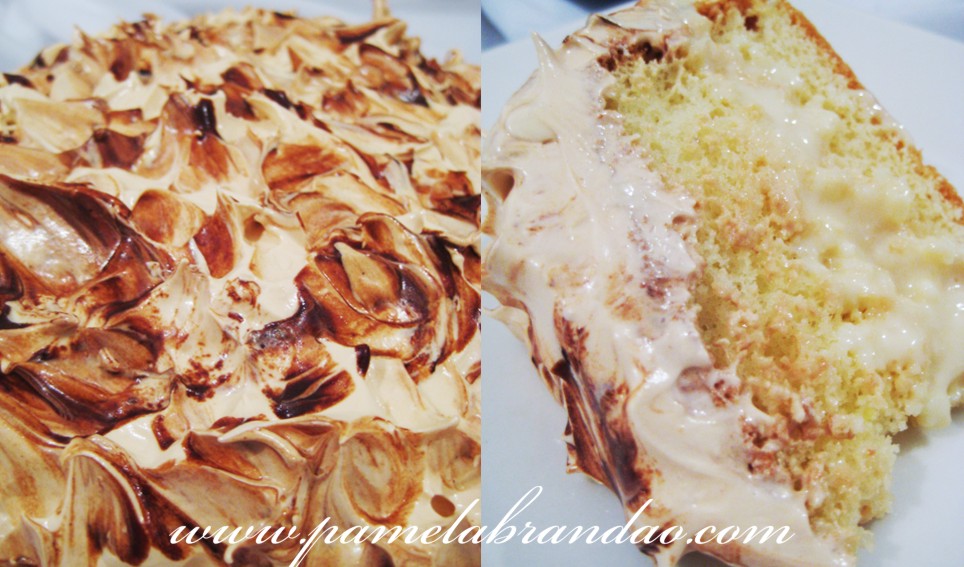 Marbled Meringue Cake
Ingredients:
Cake:
3 cups all purpose flour
5 eggs
2 cups sugar
3/4 cup hot milk
2 tbsp vegetable oil
1 tbsp baking powder
1 pinch salt
5 drops vanilla essence
Filling:
½ can condensed milk
500 ml milk
½ can heavy cream
3 egg yolk
3 tbsp corn starch
5 drops vanilla essence
Syrup:
¾ cup water
1 tbsp sugar
2 tbsp rum
Topping/Meringue:
2 cups sugar
1 cup hot water
4 egg whites, beaten
Chocolate Topping:
6 tbsp cocoa powder
3 tbsp milk
1 tbsp butter
Directions:
Preheat oven to 350 degrees F (177 degrees C) and place rack in center of oven. Butter, or spray with a non stick spray, two 7 inch (18 cm) round pan.
Cake:
In the bowl of your electric mixer (or with a hand mixer), beat the sugar and eggs until smooth and creamy. With a spoon, gently add the flour e the other ingredients. Place the batter into the prepared pan and bake for about 45 minutes, or until a toothpick inserted in the center comes out clean. Remove from oven and place on a wire rack to cool for about 10 minutes before removing the cake from the pan to cool completely.
Filling:
In heavy saucepan, dissolve cornstarch in milk, add the condensed milk and the egg yolks. Cook and stir until thickened and bubbly. Turn off the heat and add the heavy cream and vanilla. Let it cool completely.
Syrup:
Boil the sugar and water. Let it cool and add rum.
Topping/Meringue:
Put egg whites in bowl of electric mixer. Beat on high until soft peaks form. In heavy saucepan, caramelize the sugar until liquid form. Add hot water and let it boil until smooth and bubbly. With the electric mixer on, slowly fold the caramelized sugar into egg whites, beating until gets warm and light brown.
Chocolate Topping:
In heavy saucepan, mix all the ingredients and cook until it boils. Spread the melted chocolate over the meringue (after assembling the cake) and use your imagination to create the design you want.
Assembling the cake:
Place one layer on a cake stand or serving plate. Top half the syrup and the filling. Place another cake layer, spread the remaining syrup. Frost the top and sides with the meringue. And on top of meringue spread the melted chocolate.