I never made a meatloaf and I always wanted to make one, so I was searching for some recipes for a classic meatloaf and I saw this one, which I found perfect, because it has also spicy pork sausage, so I decided that it was this one that I would test. Well, actually the combination of flavors and sausage made everything very good, delicious, and it is super easy to do. As it was the first time that I made a meatloaf, I think I made some mistakes…hehe. But despite the mistakes the meatloaf was still delicious.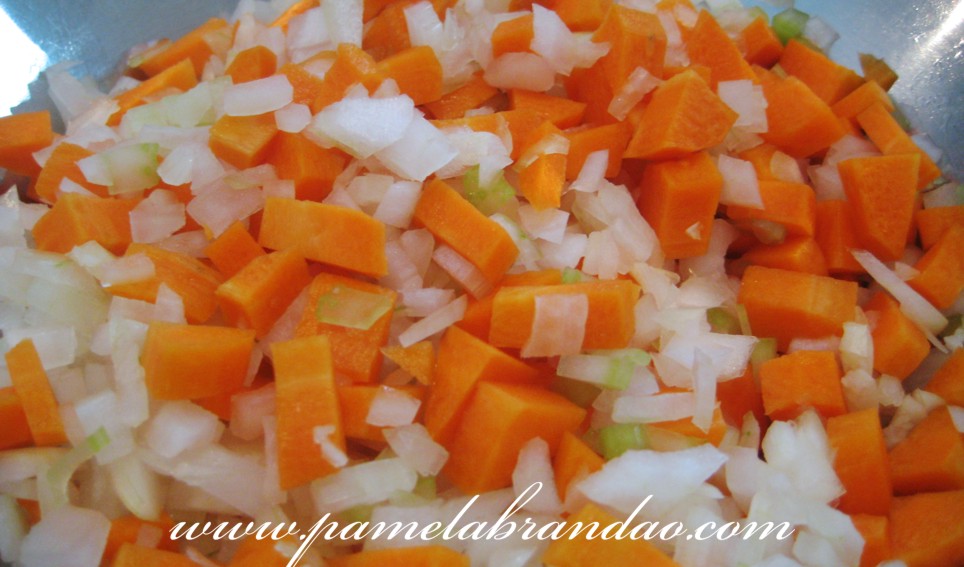 Classic Meatloaf
Ingredients:
1 cup of finely chopped onion
1 celery rib, chopped fine
1 Tbsp minced garlic
1 carrot, chopped fine
1/2 cup of finely chopped scallions (can substitute onion)
2 Tbsp unsalted butter
2 teaspoon salt (use 1 1/2 teaspoons if using Italian sausage)
1 1/2 tsp freshly ground pepper
2 tsp Worscestershire sauce
2/3 cup ketchup
1 1/2 pounds of ground chuck
3/4 pound of spicy ground pork sausage or Italian sausage (a mix of sweet and hot if you are using links)
1 cup fresh bread crumbs
2 large eggs, beaten slightly
1/3 cup minced fresh parsley leaves
Directions:
Preheat oven to 350 degrees F.
In a large heavy skillet cook the onion, celery, carrot, garlic, and scallions in butter, over medium heat, stirring, for about 5 minutes. Cover the skillet and stir occassionally until the carrots are tender, about 5 more minutes. Stir in salt and pepper, Worcestershire sauce, and 1/3 a cup of ketchup. Cook for 1 more minute.
In a large bowl, combine the meats, eggs, vegetables, bread crumbs, and parsley. Form into a loaf and put into a rectangular baking pan with 2-inch high sides. Cover the loaf with remaining ketchup.
Bake the meatloaf in the oven for 1 hour.
Serves 4 to 6, with plenty for leftovers for meatloaf sandwiches.