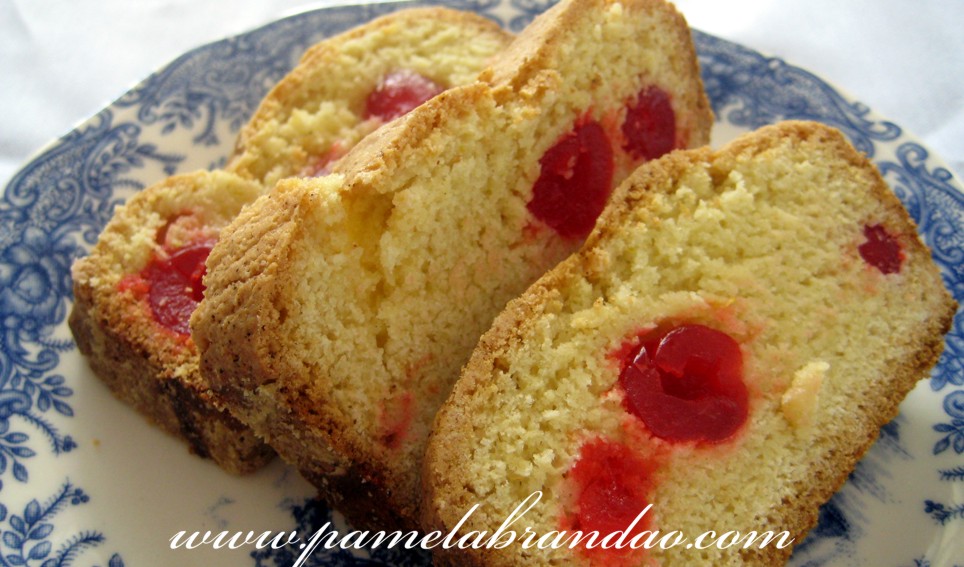 The other day I saw this recipe and I kept it in my memory, but yesterday I was with my mother at the supermarket and she saw some Limes that she wanted to buy,  and automatically I remembered the bread and asked if she wanted me to bake it, and she liked the idea. The recipe is very simple, quick and easy, but for me it's not really a bread or a cake,  for me it was something in the middle. But it is perfect with a cup of coffee in the afternoon, it is super tasty, and smells great, delicious. In the recipe you can use either cherry preserves or jam, I used the cherry preserves, but next time I'll cut the cherries into small pieces, to distribute them better into the bread and I believe that with the  cherry jam it should be even more delicious.
Cherry Lime Bread
Ingredients:
2 cups all purpose flour
1 tsp baking powder
1/2 tsp baking soda
1/4 tsp salt
1 cup sugar
1/4 cup butter, melted and cooled
1 large egg
3/4 cup fresh lime juice
2 tsp lime zest
1 tsp vanilla extract
3/4 cup cherry preserves/jam (not cherry pie filling)
Directions:
Preheat oven to 375°F. Lightly grease a 9×5-inch loaf pan.
In a medium bowl, whisk together flour, baking powder, baking soda, salt and sugar
In a large bowl, whisk together sugar, melted butter and egg until smooth. Add in lime juice, lime zest, vanilla and whisk until smooth. Add in flour mixture and stir until no streaks of flour remain.
Pour half of the batter into the prepared loaf pan. Carefully spread cherry preserves in a layer over the batter. Pour remaining batter into an even layer on top of the preserves.
Bake for about 45 minutes, or until a toothpick inserted into the center comes out clean.
Let bread cool in pan for 15 minutes, then turn out onto a wire rack to cool completely.