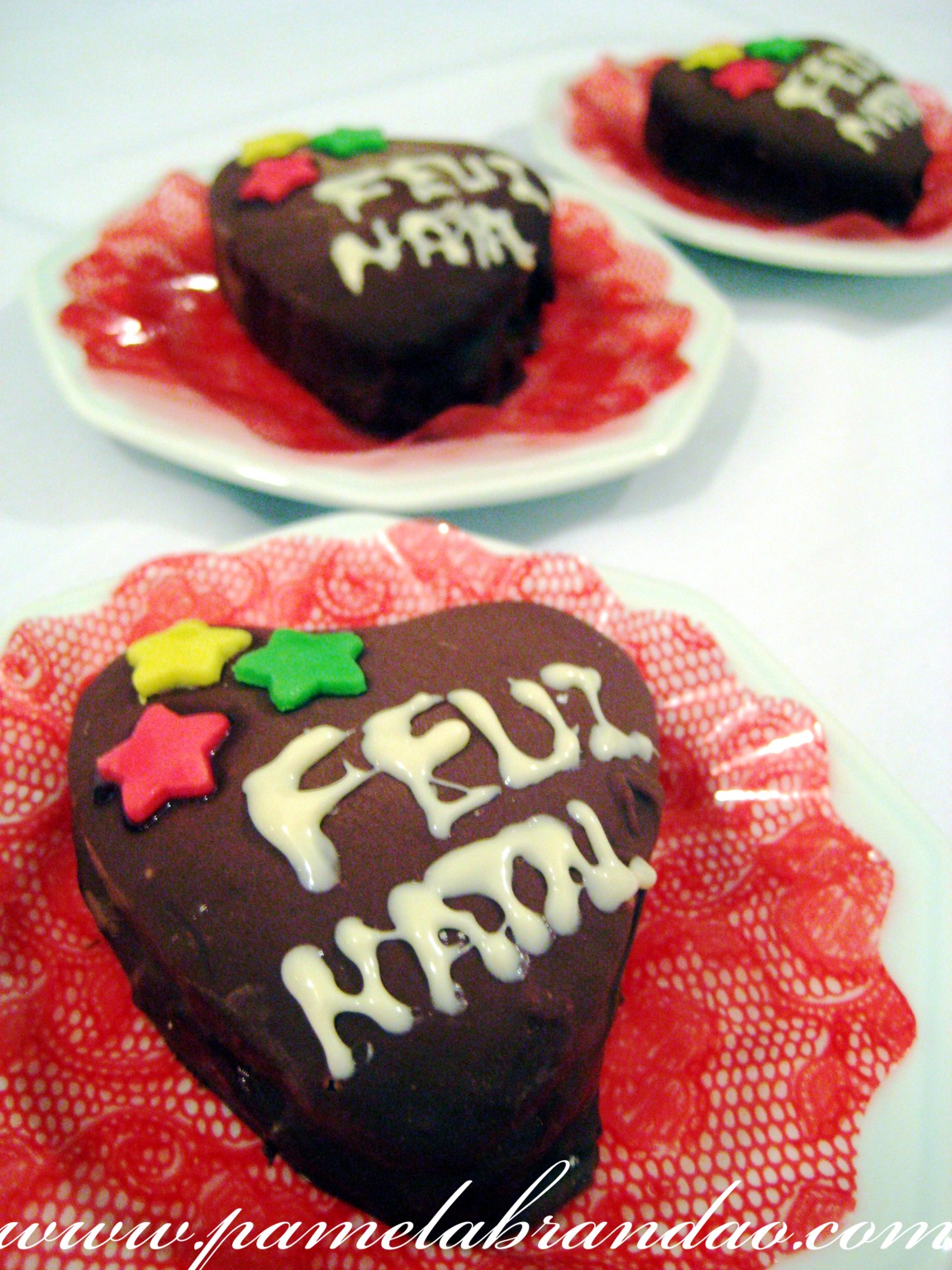 Originally called "pão de mel" (honey bread) in Brazil, where it's a local favorite, this dark chocolate covered little dense spice honey cake will amaze your taste buds. It's great with a hot cup of coffee, tea, chai or just by itself. You can also use a dulce de leche filling, and make them even more delicious. Oh my, I can't get enough…I love honey bread. Just a reminder, you'll probably need to reduce the recipe or otherwise you'll have lots and lots of breads, so you should do half or even a third. But one thing I'm sure, you'll love it.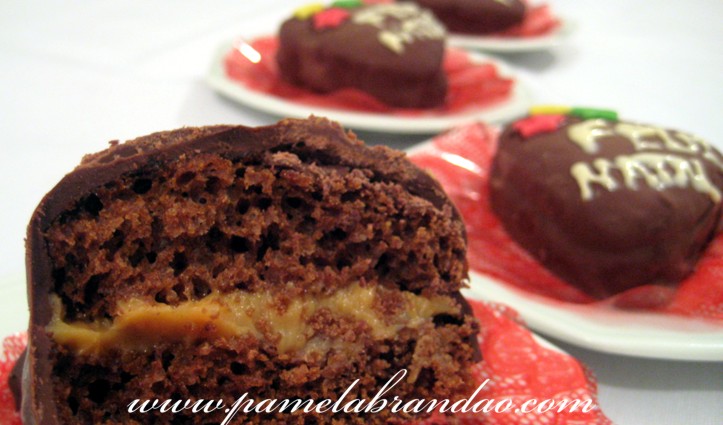 Brazilian Honey Bread
(96 individual breads)
Ingredients:
(if you need, use a "oz" conversion calculator on the internet)
490 g brown sugar
400 ml water
5 eggs (separated)
700 g all purpose flour
5 g ground cloves
5 g ground cinnamon
25 g chocolate powder
20 g baking soda
10 g baking powder
250 ml milk
300 ml honey
Syrup:
200 ml water
10 g brown sugar
3 cinnamon sticks
10 g cloves
Icing:
1.5 kg milk chocolate
1 kg semi-sweetened chocolate
Dulce de leche for the filling
Directions:
For the syrup, put all the ingredients in a saucepan in low heat, for about 15min. Drain it and let it cool.
Beat egg whites until it forms stiff and firm peaks, reserve.
Preheat oven 350°C. Butter and flour a 12 X 16inch pan, or use individual pans.
Mix with a whisk, the cold syrup, with the sifted flour, ground cinnamon, ground cloves, chocolate powder. Add the baking soda dissolved into the milk and the sifted baking soda. Add the egg yolks one by one and whisk well. Gently fold the egg whites into the batter. Pour the batter in the pan and bake for approx. 40 minutes, or until a toothpick inserted in the cake come out clean. Let it cool. Pour the syrup over the cake. Cut the cake into squares.
For the icing, melt the chocolates in a microwave oven or in a double boiler and cover the breads. Use a fork to dip the bread. Place on aluminum foil to dry into the refrigerator.