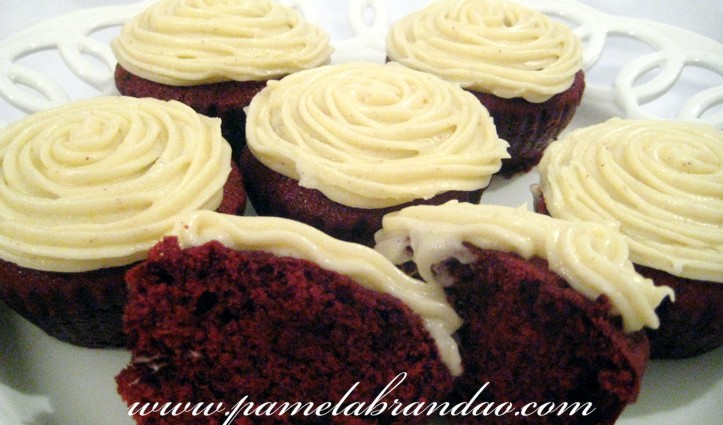 Ohh these cupcakes are so cutes, they are so pretty with this red color, perfect to be given as a gift for a special person, don't you think? Although the red color, it is a chocolate cupcake , and I found this recipe here. The cupcakes are delicious, I loved the cinnamon cream cheese frosting, I think that it is a perfect combination. So the recipe is approved, it is DELICIOUS!
Red Velvet Cupcakes
(12 cupcakes, double recipe to make 2 9-inch layer cakes)
Ingredients:
Cupcakes:
4 Tablespoons unsalted butter, at room temperature
3/4 cup sugar
1 egg
2 1/2 Tablespoons unsweetened cocoa powder
3 Tablespoons red food coloring (I using a dash less)
1/2 teaspoon vanilla extract
1/2 cup buttermilk
1 cup plus 2 Tablespoons all-purpose flour
1/2 teaspoon salt
1/2 teaspoon baking soda
1 1/2 teaspoons distilled white vinegar
Cinnamon Cream Cheese Frosting:
2 1/3 cups powdered sugar, sifted
3 Tablespoons butter, room temperature
4 ounces cream cheese, cold (I used room temperature)
scant 1/4 teaspoon ground cinnamon
Directions:
Cupcakes:
In the bowl of a stand mixer fit with a paddle attachment, cream the butter and sugar until light and fluffy, about three minutes. Turn mixer to high and add the egg. Scrape down the bowl and beat until well incorporated.
In a separate bowl mix together cocoa, vanilla and red food coloring to make a thick paste. Add to the batter, mixing thoroughly until completely combined. You may need to stop the mixer to scrape the bottom of the bowl, making sure that all the batter gets color.
Turn mixer to low and slowly add half of the buttermilk. Add half of the flour and mix until combined. Scrape the bowl and repeat the process with the remaining milk and flour. Beat on high until smooth. Turn mixer to low and add baking soda and white vinegar. Turn to high and beat a few more minutes.
Spoon batter into a paper lined cupcake baking pan and bake at 325 F for 20-25 minutes or until a skewer inserted into the center cupcake comes out clean. Let rest in the pan for 10 minutes, then place them of a cooling rack to cool completely before frosting.
Cinnamon Cream Cheese Frosting:
Beat the powdered sugar, cinnamon, and butter together in the bowl of a stand mixer fit with a paddle attachment. Mix on medium-slow speed until it comes together and is well mixed.
Add the cream cheese all at once and beat on medium to medium-high until incorporated. Turn the mixer to medium-high and beat for 5 minutes, or until the frosting becomes light and fluffy. Do not over-beat as the frosting can quickly become runny.