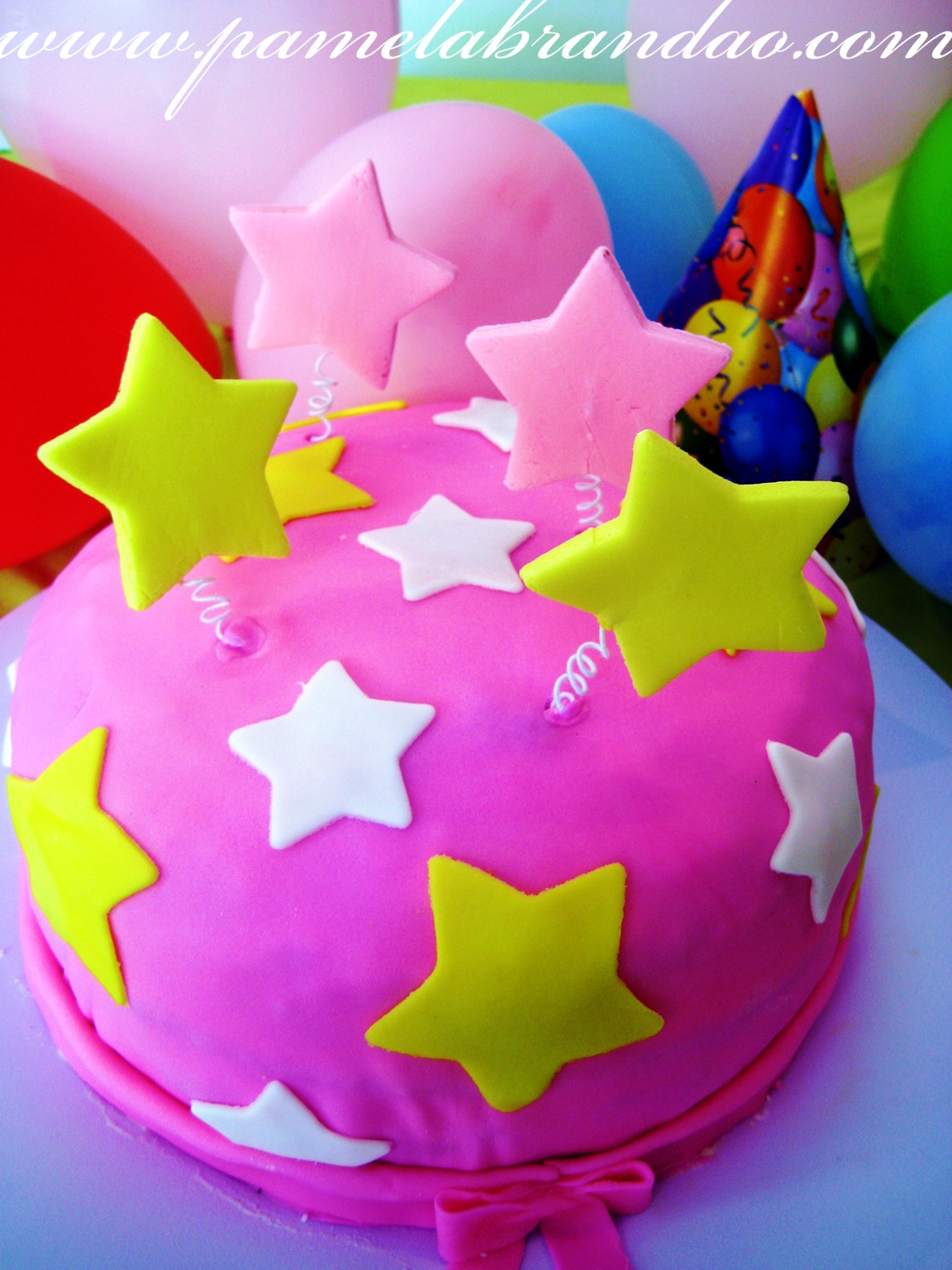 Continuing with the cakes marathon here at home, this time it was my sister's birthday cake. She asked me for a chocolate cake with coconut filling and I found this recipe at Nestlé. But after having seen a photo of a cake with stars, she also asked me to decorated her cake in the same way as the one of the photo. As I never had made fondant icing before, I bought one pack in the supermarket…haha.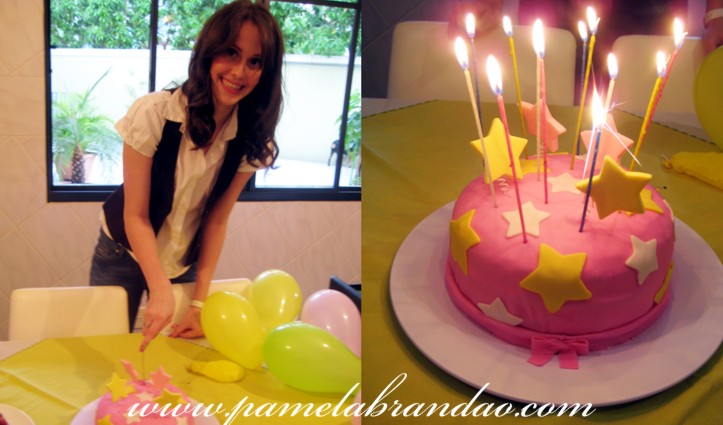 After, when I was making the cake, my sister asked me about the chocolate filling, but I said to here that this cake doesn't has a chocolate filling, only coconut filling, but then she said to me that she wanted a chocolate filling. Ok, as fast as I could, I made a chocolate filling and put into the freezer, so I could use it faster. But in the end it turned out to be a good idea, because the coconut filling it's not to sweet, so the chocolate filling added more sweetness.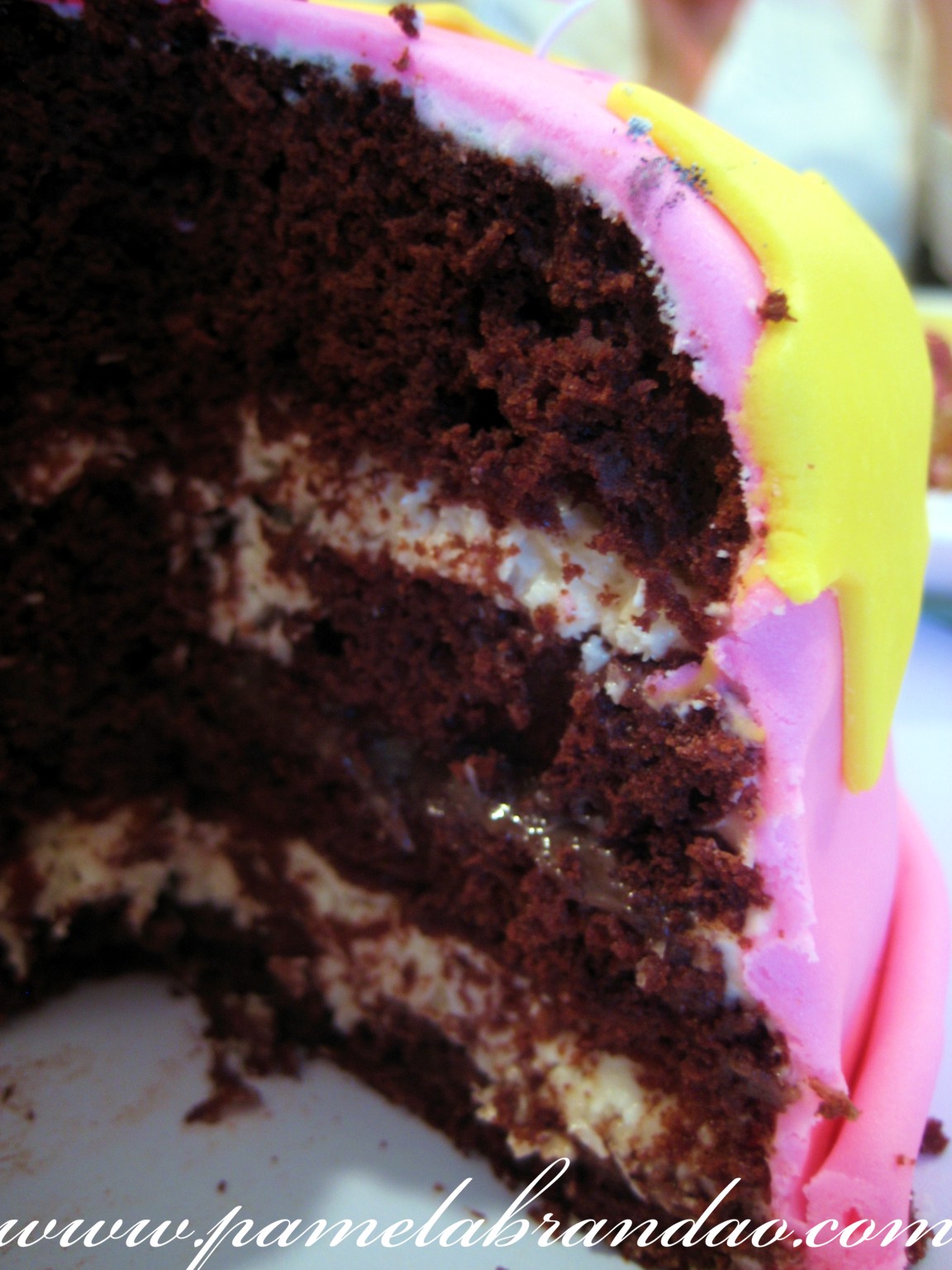 And I also make the usual Marie Biscuits Choco Balls that everybody loves. Ah, and if you don't want to use the fondant icing I'll post the chocolate topping alternative.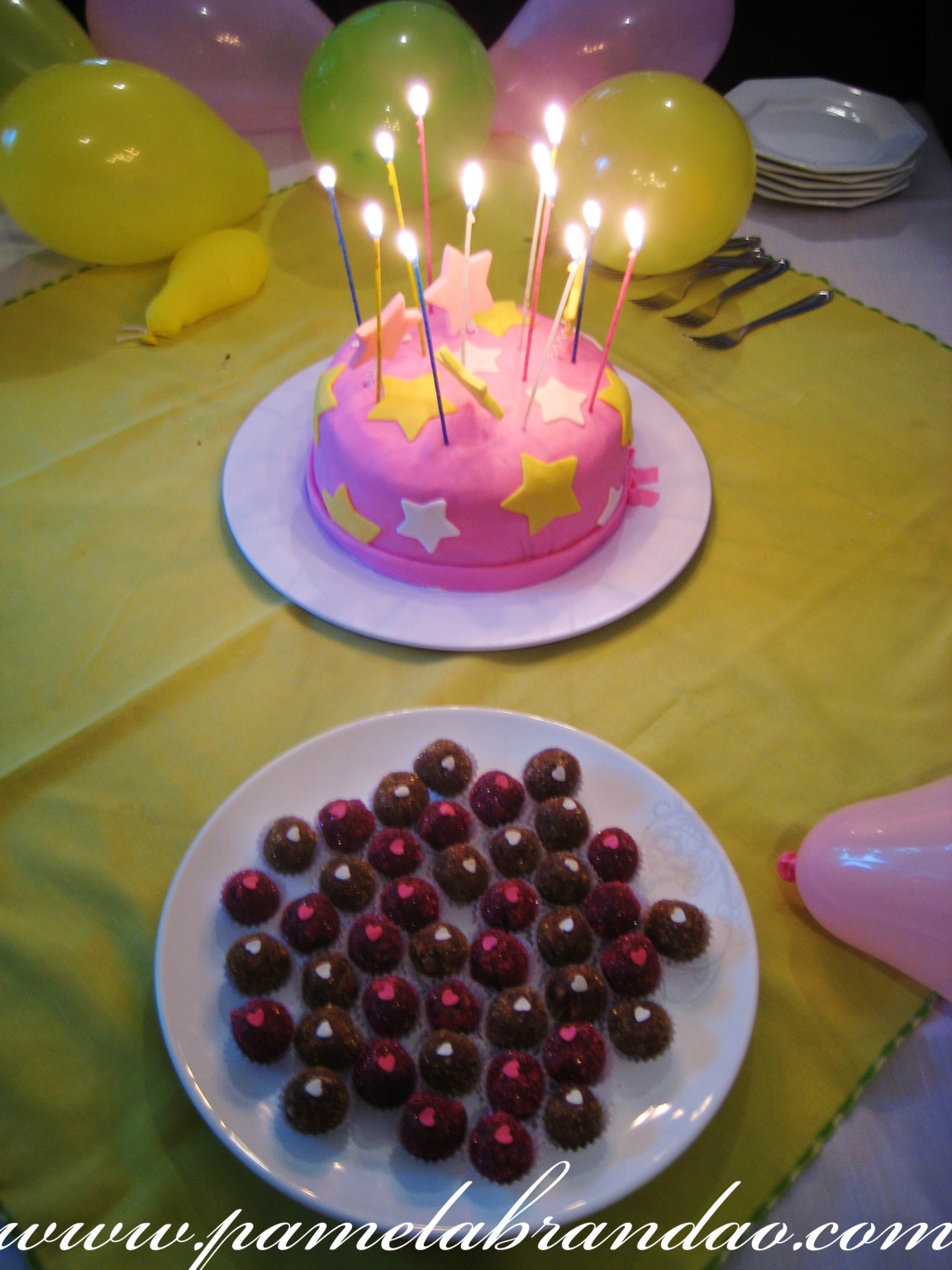 Chocolate Cake with Coconut Filling
Ingredients:
Topping:
300g heavy cream
50g dark chocolate
Coconut Filling:
3 egg whites
1/2 cup sugar
300g heavy cream
2 cup grated coconut
Chocolate Filling:
1 can condensed milk
4 tbsp cocoa powder
1 tbsp butter
Cake:
1/2 cup of butter
1-1/2 cup of sugar
6 eggs
1/2 cup of milk
1-1/2 cup of all-purpose flour
1 cup cocoa powder
1/2 tbsp baking powder

Syrup:
1/2 cup milk
2 tbsp coconut milk
Directions:
Topping:
In a medium-sized nonstick saucepan over medium heat, heat cream just under boiling point. Remove from heat and add chopped chocolate. With a whisk, stir until chocolate is completely melted and mixture is smooth.
Coconut Filling:
In a saucepan over low heat, heat egg white with the sugar, for about 3 minutes butter, stirring to dissolve the sugar (without let it boil). Remove from heat and transfer to the mixer, beat on medium-high speed until it cools to body temperature and until the mixture is very smooth(meringue). Add the heavy cream and the grated coconut and gently fold. Refrigerate until needed.
Chocolate Filling:
In a heavy saucepan, mix the condensed milk, cocoa and butter. Stir to dissolve the chocolate. Put over low heat and stir constantly with a wooden spoon. Continue stirring until you are able to see the bottom of the pot when you tilt the pan,(the mixture should slide quickly). This should take 10-12 minutes.The longer you leave it to boil, the thicker it gets.
Cake:
Preheat oven to 350ºF/180ºC. Separate the eggs while they are still cold, and cover the whites and yolks with plastic wrap to prevent a film from forming on the egg yolks and the whites from drying out. Let the yolks and whites reach room temperature before using (this will take about 30 minutes). Having the yolks and whites at room temperature will ensure that the eggs reach their full volume when beaten.
Into a large mixing bowl, beat the butter with the sugar until smooth. Into a large mixing bowl, beat the butter with the sugar until smooth. Add the egg yolks one by one and beat. Slowly add the flour, the chocolate powder, milk, baking powder and use a spoon to mix the ingredients. In a clean bowl, whip the egg whites until foamy. Pour egg yolk mixture over whites, gently folding with a rubber spatula just until blended. Do not stir or beat. Divide the mixture evenly between two 8inch greased round pan. Bake for 30 minutes. Loosen cakes from pans with an offset spatula, and unmold onto wire rack. Cool to room temperature
Assembling the cake:
Line a baking sheet with parchment paper and place a wire rack over it. Using a serrated knife, cut each cake in half horizontally. (If necessary, shave off any uneven pieces of cake with a serrated knife so that it is smooth and even on all sides.) Brush the tops of three layers each with some of the syrup. Place the bottom layer on a 9-inch round of cardboard and set it on the wire rack. Spread half the coconut filling evenly on top of the layer. Top with a second layer of cake. Spread the chocolate filling evenly over it. Top with the third layer and spread the remaining coconut filling. Top with the fourth layer. Chill in the refrigerator for 2 hours. Spread the entire cake with the chocolate frosting or use fondant icing. Led to the refrigerator until serving .time.