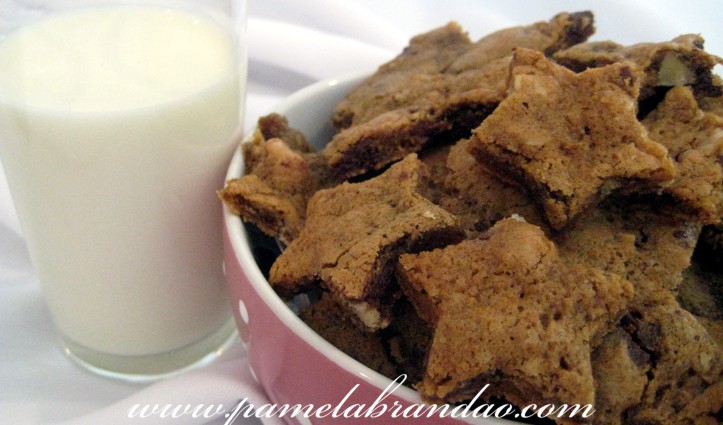 It has a long time that I'm searching for a great cookie recipe, all the ones that I tested were not yet what I was looking for, until that I found this one. I loved, for the time being it is the best cookies recipe that I tested, it is that type of cookies that it is soft in the middle and toasted in the edges, and that is what I like. This is a recipe that I suggest without a doubt, the cookies are DELICIOUS!
Chocolate Chip Cookies
(4 dozen large cookies)
Ingredients:
2 tablespoons unsalted butter
1/4 cup granulated sugar
1/2 teaspoon ground sea salt
1 1/2 cups coarsely chopped walnuts, lightly toasted
1 cup unsalted butter
4 1/2 cups all-purpose flour
2 1/2 teaspoons baking soda
2 teaspoons ground sea salt, plus additional for sprinkling
1/2 cup unsalted butter, softened
2 cups firmly packed brown sugar
1 cup granulated sugar
4 large eggs
4 teaspoons vanilla extract
12 ounces coarsely chopped semisweet chocolate
Directions:
Preheat oven to 375 degrees F. Generously butter cookie sheets.
Melt 2 tablespoons butter in a small saucepan over medium heat; stir in 1/4 cup sugar and 1/2 teaspoon salt and bring to a boil. Boil 1-2 minutes, whisking frequently, until golden brown; stir in walnuts until well coated. Place on a sheet pan, and bake for 5 minutes or until well toasted; cool.
Melt 1 cup butter in a small saucepan over medium heat; continue to cook the butter, whisking frequently, until it starts to brown and foam, about 5-7 minutes. Set aside.
In a medium sized mixing bowl, sift together flour and baking soda; stir in 2 teaspoons salt until combined.
In a large mixing bowl, using a mixer on medium speed, beat 1/2 cup softened butter, brown sugar and 1 cup granulated sugar until well combined and grainy, about 1 minute; beat in browned butter for 1 additional minute. Beat in eggs and vanilla until well combined. Reduce mixer speed to low and gradually beat in flour mixture until just combined; stir in chocolate and walnuts with a wooden spoon until combined. Chill dough in the refrigerator for 1 hour. (You could speed up this process by placing the dough in the freezer for about 45 minutes.)
Drop 1/4 cup measures of dough onto cookie sheet, forming into large mounds, and flatten slightly. Bake at 375 degrees F. for 12-14 minutes, or until golden brown around edges. Cool 2 minutes before transferring to wire racks.