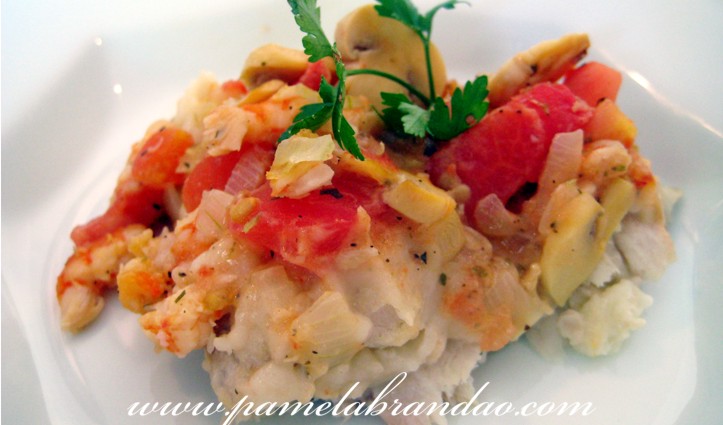 Besides the cake, I also made the lunch in my father's anniversary, and as he loves fish I decided to make this recipe that I found in a magazine. For those who likes fish as I like, are going to love this recipe, and the recipe also has shrimp, it can't get tastier. Recipe approved.
Fish Fillet in Wine Sauce
Ingredients:
1kg fish fillet
All-purpose flour to coat
Sauce:
1 small chopped onion
2 tbsp butter
200g clean and chopped shrimp
1/2 cup Paris Mushroom sliced
2 skinless chooped tomatos
1 cup white wine
Juice of 2 lemons
1 tbsp all-purpose flour
1/2 tbsp dry oregano
Sal and pepper
Directions:
Preheat oven 200° C.
Squeeze fresh juice from 2 lemon on the fillets, sprinkle with salt and pepper. Lay the fillet in the flour, gently pressing on the fish to make the mixture adhere. Flip the fillet over, and repeat the process on the second side. Place the fillets on the baking pan.
Sauce:
In a saucepan over medium heat, heat the butter with a tbsp of oil and sauté the onions until translucent.
Add the mushrooms, the wine, tomatoes, shrimp, oregano and season with salt and pepper. If you like you can add juice from 1/2 lemon. Add the flour and heat until the mixture thickens. Spread the sauce over the fishes and bake it for 15 minutes.