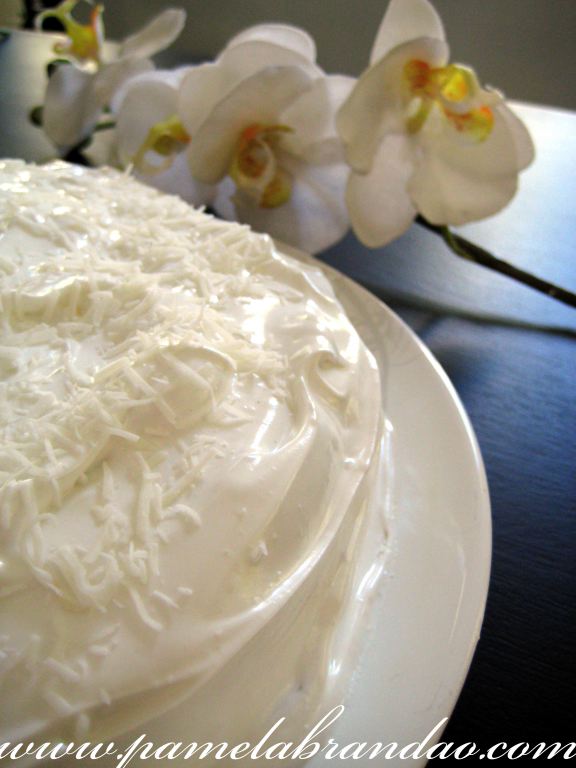 Dulce de leche in Spanish or doce de leite in Portuguese ("milk candy"), is a milk-based syrup. Found as both a sauce and a caramel-like candy, it is popular across Latin America. It is prepared by slowly heating sweetened milk to create a product similar in taste to caramel. The name literally means "sweet of milk" or "milk candy" in Spanish and Portuguese. Its most basic recipe calls for slowly boiling milk and sugar, although other ingredients may be included to achieve special properties. Dulce de leche may also be prepared by cooking sweetened condensed milk for several hours.
This cake I found in Ana Elisa's blog, and in her post she says that she made this cake for her father, when I read that I immediately remembered of my father, he also loves cakes with doce de leite filling and I decided to make it. The cake is fast and tasty, the only problem that I found was that the doce de leite did not stopped to spill out, but I just put it a little bit in the freezer and it stopped to run away…haha. So I advise to use a thicker doce de leite or place it in the freezer a little bit before using.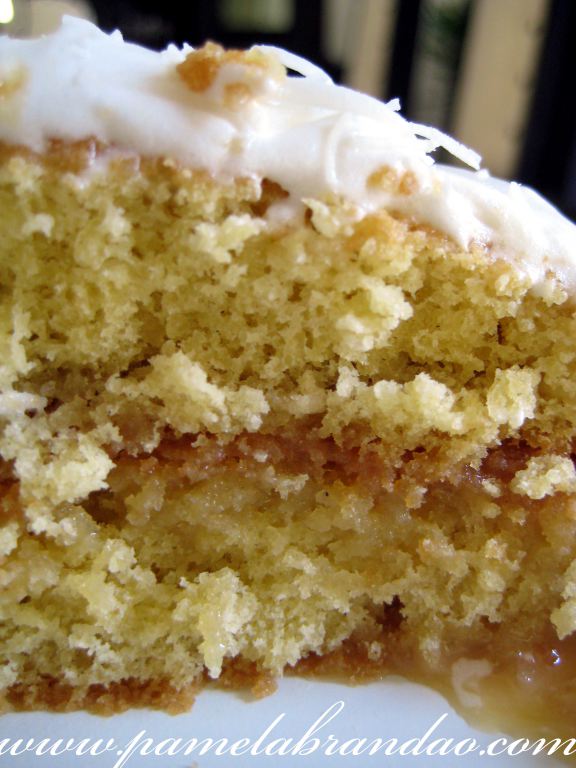 Coconut Cake with Dulce de Leche Filling
Ingredients:
Cake:
1 cup unsalted butter at room temperature
3/4 cup granulated sugar
1/2 tsp vanilla essence
4 large eggs
1 1/3 cups all purpose flour
2 tbsp cornstarch
1 tsp baking powder
1/4 tsp baking soda
1/2 cup + 2 tbsp coconut milk
Syrup:
2 tbsp sugar
2 tbsp water
2 tbsp Malibu
Filling:
1/2 cup milk Dulce de leche
Glaze:
1 egg white
175g confectioners' sugar
1 tbsp lemon juice
1/4 tsp cream of tartar
2 tbsp Malibu
Grated coconut
Directions:
Cake:
Preheat the oven to 180ºC/350ºF. Lightly oil and flour the sides of two 9×2-inch round cake pans, tapping out any excess flour. Line the bottoms of the pans with parchment.
In a large mixing bowl whisk the sugar with the butter until mixture is smooth. Continue mixing, and add the eggs one by one. Add the vanilla essence.In a separate, large mixing bowl, sift together the flour, cornstarch, baking soda and baking powder. With a spoon, fold dry mixture into the egg mixture to combine completely, until mixture is smooth. Add the coconut milk, mixes until it is uniform and divide cake batter evenly between 2 cake pans. Bake for 25 minutes, or until they are slightly golden. Cool cakes for 15 minutes. Loosen cakes from pans with an offset spatula, and unmold onto wire rack. Cool to room temperature.
Syrup:
In a saucepan over medium heat, heat the ingredients just under boiling point until the sugar it has dissolved. Let it cool. Brush the tops of the cakes with the syrup.
To Assemble the Cake:
Place the bottom layer on a 9-inch round of cardboard and set it on the wire rack. Spread the filling evenly on top of the layer, leaving 0,5-1cm of edge. Top with the second layer of cake. hill in the refrigerator while you prepare the glaze.
Glaze:
Beat the egg white until it forms peaks, and then add half of the sugar. When the mixture have grown a little, add the remaining sugar slowly and the others ingredients. Beat until it reaches a firm consistency of meringues. Remove the cake of the refrigerator. Spread the entire cake with the glaze and sprinkle some grated coconut. Led to the refrigerator until serving time.