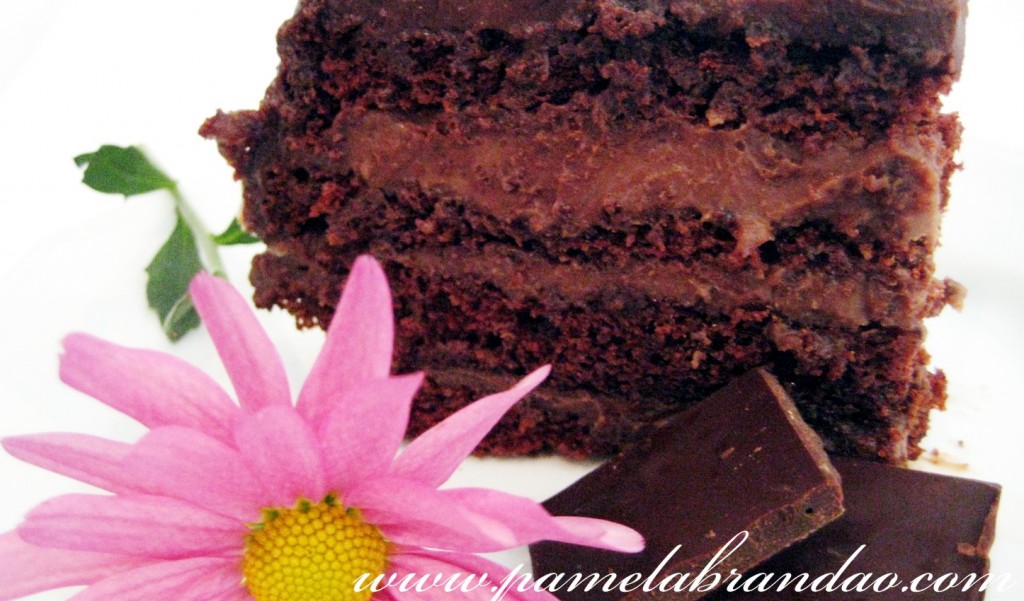 This cake I made for the mothers day in my grandmother's house. As my sister several times asked me for a chocolate cake I decided to choose this recipe and I used it for the mothers day. I found this recipe in a cd that my brother gave to me with recipes that he found in the internet and it seemed interesting. What I can say is that anyone who likes a cake with chocolate dough, chocolate filling and chocolate frosting it is perfect for you and it still has a special tasty of the Grand Marnier liquor, but for me…haha…it was too much chocolate…I really like a mixture of flavors.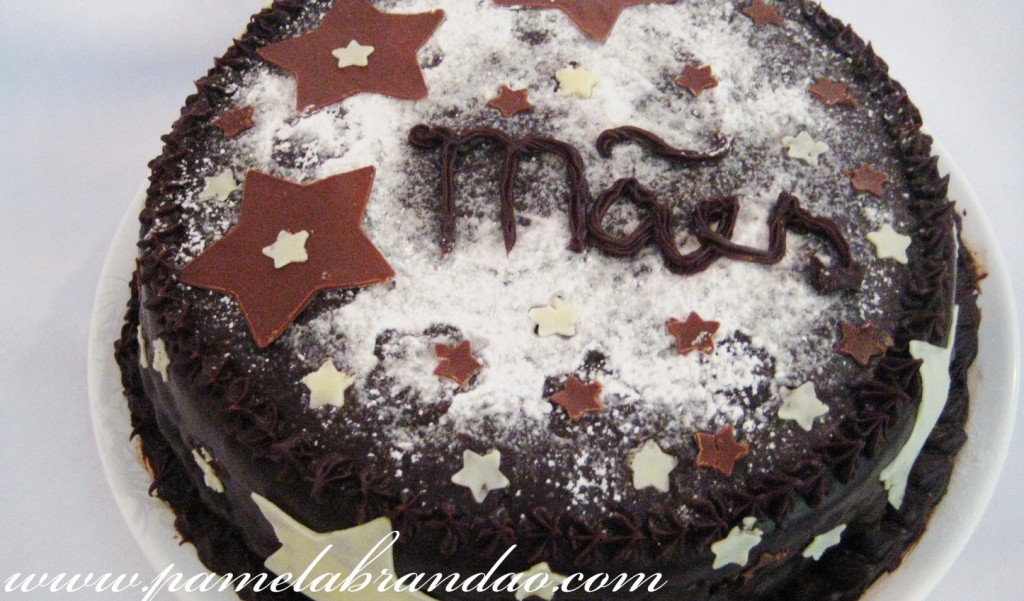 Chocolate Pudding Cake With Chocolate Ganache
Ingredients:
For the Cake:
8 Eggs, separeted
1 Cup Sugar
1/2 Cup Unsweetened cocoa powder
1/2 Cup all-purpose flour
1 Tbsp Baking powder
1 Tbsp Baking soda
3/4 Cup Grand Marnier
For the Pudding:
4 Cup Heavy cream
1/2 Cup Cornstarch
1 Cup Sugar
5 Ounce Semisweet chocolate chips
2 Teaspoon Pure vanilla extract
For the Ganache:
2 Cup Heavy cream
1-1/2 Pound Semisweet chocolate squares; chopped
Directions:
For the cake:
Preheat oven to 350 degrees. Butter two 9-by 2-inch round cake pans and coat each with flour.
In a large mixing bowl of a standing mixer, fitted with whisk attachment, whisk the egg whites until they form firm peaks. Continue mixing, and add the egg yolks one by one. Then gradually add the sugar while whisking and whisk for a couple of minutes. In a separate, large mixing bowl, sift together the cocoa, flour, baking soda and baking powder. With a spoon, fold cocoa mixture into the egg mixture to combine completely, until mixture is smooth. Divide cake batter evenly between 2 cake pans. Bake for 25 minutes, or until cake springs back when touched. Cool cakes for 15 minutes. Loosen cakes from pans with an offset spatula, and unmold onto wire rack. Cool to room temperature.
For the Pudding:
Combine 1/2 cup of the cream with the cornstarch in a small bowl and stir to make a paste. Combine paste with remaining 3 1/2 cups cream, sugar, chocolate chips, and vanilla in a large nonstick saucepan. Using a wire whisk, stir the mixture until it is well blended. Over low heat, whisk cream mixture until chocolate melts thoroughly. Cook the mixture, stirring frequently, until it becomes very thick, about 25 minutes. Pour pudding into a large bowl. Cover with plastic wrap, covering surface of pudding with the plastic to prevent a skin from forming. Let cool to room temperature.
To Assemble the Cake:
Line a baking sheet with parchment paper and place a wire rack over it. Using a serrated knife, cut each cake in half horizontally. (If necessary, shave off any uneven pieces of cake with a serrated knife so that it is smooth and even on all sides.) Brush the tops of three layers each with 1/4 cup of the Grand Marnier. Place the bottom layer on a 9-inch round of cardboard and set it on the wire rack. Spread 1 1/2 cups of the pudding evenly on top of the layer. Top with a second layer of cake. Spread 1 1/2 cups of pudding evenly over it. Repeat the same process with the third layer. Top with the fourth layer. Chill in the refrigerator for 2 hours.
For the Ganache:
In a medium-sized nonstick saucepan over medium heat, heat cream just under boiling point. Remove from heat and add chopped chocolate. With a whisk, stir until chocolate is completely melted and mixture is smooth. Pour ganache over the top of chilled cake, allowing overflow to drip down the sides. Cool slightly. Carefully remove the cake from the wire rack. Chill for at least 6 hours.