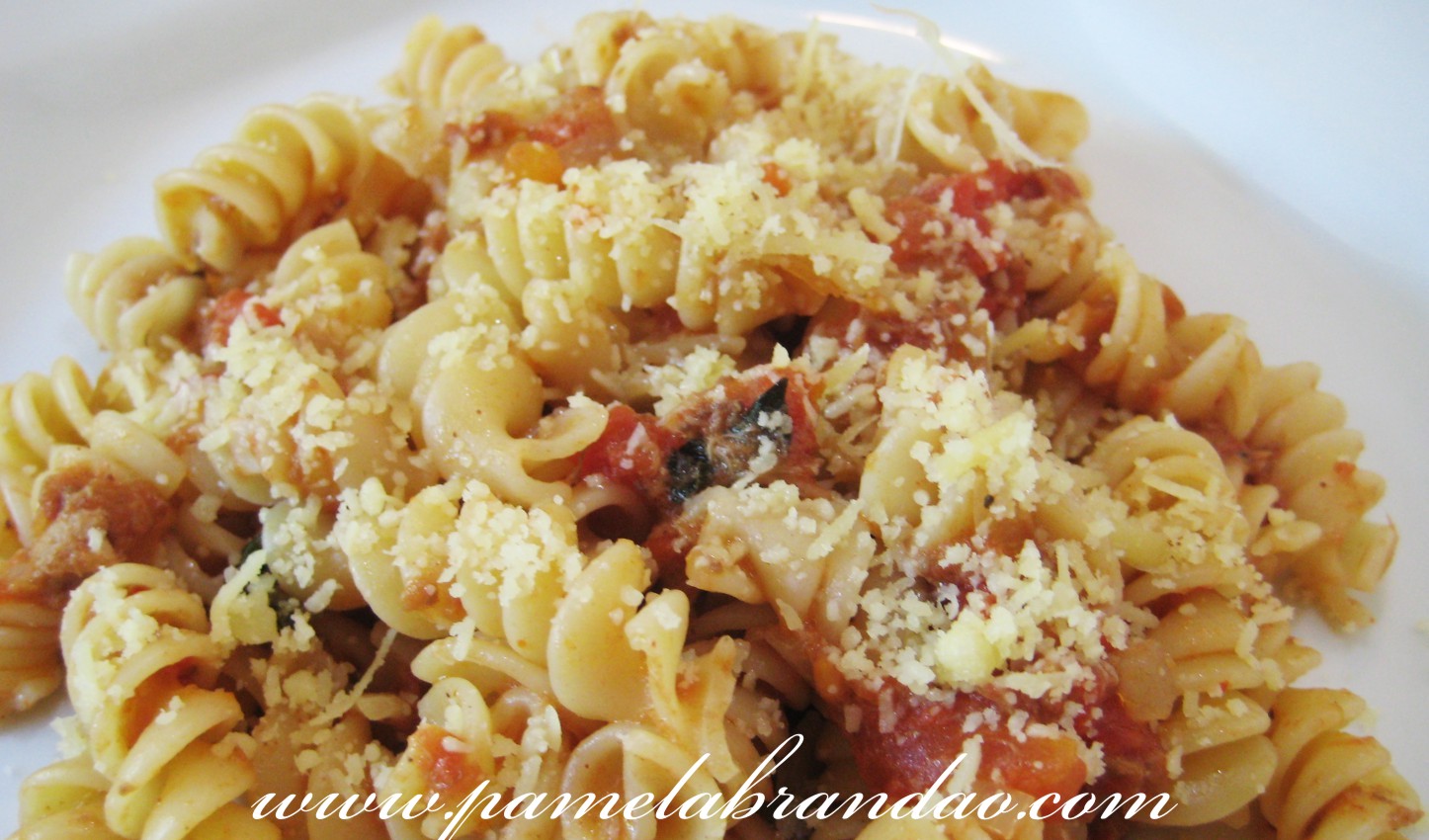 "This is Jools'—Jamie's wife's—favorite quick Saturday afternoon pasta," Jamie says. What makes it to be so tasty is that besides being simple and very practical of making, it has a cinnamon touch that makes it all special. Another thing that I added another day was mozzarella cheese on the top and led to gratinate, it gets even more tasty.
Jool's Pasta
Ingredients:

1 pound, 2-ounce good-quality fusilli or penne
1 small onion , peeled and finely chopped
1 garlic clove finely chopped
1 can good-quality whole peeled tomatoes chopped
2 cans (10 ounces) good-quality tuna in olive oil, drained and flaked
1 to 2 fresh red chilies , deseeded and finely chopped
1 level teaspoon ground cinnamon
1 bunch fresh basil , leaves picked, stalks chopped
Sea salt and freshly ground black pepper
1/2 lemon , zest and juice
Salt
Small handful freshly grated Parmesan cheese

Directions:
Heat a splash of olive oil in a heavy-bottomed pan and cook the onion, chili, cinnamon and basil stalks on a medium to low heat for 5 minutes until onion has softened and is slightly sweet. Turn up the heat and add your tomatoes, tuna and a good pinch of salt. Bring to a boil and simmer for about 5 minutes. Taste for seasoning.
Meanwhile, cook the rigatoni in a pan of salted boiling water according to the pack instructions. When al dente, drain the pasta in a colander, reserving some of the cooking water.
Toss the pasta into the tuna and tomato sauce with the roughly torn basil leaves, a glug of olive oil, the lemon zest and juice, and mix together well. Loosen the pasta with a little of the reserved cooking water if needed. Check the seasoning and serve immediately with Parmesan.