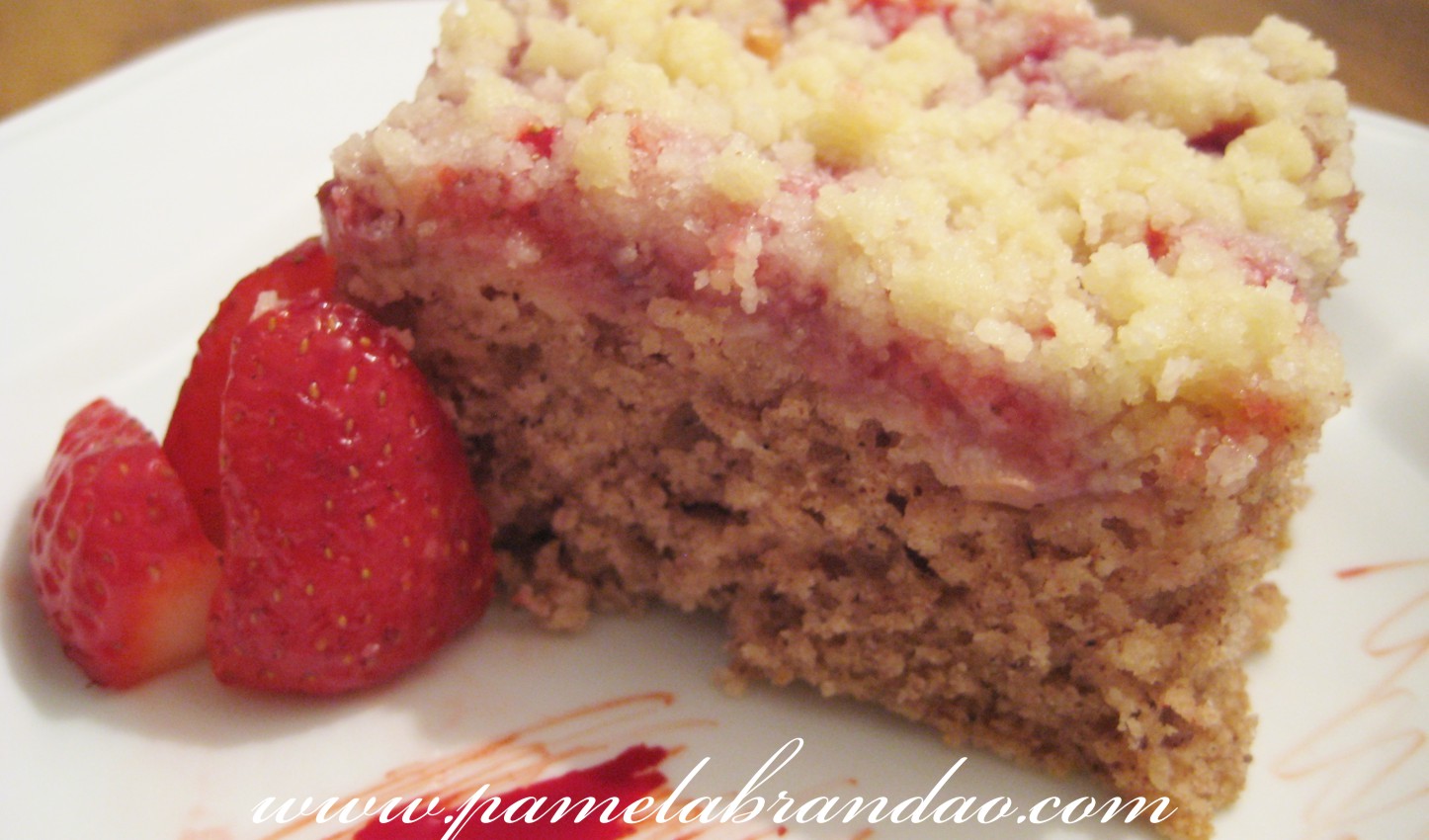 I'm another person who enters for the list of people who had not resisted and had made the recipe of Strawberry Coffee Cake from Cinara's blog. The recipe is totaly approved, the only difference was that I placed it in a smaller pan of  12×8 inch and changed the margarine for butter. Delicious !!
Strawberry Coffee Cake
Ingredients:
Crumble Topping:
1/2 cup flour
1/4 cup sugar
1/4 cup unsalted butter (stick form is necessary), cold from the fridge

To make crumble topping, sift the sugar and flour together in a large bowl. Place the margarine in the center of the bowl and sprinkle a little of the sugar and flour mixture over it. Place all 10 fingers on the stick and start crumbling it by making cat-kneading gestures with your fingers so the margarine turns into little pea sized bits. If you need a visual, refer to this little fella. Keep crumbling until the stick is completely whittled down.
Keep the bowl of crumbles in the fridge until you're ready for it.
Strawberry Coffee Cake:
2 cups flour
1 cup sugar
2 tbsp. baking powder
1 tsp. salt
2 tsp. cinnamon
2 tsp. vanilla extract
1 cup milk
2 eggs
1/4 cup unsalted butter, melted
3 cups strawberries, sliced
-Sift the first four ingredients together in a bowl and set aside
-Whisk the milk, eggs, vanilla, and melted margarine together in a bowl.
-Add the mix of wet ingredients to the bowl of dry ingredients.
-Beat together with a handheld mixer until well incorporated.
Pour into a pre-greased 12×8 pan. Arrange the sliced strawberries on top of the batter. Sprinkle the crumble toppings.
Bake at 350F for 35-45 minutes.