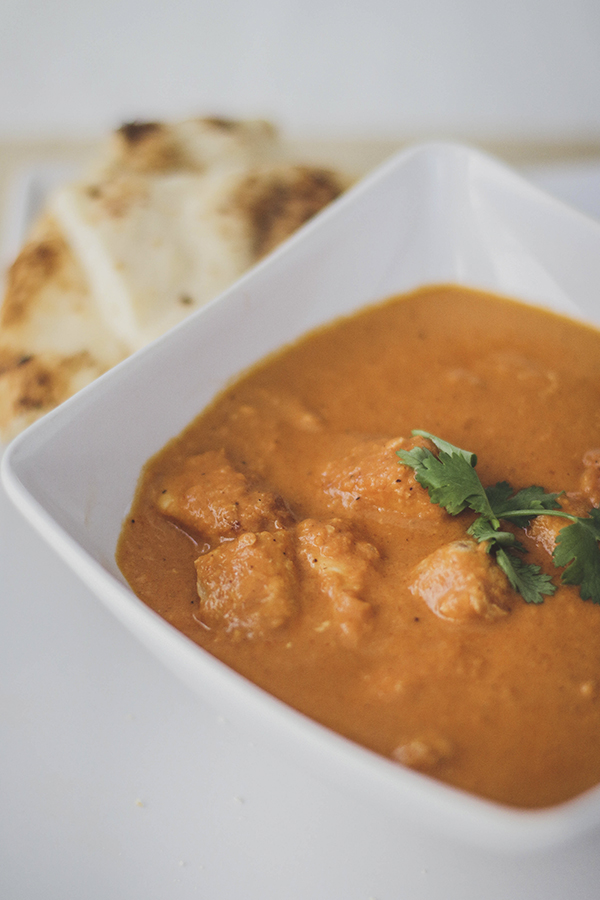 Yummmy, the recipe today is DELICIOUS!! Who likes Indian food? I love it, but there's a problem, they use cumin in everything, and cumin is my "kryptonite"…hehe. Buut, I decided to solve this problem and make my own Butter Chicken at home, this way I could omit the cumin from the recipe. Guys, it was delicious and as good as the one you eat in a restaurant. For those who never tried it before, you don't know what you're missing out. It's a super easy and quick recipe, it seems complicated because of the amount of ingredients, but most of them are just spices. This Butter Chicken was a huge success here and I'm sure it's gonna be the same thing at your place!
Easy Butter Chicken
2017-04-10 21:03:21
Ingredients
1 tbsp vegetable oil
2 shallots, finely chopped (substitute: 1 small white onion)
2 tbsp butter
3 tsp lemon juice
2 tsp minced garlic
1 tsp minced ginger
1 tsp garam masala*
1 tsp chili powder
1 tsp ground cumin
1/2 tsp ground coriander
1 bay leaf
1/4 cup 1% or 2% plain yogurt, stirred until smooth
1 cup (250 ml) half-and-half (10% light cream)
1 cup (250 ml) tomato sauce
1/4 tsp cayenne pepper, or to taste
1 pinch salt
1 pinch black pepper


1 tbsp vagetable oil
700g boneless, skinless chicken thighs or breasts, cut into bite-size pieces
1/2 tsp salt
1 tsp garam masala*
1 pinch cayenne pepper (omit for a milder dish)
handful of chopped cilantro, for garnish


Garam Masala
2 tsp dround ginger
1 tsp ground cinnamon
2 tsp ground black pepper
3 tsp ground cumin
3 tsp ground coriander
1/2 tsp ground nutmeg
1 tsp ground cloves
Instructions
Heat 1 tablespoon oil in a large pot over medium heat. Sauté shallots until soft and translucent. Stir in butter, lemon juice, minced garlic, minced ginger, 1 teaspoon garam masala, chili powder, cumin, ground coriander and bay leaf. Cook, stirring constantly, for 1 minute. Add tomato sauce and cook for and additional 1-2 minutes, stirring frequently. Stir in yogurt and half-and-half. Reduce heat to low and simmer for 10 minutes, stirring frequently. Season with cayenne, salt and pepper; stir. Remove from heat and set aside.
Heat 1 tablespoon oil in a large skillet over medium heat. Add chicken thigh pieces and season with 1/2 teaspoon salt; cook until lightly browned, about 10 minutes. Reduce heat, season with 1 teaspoon garam masala and a pinch of cayenne. Stir in a few spoonfuls of sauce, and simmer until liquid has reduced and chicken is no longer pink, about 5 minutes. Add cooked chicken to pot of sauce. Cook for 5 to 10 minutes on medium-low heat, or until thickened. Garnish with cilantro and serve with fresh naan or over basmati rice.
Notes
– Be sure to stir the yogurt before adding it to the sauce, or it will separate and make the sauce grainy.
– If you also don't like cumin, you can omit it from the entire recipe.
– You can adjust the heat by adding more/less cayenne pepper. 1/4 teaspoon will yield about a "6" on the heat scale; add slightly less or omit the pinch added to the chicken if you'd like to tone down the spice. And taste your sauce! Remember, you can always add more but can't take it out.
Adapted from Listen to Lena
Pam*B https://pamelabrandao.com/recipes/