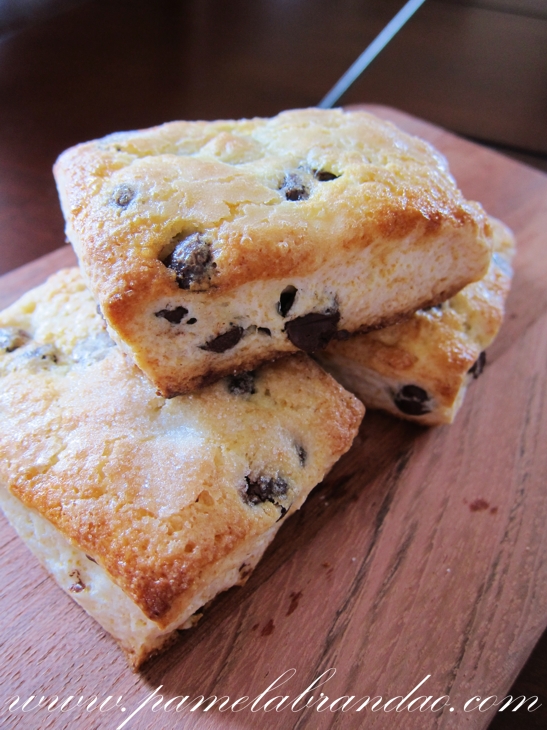 For those who don't know the Scones are English muffins of Scottish origin, perfect for their famous afternoon tea. They have a firmer dough that results in a super soft "cake" inside with a delicious crust on the outside. I had never made ​​scones before but had seen several recipes on various blogs. Until Cinara posted this recipe and I decided it was with her recipe that I would try my first scone. I can only say that I loved, it's super easy and I already made the recipe twice, but the second time I made ​​some changes that made the scones even more delicious and is that recipe that I will post for you.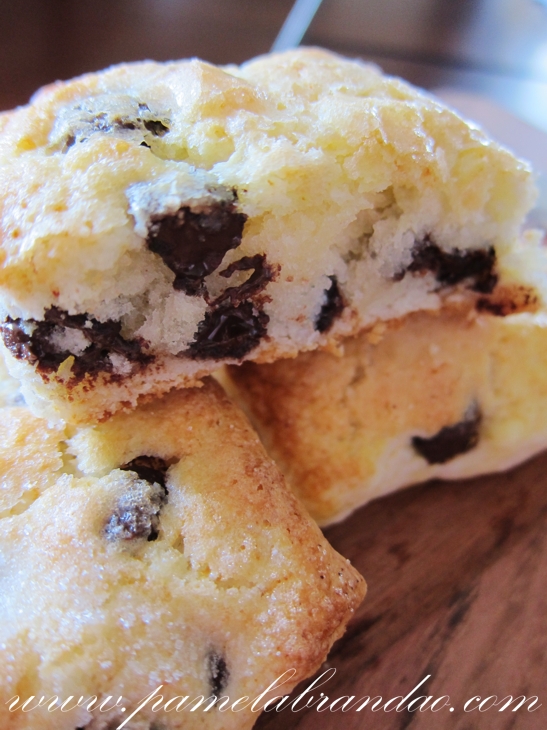 Chocolate Chip Cream Scones
Ingredients:
2 cups (10 oz) all-purpose flour
1/2 cup granulated sugar
2 1/2 t baking powder
1/4 t salt
1 stick butter (4 oz) (cold, cut into pieces)
1 cup (8 oz) heavy whipping cream (cold)
1/2 – 3/4 cup miniature chocolate chips (depending on preference)
Topping:
1 egg, lightly beaten
2 tbsp sanding sugar or granulated sugar
Directions:
Preheat over to 390 degrees. Mix together dry ingredients.
Using a pastry cutter, two knives or your fingers , cut in the butter. Add whipping cream and chocolate chips. Blend together quickly. Do not overmix. Shape into a round or square. Brush with egg wash. Sprinkle with sugar. Cut into shapes. Place on parchment or Silpat covered baking sheet.
Bake for 14-16 minutes until golden brown and delicious.