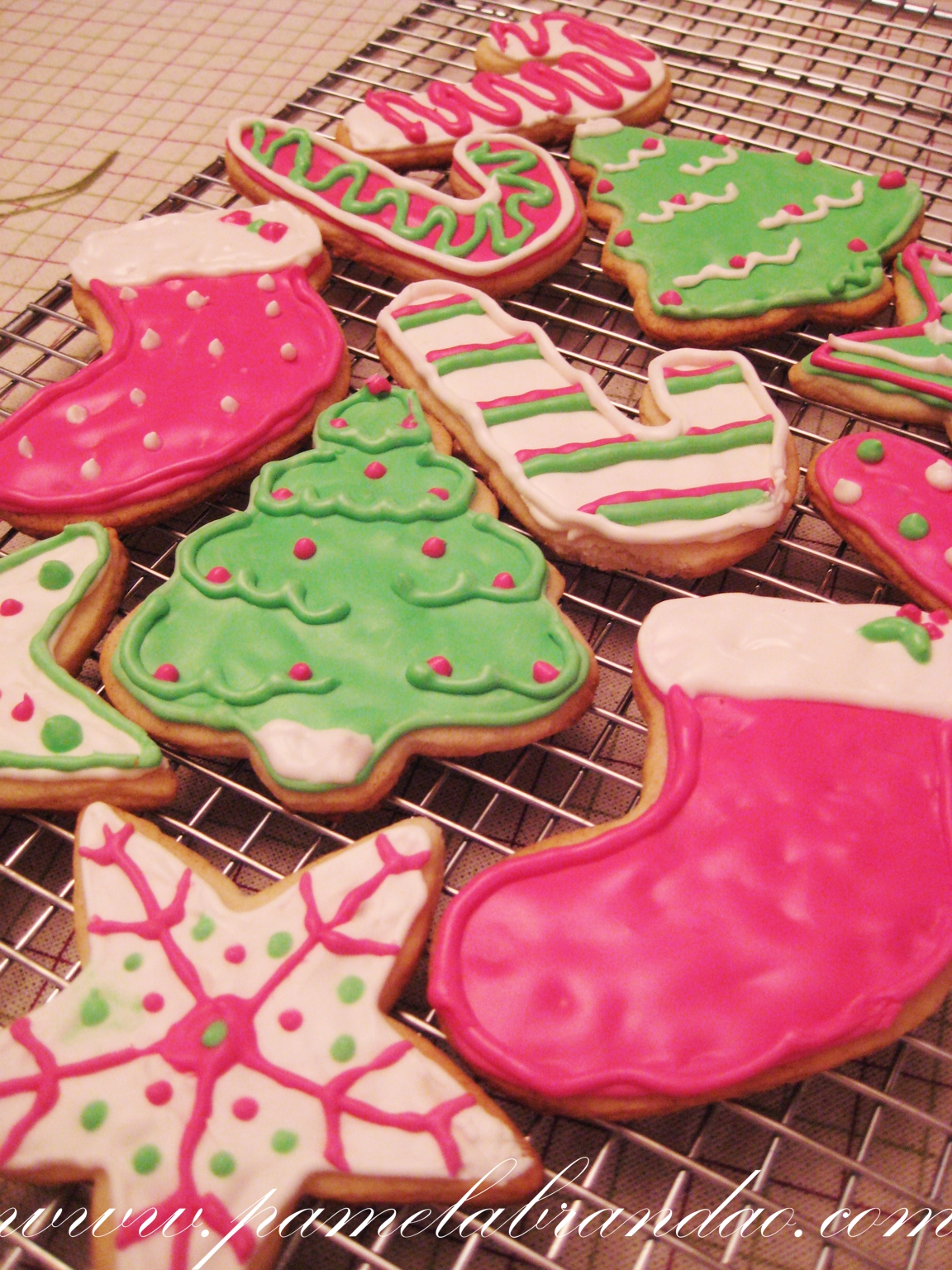 Christmas recipe to get in the mood. Last year I made the Gingerbread Men, so this year I decided to make the traditional Christmas Cookies decorated with icing. I got the recipe here and made them so quickly. Yummy, so good, loved it. Besides delicious, they are super cute and perfectly for Christmas. So gather the whole family to help  that I'm sure you'll have lots of fun.
Christmas Cookies
±40 cookies
⅔ cups Shortening
¾ cups Sugar
½ teaspoons Grated Orange Or Lemon Zest
½ teaspoons Vanilla
1 whole Egg
4 teaspoons Milk
2 cups Flour
1-½ teaspoon Baking Powder
¼ teaspoons Salt
Decorative Icing:
1 and 1/2 cups powdered Sugar
1 larg egg white
1 tsp vanilla essence or lemon juice
Food Coloring
Directions:
Cream shortening, sugar, orange peel, and vanilla thoroughly. Add in egg and beat until light and fluffy. Add in the milk and mix.
Sift dry ingredients together, then blend into cream mixture. Divide dough in half (thirds if you double your recipe), slightly flatten between two sheets of waxed paper, then refrigerate for one hour (or freeze for 20 minutes).
Roll out dough on lightly floured surface and cut into shapes with a cookie cutters. Transfer shapes to lightly greased cookie sheet.
Bake at 375 degrees for approximately 6 minutes. Do not allow the cookies to brown.
While cookies are baking, mix powdered sugar, essence, egg white and food coloring to make the decorative icing. Remove cookies from oven to a wire rack to cool. Then, using a pastry bag or Ziploc bag, pipe with white icing to decorate.
Note: when making the white decorative icing, make sure that it is thick and somewhat retains its shape.