To make these cupcakes, I used my new favorite chocolate dough. But initially I was going to make a chocolate cupcake with marshmallow, but ended up not working. When they were in the oven the marshmallow began to melt and they were bubbling like a wet Gremlin (do you remember? .. haha). So when I took them out of the oven I saw that the marshmallow had melted and disappeared, it was a normal cupcake with nothing on top, can you believe? Then, as they had turned a normal cupcake, I had to do a frosting, because every cupcake needs to have a cover right? It was then that I found the recipe for a chocolate buttercream with Ovaltine, perfect. Result? A wonderful cupcake , soft, fragrant, moist and my new favorite, with the best buttercream I've made so far.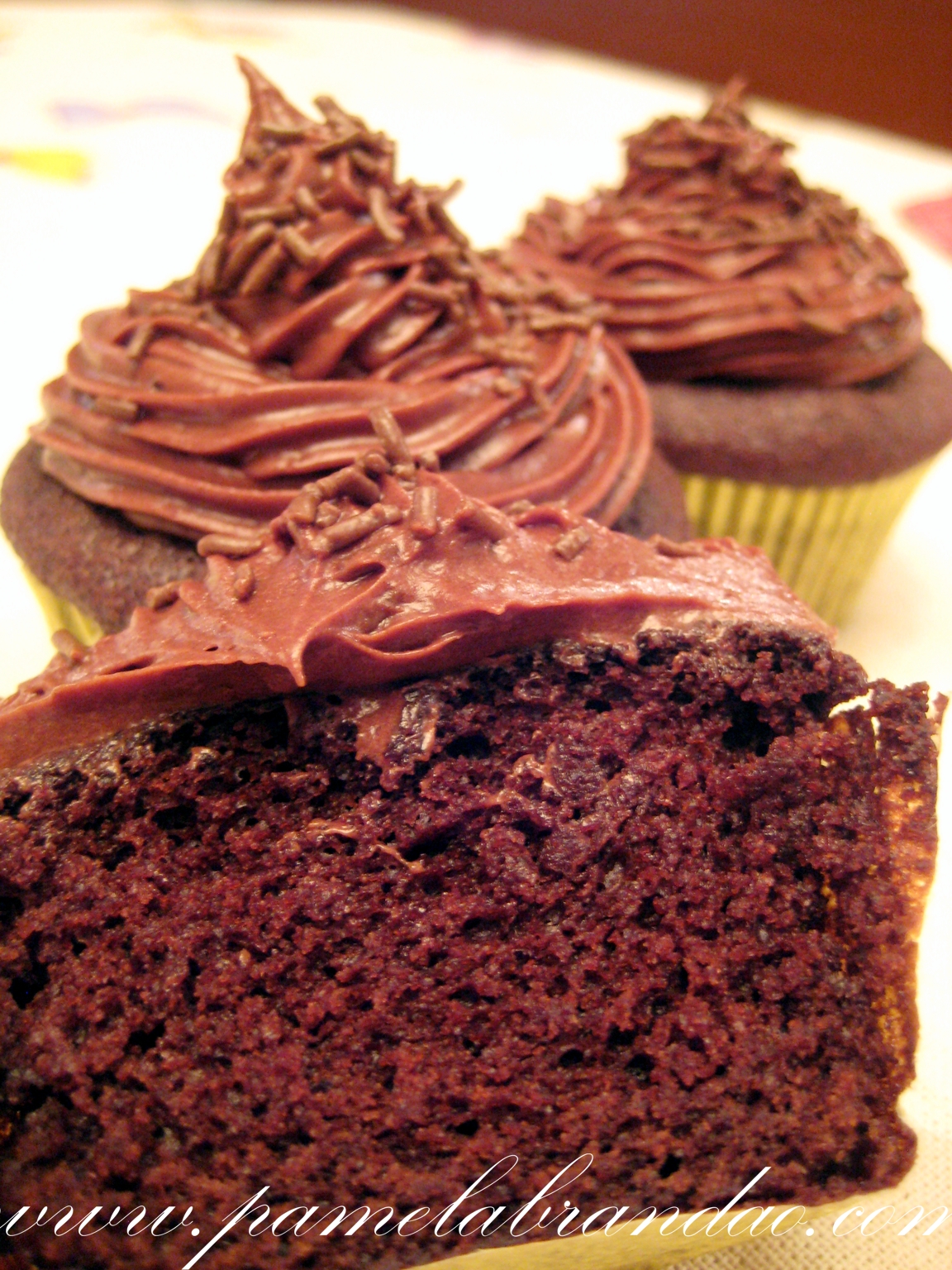 Chocolate Cupcake with Ovaltine Buttercream Frosting
± 24 cupcakes
Ingredients:
1 and 3/4 cups all-purpose flour
2 cups sugar
3/4 cups good cocoa powder
2 teaspoons baking soda
1 teaspoon baking powder
1 teaspoon kosher salt
1 cup buttermilk, shaken
1/2 cup vegetable oil
2 extra-large eggs, at room temperature
1 teaspoon pure vanilla extract
1 cup freshly brewed hot coffee
Frosting:
1 1/2 cup (3 sticks) unsalted butter, softened
1 cup cocoa powder
3/4 teaspoon salt
4 cups powdered sugar
2 teaspoons vanilla
1/4 cup milk
1 cup heavy cream
2/3 cup Ovaltine
Directions:
Make the Cake:
Preheat the oven to 350 degrees F.
Sift the flour, sugar, cocoa, baking soda, baking powder, and salt into the bowl of an electric mixer fitted with a paddle attachment and mix on low speed until combined. In another bowl, combine the buttermilk, oil, eggs, and vanilla. With the mixer on low speed, slowly add the wet ingredients to the dry. With mixer still on low, add the coffee and stir just to combine, scraping the bottom of the bowl with a rubber spatula. Pour the batter into the prepared cupcake pans and bake for 20 minutes, until a cake tester comes out clean. Cool in the pans for 30 minutes, then turn them out onto a cooling rack and cool completely.
Make the Frosting:
Cream together butter, cocoa powder and salt. Butter mixture will be very thick. Turn off the mixer, scrape down the sides of the bowl and add powdered sugar. Turn mixer on low and mix in powdered sugar while adding milk and vanilla extract. As the sugar incorporates, raise the speed of the mixer to beat the frosting. Beat until smooth. In a 2 cup measuring glass, stir together heavy cream and Ovaltine. Turn mixer speed to medium and pour cream mixture into frosting in a slow, steady stream, until you've reached your desired consistency. You may not need the full amount of Ovaltine and cream.