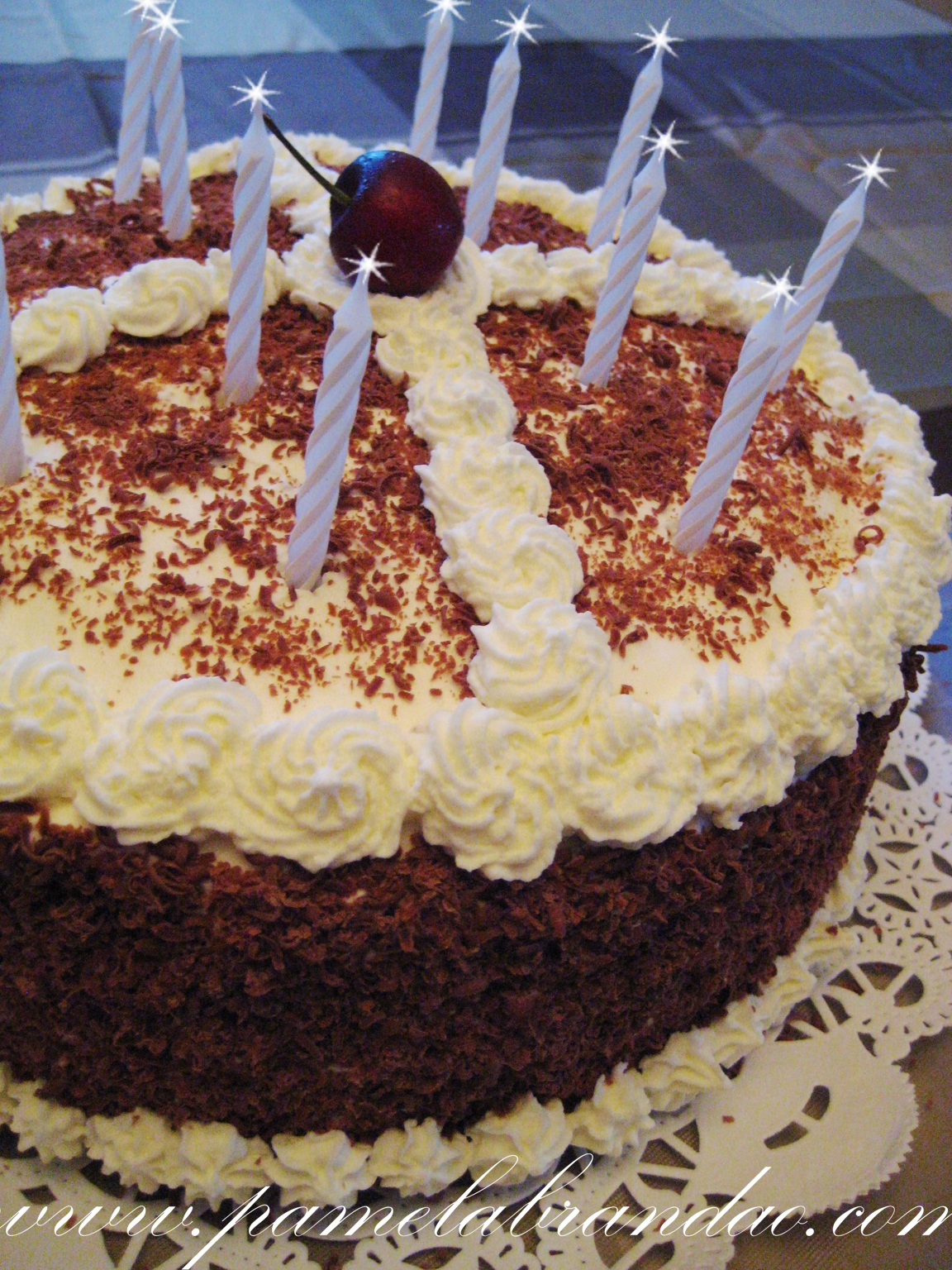 This time I bring the cake recipe that I made for my brother's birthday. This year he asked for a black forest cake, because the other day he was watching on TV a documentary about Germany and in the end they talked about the real black forest cake. The recipe is simple and I got a idea from this site, but I used the same chocolate cake recipe that I always use. And the cake turned out delicious. For my brother, this is the best cake I've made so far. But don't trust him, because he has a difficult taste…hehe…and to me all the cakes are delicious I've ever done … haha. But just wait until I post the recipe birthday cake I made for my sister, for her, but this was the most delicious … hehe.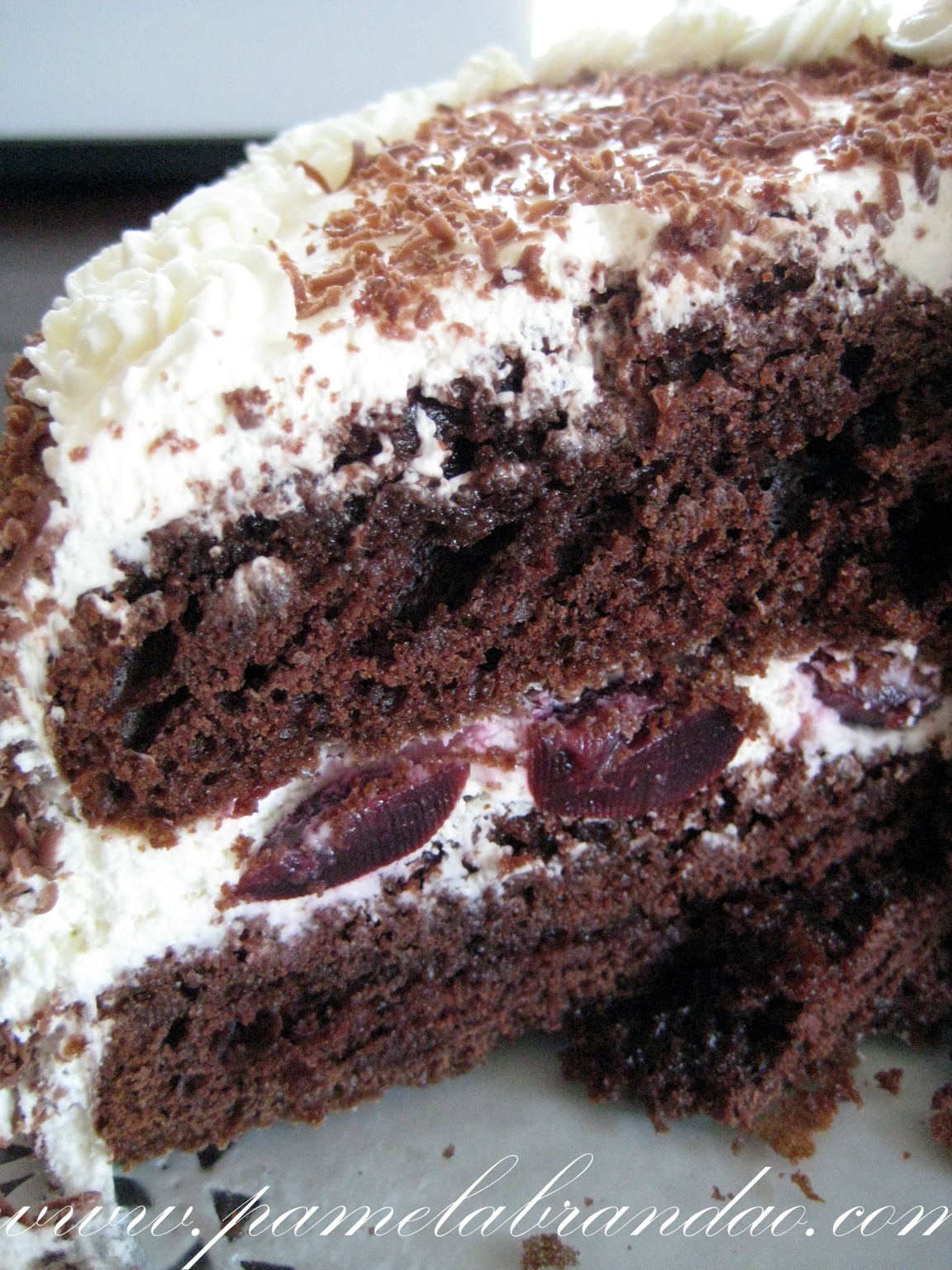 Black Forest Cake
Ingredients:
Cake:
1 and 3/4 cups all purpose flour
1/3 cup cocoa powder
1 and 1/2 tsp baking powder
1 tsp baking soda
1/2 tsp salt
1/2 cup vegetable oil
1/4 cup unsalted butter, softened
1 cup sugar
1 tsp vanilla essence
3 large eggs
1 cup semi-sweetened chocolate, melted
1 cup buttermilk
Chery Syrup:
1/2 cup water
1/4 cup sugar
2 tbsp Kirsch/kirschwasser
250g fresh pitted and halved cheries
Toping and Filling:
2 and 1/2 cup whipping cream
3 tbsp powdered sugar
1 tbsp Kirsch/kirschwasser
Directions:
To Make the Cake:
Preheat oven to 350 degrees F (180 C). Butter and flour two 9-inch cake pans.
Into a bowl sift together the flour, salt, cocoa powder, baking soda and baking soda. In a bowl with an electric mixer beat the sugar, butter, oil and vanilla for 2. Add the eggs, one at a time and beat. Fold the melted chocolate until just combined. Add flour mixture alternating with buttermilk, beat for 2 a 3 minutos, until just combined. Pour batter into pans, smoothing the tops, and bake for 20 to 25 minutes, or until cake tester inserted in center comes out clean. Let cool in pans 5 minutes. Run knife around edge of pans and invert onto racks to cool completely.
To Make the Filling and Topping:
Beat cream, sugar and Kirsch until it holds soft peaks.
To Make the Syrup:
In a saucepan combine the sugar and water, bring to a simmer, stirring, and simmer until sugar is dissolved. Remove pan from heat and stir in Kirsch. Add the cherries and let it rest for 30 minutes. Strain the syrup to separate the cherries and set aside.
Assembling the Cake:
Invert one layer of cake onto a cardboard round, brush with some of syrup and spread 2/3 of filling over it. Spread some cherries over it, and invert second layer of cake. Brush top with syrup and spread remaining whipped cream over top and sides of cake reserving and garnish (maybe you'll need to make more topping, just make the recipe again). Sprinkle top of cake with chocolate shavings and let cake stand, covered and chilled, for at least 3 hours and up to 8 hours. Store cake in refrigerator.