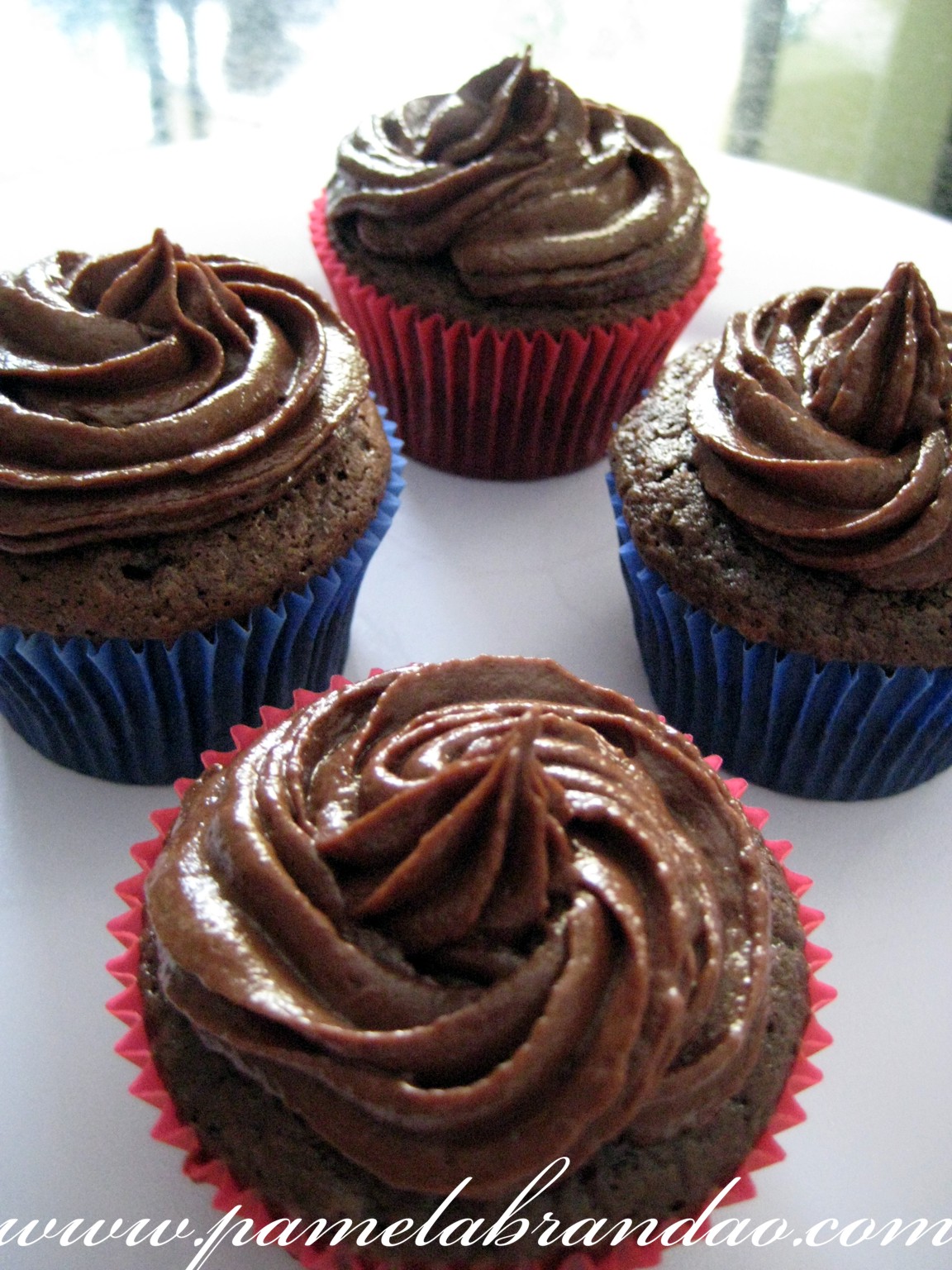 This recipe is so good that I haven't decided whether it would be a recipe for a cake or cupcakes. Let me explain, I got this recipe here, as a cupcake recipe, but the cupcake was so yummy, soft, delicious and with a chocolate topping that reminded me a delicious mousse, which I wondered how this cupcake would be transformed into a cake super soft filled with chocolate mousse, imagined the result? So that was my indecision…hehe. But this cupcake is delicious, perfect, I just don't know which one was tastier, the cupcake or the cake, I think to decide I need to think which one is quicker and easier, so, for the cake you need a plate and a fork to eat, while the cupcake you can just pick it up and eat…hehehe. So, you decide.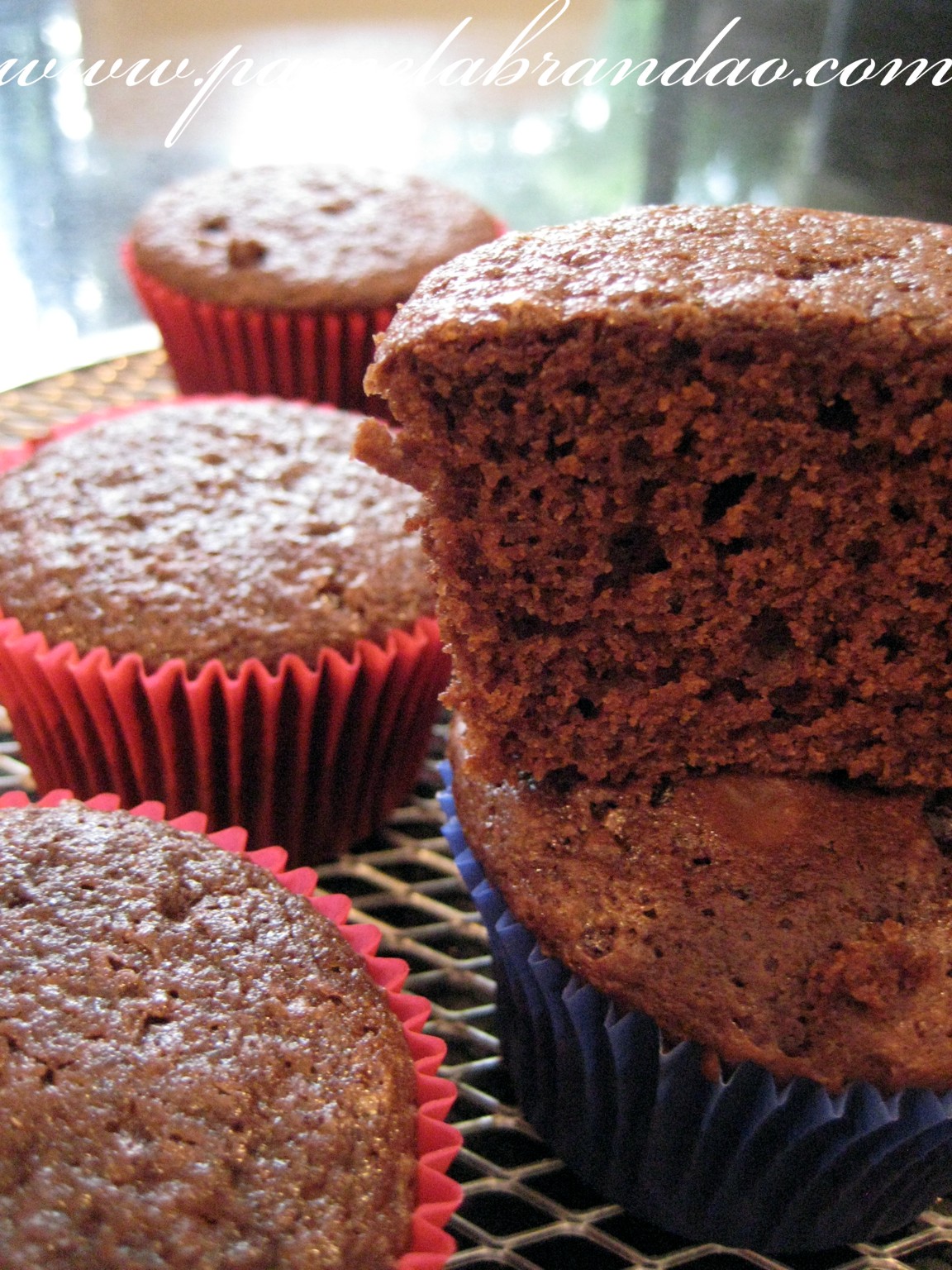 Devil's Food Cupcakes
± 24 cupcakes
Ingredients:
1 3/4 cups all-purpose flour
1/3 cup dark or regular unsweetened cocoa powder
1 1/2 teaspoons baking powder
1 teaspoon baking soda
1/2 teaspoon salt
1/2 cup oil
1/4 cup unsalted butter, softened
1 cup granulated sugar
1 teaspoon vanilla extract
3 large eggs
1 cup semi-sweet chocolate chips, melted
1 cup buttermilk
Frosting:
2/3 cup granulated sugar
1/3 cup all-purpose flour
3 tablespoons unsweetened cocoa powder
1/8 teaspoon salt
1 cup milk
1 cup unsalted butter, softened
1 cup semi-sweet chocolate chips, melted
Directions:
Preheat oven to 350 degrees F. Line 24 muffin cups with liners.
To make the cake, in a medium sized mixing bowl, sift together flour, cocoa powder, baking powder, baking soda and salt.
In a large mixing bowl, using a mixer on medium speed, beat oil, butter, granulated sugar and vanilla, until creamy, about 2 minutes. Beat in eggs, one at a time, until well combined. Beat in 1 cup melted chocolate chips until combined. Reduce mixer speed to low and beat in flour mixture, alternating with buttermilk, until well combined, about 2-3 minutes.
Divide batter into muffin cups. Bake 20-25 minutes, or until just set, and a toothpick inserted into cake comes out with moist crumbs attached. Cool for 5 minutes before transferring to wire racks to cool completely.
To make the frosting, in a small saucepan, whisk together sugar, flour, cocoa, salt and milk; bring to a boil, whisking frequently. Boil 1 minute or until thickened; remove pan from heat and strain mixture into a small bowl. Cool completely in the refrigerator or freezer.
Beat the butter until creamy, about 1 minute, in a large mixing bowl, using a mixer on medium speed. Beat in "chocolate pudding" mixture until well combined, about 1 minute. Beat in melted chocolate until well combined and fluffy, about 2 minutes. Spread or pipe frosting on to cupcakes.