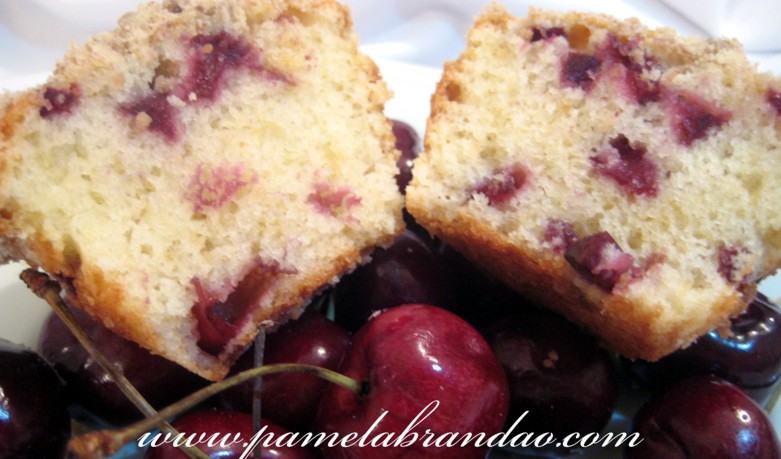 Last weekend I found some tasty cherries in the supermarket, and I decided to buy, because I had read some recipes with cherry in the internet. Then when I arrived at home I was soon searching for one, and I found several, since clafoutis, cakes and muffins. But obviously, as I love muffins, I chose to make them and I can say that they are DELICIOUS, the recipe it's from here, the muffin is soft, smells great and the crumb topping, perfect. But some here are some tips: I found that they didn't have enough cherries (I used less than the recipe asks for), so I advise to put all the cherries and in bigger pieces, and don't put a lot of dough into the muffin cups, because the muffins grow a lot and the topping will fall. But I'm sure that anyhow they will get delicious.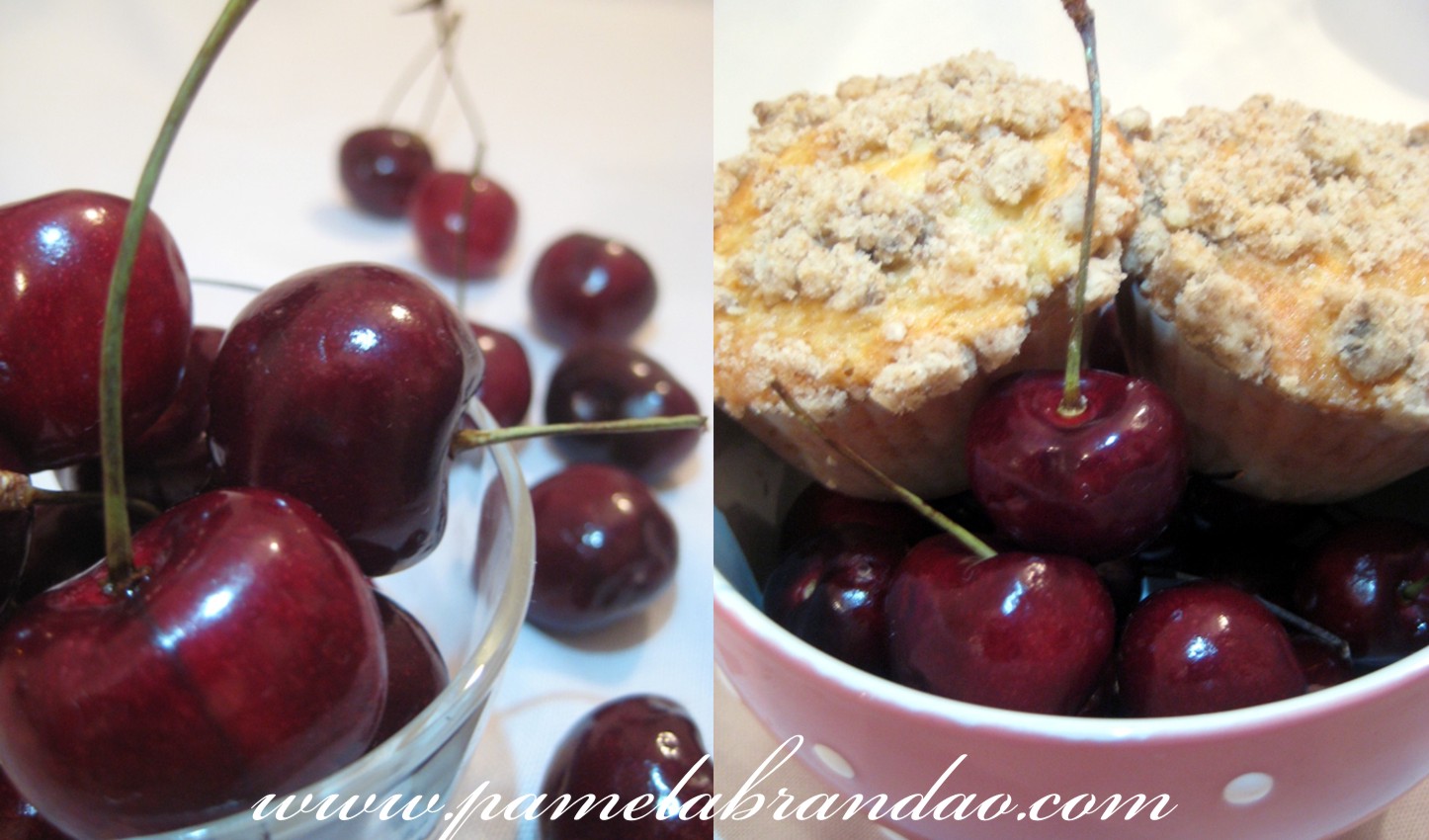 Cherry Muffins with Crumb Topping
(18 muffins)
Ingredients:
Topping:
1 cup all-purpose flour
3 tablespoons light brown sugar
2 tablespoons granulated sugar
1 teaspoon baking powder
Pinch of salt
6 tablespoons unsalted butter, melted
Muffins:
1 – 3/4 cups all-purpose flour
2 – 1/4 teaspoons baking powder
1/2 teaspoon salt
1 cup granulated sugar
2 large eggs
1/2 cup canola oil
3/4 cup whole milk
1 teaspoon pure vanilla extract
1 1/2 cups pitted sweet cherries
Direction:
Preheat the oven to 375°. Line 18 muffin cups with paper or foil liners or spray 2 muffin tins with cooking spray.
Make the topping: In a medium bowl, combine the flour with the brown sugar, granulated sugar, baking powder and salt. Stir in the melted butter, then pinch the mixture until it forms pea-size clumps.
Make the muffins: In a medium bowl, whisk the flour with the baking powder and salt. In a large bowl, combine the sugar, eggs and canola oil and beat with a handheld electric mixer at low speed until combined. Beat in the whole milk and vanilla. Add the flour mixture all at once and beat at low speed until the batter is smooth. Stir in the cherries.
Spoon the batter into 18 of the cups, filling them about three-quarters full. Sprinkle the crumb topping on top of each one and bake for about 30 minutes or until the muffins are golden and a toothpick inserted in the center comes out with a few moist crumbs attached. Let the muffins cool in the pan for 10 minutes before serving.