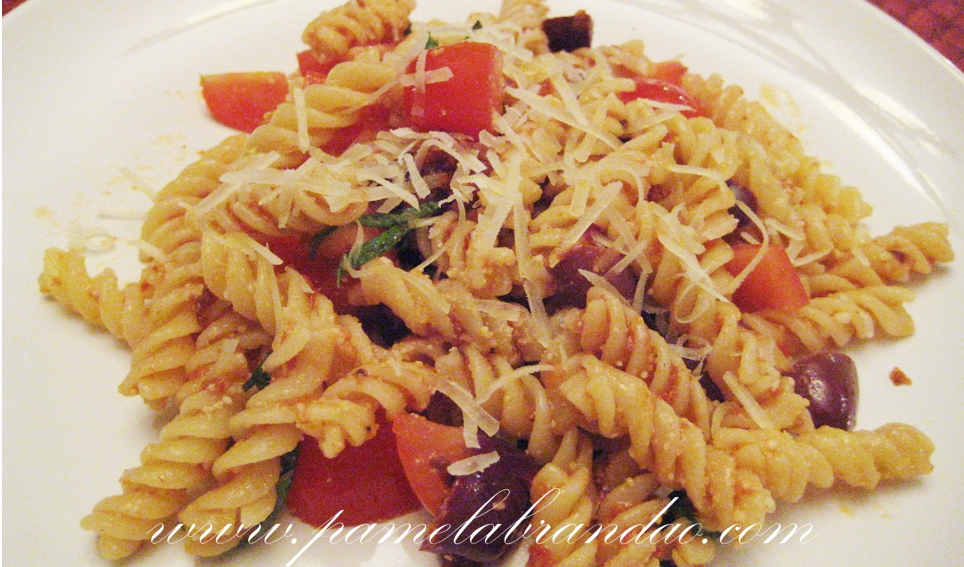 Bringing a savory recipe this time and even if they are rare here, I guarantee that those who succeed in entering the site are absolutely delicious. This recipe I saw on Ree's site, and as she said it was one of her favorite dishes,  of course I would try it…hehe. And the conclusion was? I think this pasta also joined the list of my favorite recipes. It is super delicious and different, I loved it. But one thing I do differently is that I eat the pasta when is still hot or warm rather than cold.  Oh and she gives a tip about the dressing, letting sit in the fridge overnight really lets the garlic work its magic,  the flavors really deepen and meld together. Yummy, so good!
Sundried Tomato Pasta Salad
Ingredients:
Salad:
16 ounces, weight Corkscrew Pasta
1 jar Kalamata Or Assorted Olives
1 pint Ripe Cherry Tomatoes (cut In Halves)
10 leaves Basil (10-15 Leaves), Chopped Or Julienne
1-½ cup Parmesan Cheese, Freshly Grated
Dressing:
1 jar Sundried Tomatoes (7 Oz.)
4 cloves Garlic
3 Tablespoons Red Wine Vinegar
1 cup Extra Virgin Olive Oil
Salt And Pepper, to taste
Directions:
Dressing:
In a blender combine sundried tomatoes, garlic, salt, pepper, and vinegar until tomatoes are chopped. Continue blending while drizzling in olive oil until mixed together.
Pasta:
Cook pasta according to package directions. Drain and rinse with cold water until no longer hot.
Pour 2/3 of the dressing over the pasta. Add olives and toss together. Add remaining ingredients, tossing together and adding more dressing until the salad is coated to your liking.
Serve on a big platter with an extra sprinkling of Parmesan cheese.